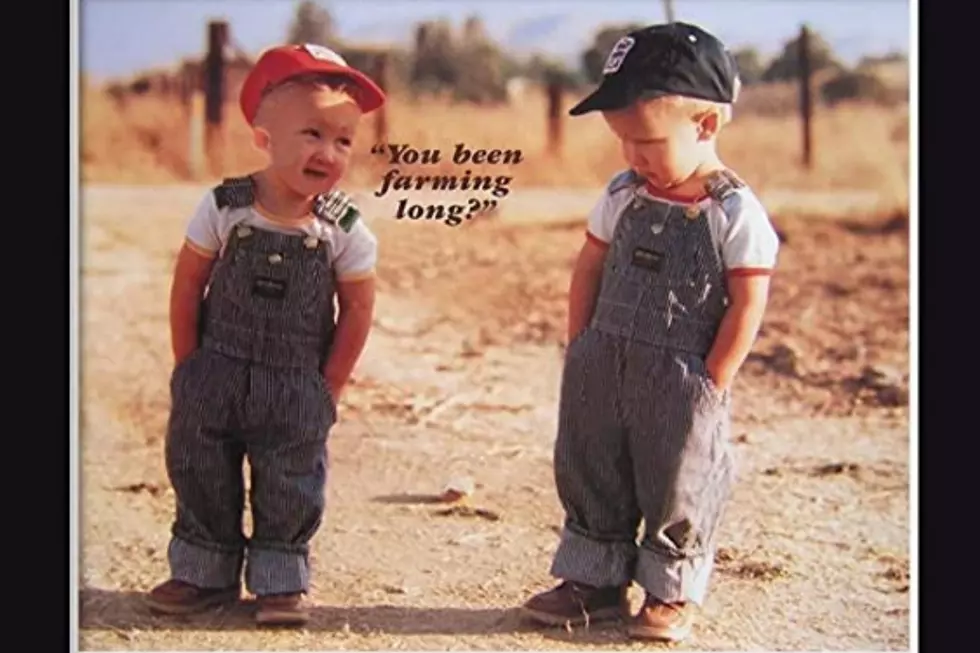 The Poster That's Hung on the Walls of South Dakota Farms for 40 Years
Via Amazon
If you lived on a farm or visited a farm in the last 40 years you probably recognize these two little tykes.
Actually, if you were in just about any shed, workshop, garage, or kitchen in farm country across North America in the 1980s and 90s you probably recognize these two miniature farmers.
The picture of a pair of twin boys in their new overalls, along with the caption "You Been Farming Long" has been a popular bit of decor for many folks over the years.
The kids in the picture are 18-month-old Matt and Chris Jacobs. They lived on a farm in San Miguel, California where the picture was taken.
In 1978 their mother took the picture. When she got the photo back from the developer (remember doing that?) she saw this one. The lighting, focus, and boy's expressions all came together for the perfect shot.
Their mom entered the picture in the local county fair, coming in third place. But, while on display at the fair, the picture caused quite a stir. People started asking for copies.
So their mom shared the picture. It was in a few publications. Then in 1982, a publisher added the "Been farming long" line and started to make the now-famous posters. The boys were on their way to rural icon status.
The twins have been seen on lots of things over the years, from postcards to coffee mugs. There are even little figurines.
The boys are grown up now and living in California with families of their own.
SOURCES: RFD TV, Ohio Ag Net, Amazon
Life on a Cattle Ranch in Western South Dakota
Life is different out in the country. One look at the photo from Robin Bickel and you quickly realize that a workday is quite different as well, after all, she lives out west in
South Dakota
Cattle Country.
Robin Bickel took time to tell
KIKN Country
a little bit about her
life out west
and
life as a woman, working outdoors with animals and nature in God's Country.
Bickel lives
and works
on a cattle ranch operated by herself, her father, Jack, and his brother Keith. How far out in the country is she? How does 50 miles west of Mobridge, South Dakota sound? Yep, mountain time
out there.
Life is so different in
Sioux Falls
, South Dakota compared to what our friends on the farm and ranches deal with. It's a half-mile to the grocery store for our family. For Robin, it's 17 miles. However, it's a quick step out her door and she's right in the middle of where a lot of the groceries come from.
20 Things You'll Find In Every South Dakota Home
We have so many things in our homes. Some things are junk or half-used but others have great sentimental value to us.
Regardless of what an item means to us at the end of the day, I bet that most
South Dakotans
have these twenty items in their home; or at least most of us do.
More From Hot 104.7 - KKLS-FM