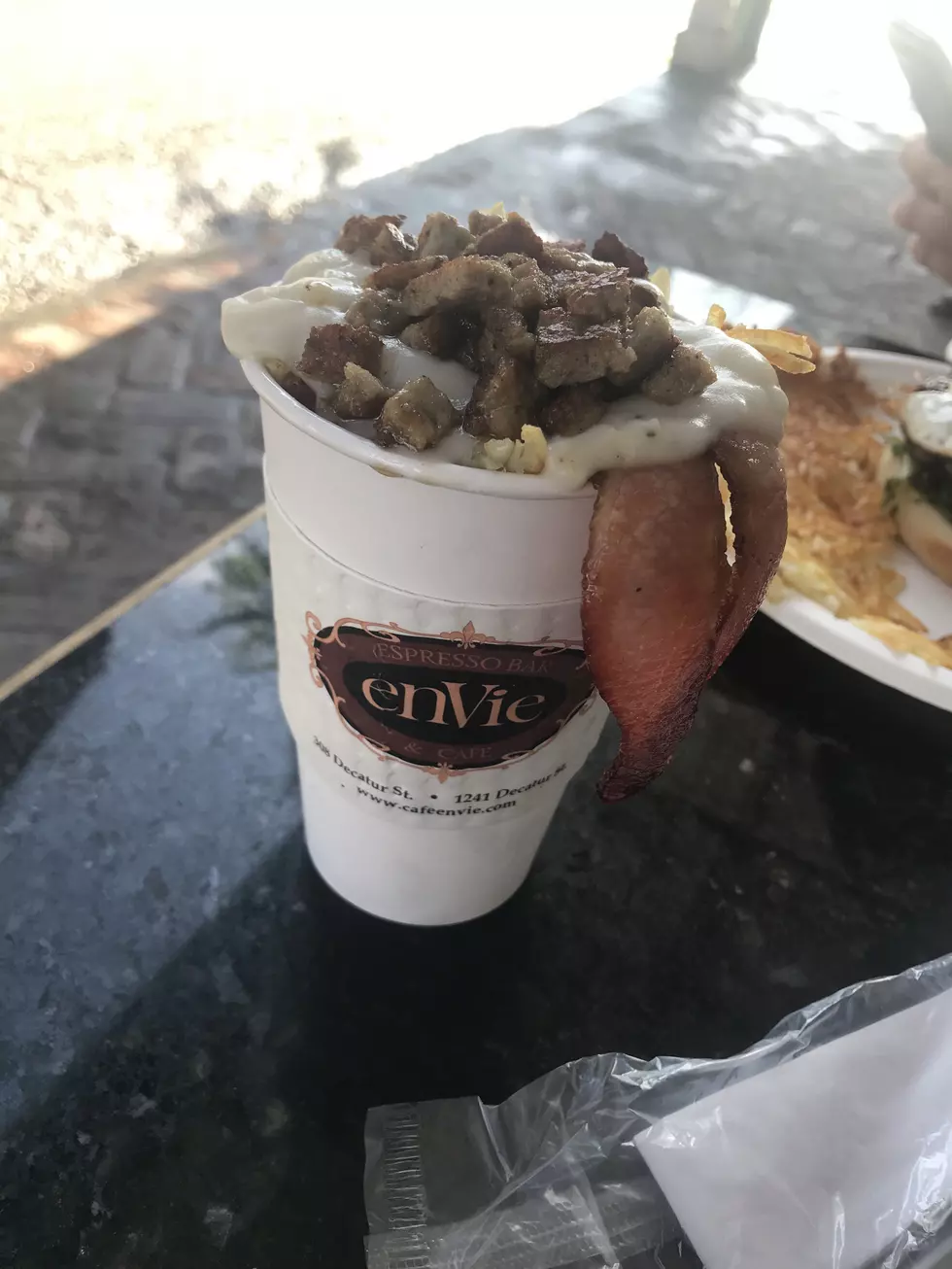 Envie Espresso Bar & Cafe
Natasha-TSM
What do you order for breakfast when you just can't decide?
How about all the breakfast things in one cup!
It's an Envie original and it is called Breakfast N' a Go Cup! It's literally all the savory breakfast favorites! It consists of two eggs scrambled, bacon, hash browns, and grits topped with sausage gravy all served in a 16 oz. cup.
Tim ordered the Wake-Up! Burger which is an 8 oz. fresh Angus burger with a sunny side up egg, arugula, pickle with a side of hash browns.
His order came first and I was a little jealous because it looked so good, until my cup of goodness arrived!
Envie also had a full menu of frou-frou coffee drinks! Some of which were boozy! I opted for a Chicory mocha coffee (no booze)! Chicory coffee is a New Orleans staple so I tried to get it whenever I could!
There was also an array of baked goods that looked amazing, but I resisted since I just ate all the breakfast foods in one sitting. I had to draw the line somewhere.
Envie has two locations on Decatur in the French Quarter and they serve breakfast all day! My kind of place!
Also, I would like to note that New Orleans was hit by Hurricane Zeta about a week after we were there. It is very humbling to know that we just missed the storm and it is great to see that the places we patronized seem to be bouncing back and doing fine!
Envie Espresso Bar & Cafe
Enter your number to get our free mobile app
More From Hot 104.7 - KKLS-FM