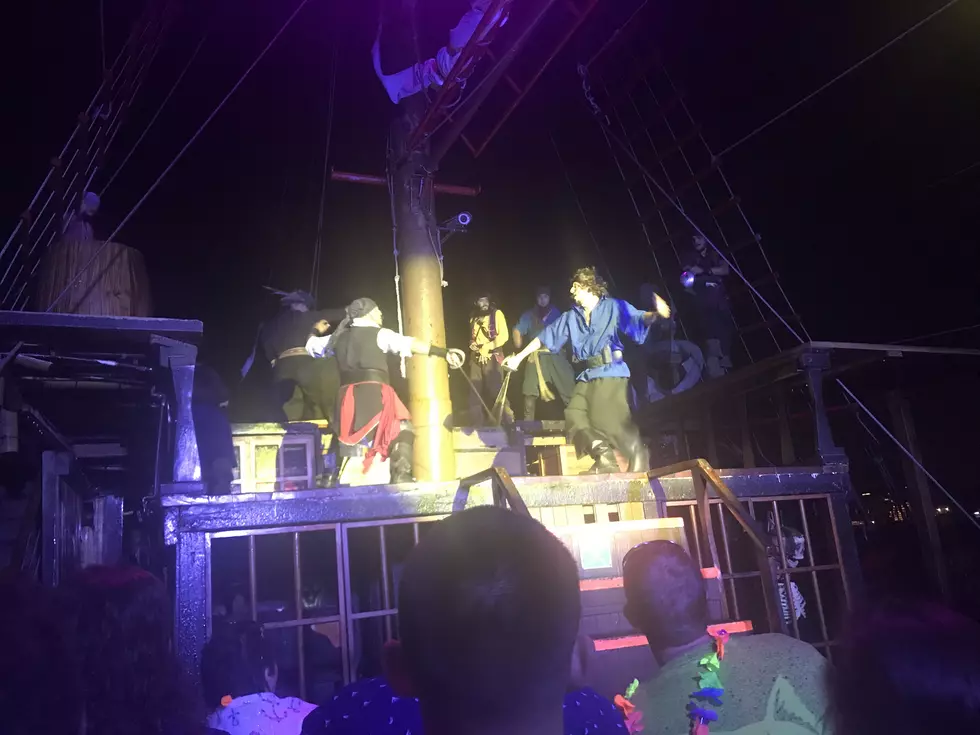 Ven Conmigo A Mexico: Day Four
Natasha/Hot 104.7
Ok, so if you need to get caught up on days one, two, or three do so by clicking the respective day.
Now that we are all caught up, Day Four was another day of shopping and wandering the streets of Puerto Vallarta and would conclude with dinner on a pirate ship!
First up was breakfast. Every day the scrambled eggs were a little different. This day they had some sort of red sauce in them and they were probably my favorite. I sort of had two breakfasts because the omelette line was actually non-existent this day, so I also had an omelette. Don't judge me, I'm on vacation.
Then a group of us decided to do some more shopping and see more of Puerto Vallarta. In a smaller group, we were able to shop a little more and go to places that were harder to do with a bigger group.
One stop we did along the way was a fish pedicure. That's not the official name, but that's what I called it. Little fish eat away the dead skin and calluses on your feet. At first it felt super weird as evidenced by the look on my face in pictures, but eventually you get used to it and it's just kind of nice. My feet did feel very soft afterwards. And it was way cheaper than my usual pedicure! Although, the fish didn't paint my nails, so there's that.
We stopped for lunch at a restaurant and I had my first taste of bone marrow! It came with our chicharrones tacos so I went for it. It kind of looks like snot. I could do without it.
After a little more shopping, we headed back to the resort to get cleaned up for our pirate dinner!
The pirate show/dinner was actually pretty cool! Once everyone was on board the ship, we set sail! The pirates were sure to keep a drink in your hand at all times. There was music, dancing, a few games with the audience and then it was dinner time! Dinner was served below deck!
The choices for main course consisted of steak, lobster, or chicken. I opted for chicken because I'm not a huge seafood fan. Everything was delicious! Our dinner entertainment was a live band playing everything from Holiday music to Bon Jovi to "Livin La Vida Loca". And obviously, more dancing. I really need to move to Mexico, everyone loves to dance!
Then it was back upstairs for the main show! The pirates/actors put on a full blown show complete with pyrotechnics and stunts! I was most impressed that the whole show was done in both English and Spanish!
Oh, I almost forgot! The toilets and urinals aboard the ship were all different. There was a shark urinal and I had a skull toilet. I heard there was a kracken toilet as well. I almost flushed my toilet paper when you weren't supposed to. Oops. I blame the pirates and all the rum.
After the show there was more dancing and drinks until we were back at shore!
And then after a bunch of negotiating with cab drivers, it was back to the resort!
Sadly, this would be my last night in Mexico.
More From Hot 104.7 - KKLS-FM