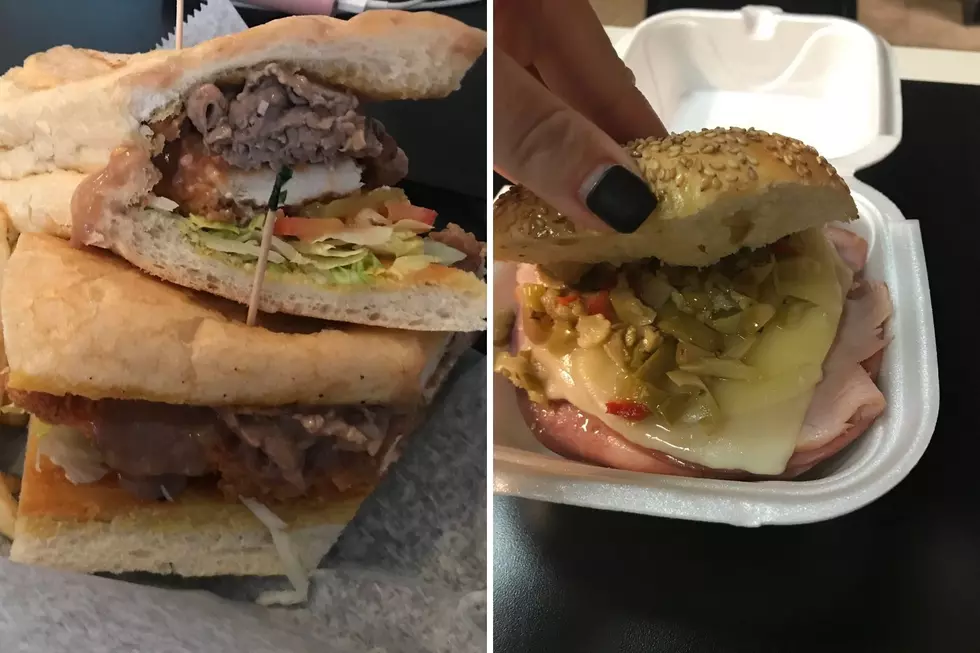 Streetcar Po Boys vs. NOLA Po Boys
Natasha-TSM
Today is National Sandwich Day and Louisiana's favorite sandwich is a Po Boy.
I must admit, the only Po Boy I had in New Orleans was a breakfast version. They're usually made with shrimp or catfish and I'm not really a fan of either of those things.
However, I did eat at two restaurants with Po Boy in the name and had other New Orleans style sandwiches there. 
Streetcar Po Boys was on St. Charles Street and we just kind of happened upon this place. It wasn't fancy, but the people were super nice and the food was delicious.
I couldn't find an online menu for the actual name of this sandwich, but it is basically a Roast Beef Po Boy. It had fried chicken and roast beef covered in 'debris' gravy and I had mine semi-fully dressed. Dressing your sandwich down in New Orleans usually means lettuce, tomato, and mayonnaise. I left out the mayo. All of this was on a yummy hoagie bun.
Then over on Bourbon St. was the restaurant NOLA Po Boys. Their menu was huge and full of all the signature foods of New Orleans like boudin balls, Po boys, seafood, muffulettas, gumbo, red beans and rice, and so much more.
We ordered boudin balls, a muffuletta, and onion rings. Now, usually, for me, when I travel, I try to only order things I can't have back home so ordering onion rings was against my travel rule. I've been on an onion ring kick lately and they just sounded good. Anyway, these onion rings were soooooo good. Whatever batter they use is nothing like what I've had here in the Midwest. It held together so well, the onions stayed in the ring, and they were crunchy and not too greasy. They were so good.
Ok, back to the New Orleans classics. According to Wikipedia, a muffuletta is, "...both a type of round Sicilian sesame bread[1] and a popular sandwich that originated among Italian immigrants in New Orleans, Louisiana, using the same bread...The traditional-style muffuletta sandwich consists of a muffuletta loaf[6] split horizontally and covered with layers of marinated muffuletta-style olive salad,[7] salami, ham, Swiss cheese, provolone, and mortadella.[8] Quarter, half, and full-sized muffulettas are sold."
I love olives so I love this sandwich. Full disclosure, I had a muffuletta before I went to NOLA, but I had to have one when I was there for the full New Orleans food experience.
However, I had never had a boudin ball. A boudin ball is a deep-fried ball of various pork sausage (sometimes the heart and liver) and rice. It is usually served with a remoulade sauce which is kind of like if mayonnaise and tartar sauce had a baby. I was not a fan of the sauce. I actually asked for a side of ranch. What can I say? You can take the girl out of the Midwest, but you can't take the Midwest out of the girl.
Happy National Sandwich Day! Maybe try a PO boy or a muffuletta to celebrate!
For more New Orleans food porn, click here.
Also, I would like to note that New Orleans was hit by Hurricane Zeta about a week after we were there. It is very humbling to know that we just missed the storm and it is great to see that the places we patronized seem to be bouncing back and doing fine!
Streetcar Po Boys vs. NOLA Po Boys
Enter your number to get our free mobile app
Sioux Falls Murals
More From Hot 104.7 - KKLS-FM