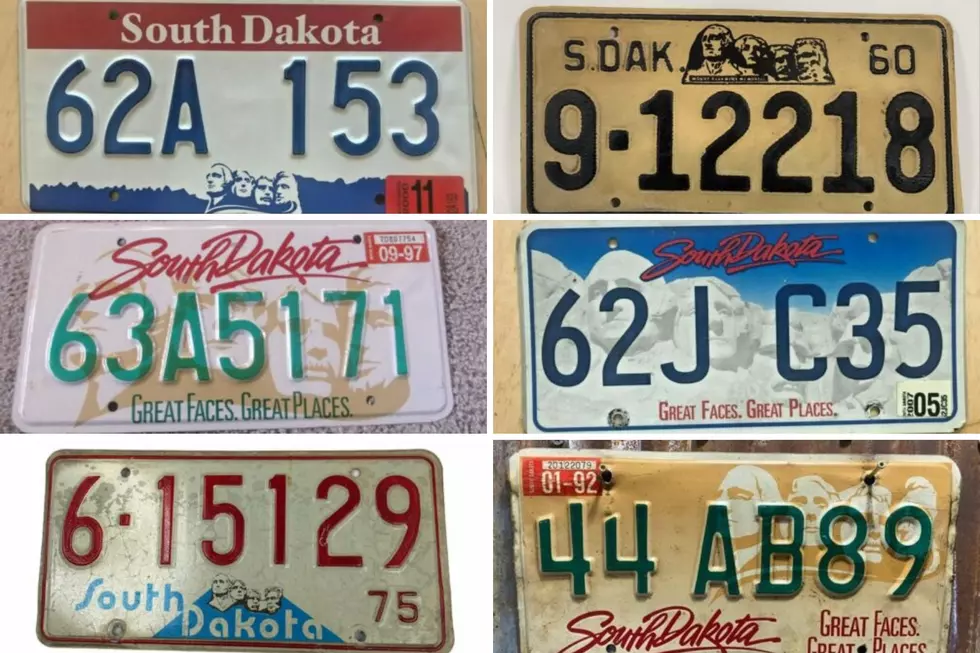 See What South Dakota's License Plates Looked Like The Year You Were Born
eBay
What Did South Dakota's License Plate Look Like the Year You Were Born?
The first number on a
South Dakota
license plate is the county that the car is registered. For example, Pennington county where Rapid City is has a '2' starting its plates. In Sioux Falls you have either a '1' or a '44' depending on your relationship to 57th street.
When established in 1956 (and revised in 1987) the first nine counties were ordered by population. Starting with 10 they are in alphabetical order through Ziebach, with Oglala Lakota County (65) and Todd (67) rounding out the list.
Today the top 10 plate numbers and populations don't correlate anymore. 1 and 2 are still 1 and 2, but Lincoln (44) is now 3rd in population. Beadle is 4 but it's now 11th in population. See the list by
population here
.
So, let's take a look back at what South Dakota license plates looked like over the last 100 years.
 South Dakota License Plate Numbers and Counties:
1: Minnehaha (Sioux Falls)
2: Pennington (Rapid City)
3: Brown (Aberdeen)
4: Beadle (Huron)
5: Codington (Watertown)
6: Brookings (Brookings)
7: Yankton (Yankton)
8: Davison (Mitchell)
9: Lawrence (Deadwood)
10: Aurora (Plankinton)
11: Bennett (Martin)
12: Bon Homme (Tyndall)
13: Brule (Chamberlain)
14: Buffalo (Gann Valley)
15: Butte (Belle Fourche)
16: Campbell (Mound City)
17: Charles Mix (Lake Andres)
18: Clark (Clark)
19: Clay (Vermillion)
20: Corson (McIntosh)
21: Custer (Custer)
22: Day (Webster)
23: Deuel (Clear Lake)
24: Dewey (Timber Lake)
25: Douglas (Armour)
26: Edmunds (Ipswich)
27: Fall River (Hot Springs)
28: Faulk (Faulkton)
29: Grant (Milbank)
30: Gregory (Burke)
31: Haakon (Philip)
32: Hamlin (Hayti)
33: Hand (Miller)
34: Hanson (Alexandria)
35: Harding (Buffalo)
36: Hughes (Pierre)
37: Hutchinson (Olivet)
38: Hyde (Highmore)
39: Jackson (Kadoka)
40: Jerauld (Wessington Springs)
41: Jones (Murdo)
42: Kingsbury (De Smet)
43: Lake (Madison)
44: Lincoln (Canton)
45: Lyman (Kennebec)
46: McCook (Salem)
47: McPherson (Leola)
48: Marshall (Britton)
49: Meade (Sturgis)
50: Mellette (White River)
51: Miner (Howard)
52: Moody (Flandreau)
53: Perkins (Bison)
54: Potter (Gettysburg)
55: Roberts (Sisseton)
56: Sanborn (Woonsocket)
57: Spink (Redfield)
58: Stanley (Fort Pierce)
59: Sully (Onida)
60: Tripp (Winner)
61: Turner (Parker)
62: Union (Elk Point)
63: Walworth (Selby)
64: Ziebach (Dupree)
65: Oglala Lakota County (Wounded Knee)
66: Washabaugh (merged with Jackson County in 1983)
67: Todd (Antelope)
Source: BR Licence Plates
Why Are There So Many South Dakota License Plates in Mexico?
An odd thing that's puzzled folks vacationing in Mexico is that there seems to be an abundance of
South Dakota
license plates. In fact, there are so many, it doesn't make sense.
Have You Ever Explored the 'War Eagle Monument' on the South Dakota/Iowa Border?
Originally being from the Sioux City area, I grew up knowing about the War Eagle Monument perched on a bluff along I-29. There was at least one field trip for every kid in the area to the monument.
However, speaking with folks from
Sioux Falls
, they didn't seem to know what I was talking about. All they know about I-29 in Sioux City was that it was usually under construction.
When crossing into Iowa from South Dakota on I-29, look up!
More From Hot 104.7 - KKLS-FM