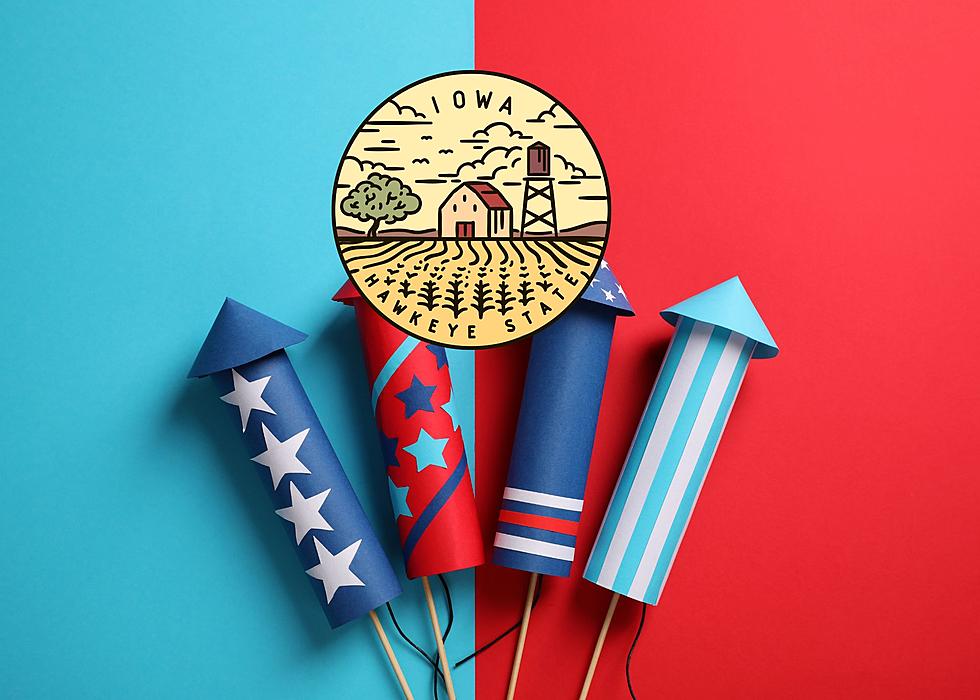 When Can You Legally Buy And Shoot Off Fireworks In Iowa?
Canva
The 4th of July is right around the corner and in Iowa, the window of time for us to buy fireworks is shrinking.
You have a timeframe for both dates of when you can buy fireworks and hours in which you can launch them. We've all seen the commercial fireworks stores that are set up around town ahead of the holiday and if you want to buy your own to set off in Iowa, you're on a tight timeframe of when you can get them.
Obviously, the best idea is to go see one of the many fireworks shows in the QCA, so we don't have another situation like the infamous "Put it in reverse Terry!" moment:
Buy Fireworks Between These Dates
According to Iowa law, you can only use and set off fireworks between June 1st- July 8th and December 10th-January 3rd. So you really have an entire month to celebrate 'Merica.
When You Can Shoot Off Fireworks
You'll inevitably hear fireworks at all hours for days around the 4th. But you can get popped with a fine for it so here's when you can legally shoot off fireworks around the QC.
Iowa law specifically prohibits setting off fireworks first thing in the morning, so before 9:00 a.m. on July 4th (and the weekend preceding it), and before 9:00 a.m. on December 31st and the weekend before it.
Rock Island, Moline, and Illinois fam, if you want fireworks on the 4th, you have to go to a professional show or have a permit. Otherwise no fireworks for you.
July 3 (5:00 p.m. – 10:00 p.m.)
July 4 (5:00 p.m. – 10:00 p.m.)
December 31 (10:00 p.m. – 12:30 a.m. on January 1)
July 3 (2:00 p.m.-11:00 p.m.)
July 4 (2:00 p.m.-11:00 p.m.)
December 31 (10:00 p.m.-12:30 a.m. on January 1)
So if you want to shoot off fireworks during your 4th of July cookout, plan to make it dinner. Which is perfect since they look best at night anyway.
LOOK: Where people in Iowa are moving to most
Stacker
compiled a list of states where people from Iowa are moving to the most using data from the U.S. Census Bureau.
LOOK: Most commonly seen birds in Iowa
Stacker
compiled a list of the most common birds seen in Iowa from Project FeederWatch.
More From Hot 104.7 - KKLS-FM