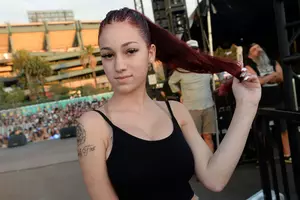 Danielle 'Cash Me Ousside' Bregoli Reality Show in the Works
Scott Dudelson, Getty Images
The series is said to document her burgeoning rap career — she's thus far landed two charting singles, "Hi Bich" and "These Heaux" — as well as her personal life, which shouldn't be short on entertainment. After catapulting into the spotlight for a now-viral appearance on the Dr. Phil show, Bregoli has built a reputation for sounding off and starting brawls, though, she told PopCrush in February, she's trying to leave the dramatics behind.
"As you get older you kind of look back, it could be a week ago or whatever, but when you're younger and as you get older you'll look back at things and be like, You slimy f--k, you shut up. Be quiet," she explained, reflecting on her whiplash rise .
Per TMZ, filming for the reality show's pilot began Saturday at Bregoli's sold-out show in Santa Ana, California, the first stop on her "Bhanned in the USA" North American tour. No word yet on when the world might be able to see some of the footage.
20 Child and Teen Stars Who Never Got Weird On Us
More From Hot 104.7 - KKLS-FM