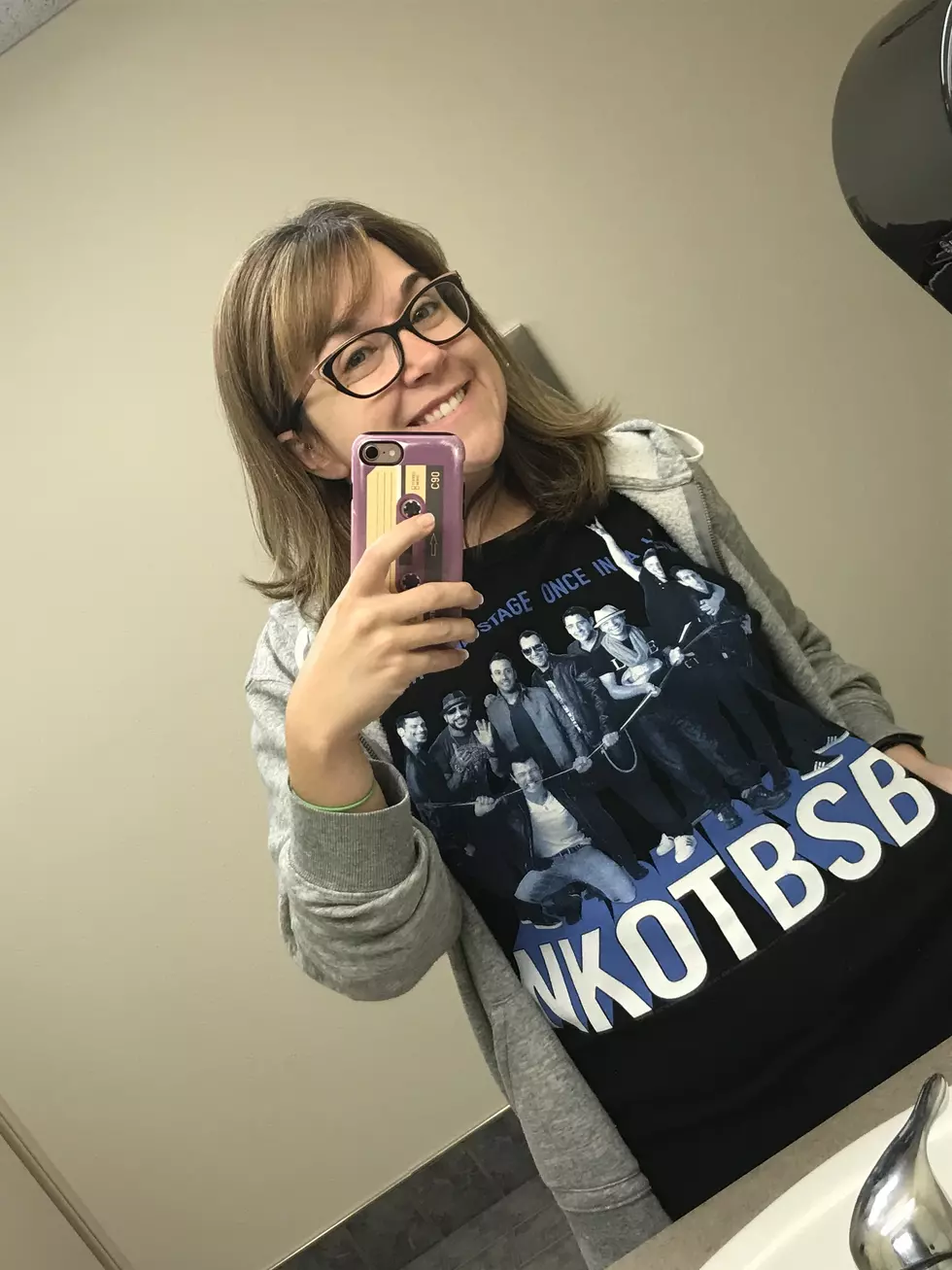 Concert T-Shirt Roundup Week 7
Natasha-TSM
Raise your hand if you buy concert t-shirts and then don't wear them because you want them to stay nice because they were super expensive. 🙋‍♀️🙋‍♀️
I have a whole stack of t-shirts that I spent way too much on because I think it will be a fun souvenir or memory.
I'm usually super cheap when it comes to buying clothes so the fact that I'll shell out up to $50 for a t-shirt is something I only do at concerts. It's cheating if you buy a band t-shirt online or at Target. What kind of fun memory is that? You have to earn that concert shirt, but don't wear it to the concert. That is a whole other blog post.
Anyway, I decided to wear one of my concert t-shirts every day until I've worn them all! Some of them are too big now, some of them are too small now, but it doesn't matter, I'm doing it and taking you along for the ride.
To review last week's shirts, click here.
You guys, I'm officially out of concert shirts. This is the end. Can you believe it?
For those of you that don't know, NKOTBSB is New Kids on the Block and Backstreet Boys. They did a tour together and most boyband fans lost their minds! However, Backstreet Boys were down a member. This was during the Kevinless era. I went to this show with my brother in Minneapolis at The Target Center. It was also the weekend that the last Harry Potter movie came out so I made my brother go with me to the midnight showing! It was a super fun weekend. Obviously, the show was amazing and I screamed my face off. My brother is a Backstreet fan. We've been to three of their shows together. However, he wasn't thrilled about the Harry Potter movie. Don't worry, he got back at me. I'm pretty sure we walked the entire area of the Mall of America three times. He's quite the sneakerhead and had to see all the shoes. We also rode all the rides at Nickelodeon Universe. We basically pretended we were 12 and 8 again.
You guys, it's Cher. She is so cool. I just love her. I saw Cher with a bunch of friends right here in Sioux Falls at the DenSanPremCen and we all had the best time. We were in the 9th row!!! It was a super epic night for us. We assumed that the crowd at a Cher concert would be decked out so we dressed up to the nines. We didn't see anyone else all dolled up. Oh well, we looked good. People wanted pictures with us! It was so fun! Also, Cher blew my mind. She looks and sounds so good still! This shirt has a sort of 80's Flashdance vibe with the off-the-shoulder look so sometimes I wear a tank under it. Most of the day I had a jacket on over it. You still see Cher and that is the most important part.
I know I said previously that my Hanson cassette tape shirt was probably my favorite, but this is a pretty close second. This sweatshirt was from Bruno Mars' 24K Magic tour. I went to that show in Fargo with my friend Becky. The Fargodome is not my favorite venue, but Bruno makes everything amazing. Honestly, the sweatshirt was a little more expensive than his t-shirts at the show, but I didn't like any of them. Plus, I'm freezing all the time so the sweatshirt is a good option. It's so comfy and I love the 90's vibes! It's covered in Bruno lyrics everywhere, even down the sleeves. The back says 24KMagic World Tour really huge! It doesn't say his name or has his face anywhere, but if you know then you know!
Ok, so technically Newsies isn't a concert, but I did the see the live show in Omaha! I don't usually buy merch at touring Broadway shows, but I made an exception for Newsies. First of all, I love this show. It's so good. and "King of New York" is my favorite number in the show because it's a tap number, duh. So, when I saw they had a "King of New York" shirt I just had to have it! Also, after the show, my friend and I were total groupies and hung outside the stage door to talk to some of the cast. I may have felt the oldest I've ever felt in that moment. All these cute dancer boys looked 12, but they were really nice and the lead was actually like 25 so I didn't feel like such a perv. So, there's that.
Lastly, Friday- Another Hanson shirt!
Ok, so this shirt is from The Walk Around the World Tour. I previously explained The Walk in last week's post, if you missed that, you can click here. I saw this show in Des Moines with my friend Brooke. We were still in college and drove there and back in the same day. We did that a lot. Gosh, we were crazy. I remember this show was at a venue that was upstairs and I felt like the floor was going to give in when the crowd would start to jump or get too excited. Luckily, we all survived! I remember we actually ended up pretty close to the stage at this show. Oh, the beauty of general admission shows and youth.
Also, peep the day after I got my hair done hair. Still looks pretty good!
Well, kids, that's all. Those are all my concert shirts. Can you believe I've actually been to more concerts than I have t-shirts? If I bought a shirt at every show, I could probably do this for another month, but I mean, I have to draw the line somewhere. I hope you enjoyed my trip down memory lane. Also, I miss concerts.
Here are a couple of bonus photos from the Cher concert because we looked too good not to share. You're welcome.
Enter your number to get our free mobile app
Yummy House
More From Hot 104.7 - KKLS-FM