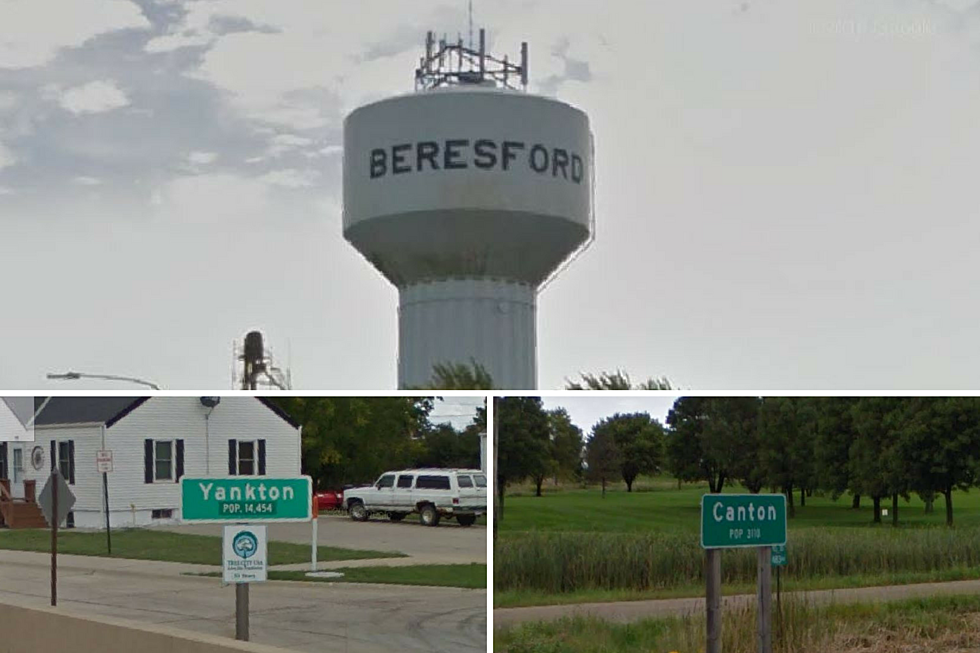 South Dakota Town Name Origins
Google Maps
Have you ever wondered where South Dakota towns get their names from? For towns like Sioux Falls or Hot Springs it's pretty straight forward. They were named after natural landmarks in the area, but what about other towns in South Dakota?
This suburb of Sioux Falls in Lincoln County, started life as the village of Byron. When a railroad came, the town applied for a post office. The postal authorities said that there were already several places named Bryon and they needed to pick a different name. Just like when you're trying to set up a new username. Instead of going with Bryon1234, the town set out to find a new name.
"The postal authorities advised the town fathers that several other communities were also named Byron. They requested the community select 10 short names from which one would be chosen. At a meeting around the pot-bellied stove in Heerens and Peter's General Store, townspeople came up with nine names and could not think of the 10th. Since this was a German based community, the tradition of afternoon tea was a necessity. When someone suggested that they break for tea, the idea to put Tea on the list was agreed upon. The postal authorities advised the town that the name "Tea" had been selected." -teasd.com
The first capital of Dakota Territory, Yankton is derived from the Nakota Sioux word I-hank-ton-wan ("the end village").
This town in Lincoln County gets its name from Johnson Harris. Harris had a homestead in the area where the stagecoach brought mail, he named the post office there Harrisburg. -Harrisburg Community Guide
When Canton was organized in 1861 the name was chosen because it was believed that the town site was located directly opposite of Canton, China. At the time it was thought that the Chinese spelling meant "gateway," and Canton was known as Gate City for many years. -cantonsd.org/history
Brandon is named after Brandon, Vermont.
Like the county, the city of Brookings was named after one of South Dakota's early promoters, Wilmot Brookings. Brookings was a judge, businessman and politician He was the first provisional governor of the Dakota Territory. He helped organize the city government in Sioux Falls and was district attorney there.
Hartford was named by Edward Tilton after the town in Connecticut where he came from.
In 1880 Humboldt was named by three German settlers after Alexander Van Humboldt a German (Prussian) geographer, naturalist, explorer, and philosopher.
Mitchell, SD
Mitchell is named for Alexander Mitchell, a Milwaukee banker who at the time was the president of the Chicago, Milwaukee and St. Paul Railroad.
Aberdeen was named by Alexander Mitchell (yep that same Milwaukee banker) after Aberdeen, Scotland.
Named in 1883 after a British colonel who had fought in Egypt.
This town in Union County was named after Lord Charles Beresford of England. who was a prominent in the Royal Navy and member of Parliament. Before it was incorporated Beresford went by the name Paris.
South Dakota's state capital takes its name from Fort Pierre, which started as a trading post and fort by St Louis industrial fur trader Pierre Chouteau, Jr.
This town in McCook County is named after Salem, Massachusetts.
Volga was named after the Volga river in Russia. Volga was originally called Bandytown, after a family who had settled there. Later the railroad assigned the name Volga to the town. It's believed they choose it because several settlers were from Russia. -Volgacity.com
This town in Yankton County was named for local landowner Henery P. Volin.
The name Parker was the maiden name of the wife of a Chicago, Milwaukee and St. Paul Railroad official.
---
More From Hot 104.7 - KKLS-FM