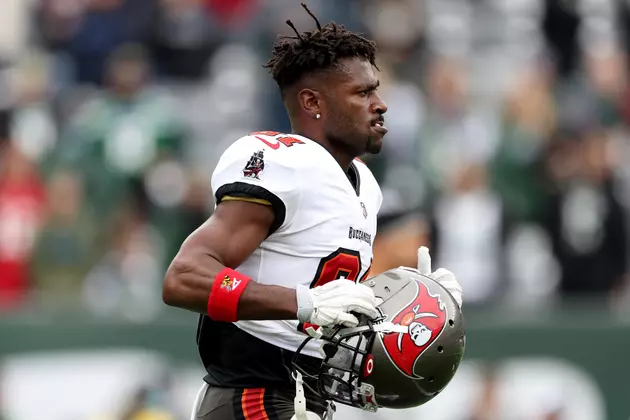 Antonio Brown to Make Return to Professional Football This Month
Getty Images
Antonio Brown was one of the most dominant receivers in the NFL during his playing career. Now, the embattled wide receiver is set to make his return to professional football later this month.
Per Pro Football Talk:
Brown, who owns the Albany Empire, recently told Roger Wyland of WNYT-TV that he'll play in an upcoming game. Brown plans to play in a game. He'll debut as soon as May 27.
Brown most recently suited up in the NFL for the Tampa Bay Buccaneers back in 2021, and will make his return to the pros at the National Arena League Football level.
We'll have to sit tight, grab some popcorn, and wait and see what Brown is capable of after several years off.
Over his career, Brown nabbed Pro Bowl honors 7 times, was an All-Pro 4 times, and won a Super Bowl with the Pittsburgh Steelers.
Following starting his career with the Steelers, Brown made brief stops with the Patriots and Buccaneers.
Currently, he has 12,291 career receiving yards and 83 touchdowns as an NFL wideout. Those numbers rank 24th (yards) and tied for 25th (touchdowns) in NFL history.
The Albany Empire (and owner/player Antonio Brown) take on the Fayetteville Mustangs at home on May 27th, a 6:00 central start time for Brown's debut.
Sources: ProFootballTalk, Pro Football Reference (Stats) and Albany Empire Official Site
The Worst Tattoos on Professional Athletes
Some tattoos are more regrettable than others.