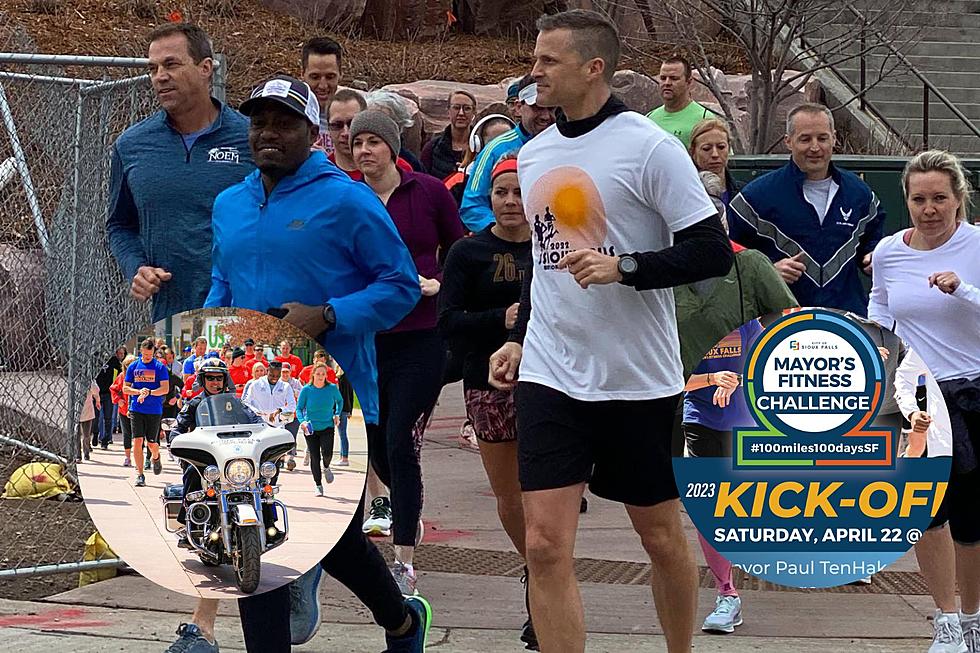 Sioux Falls Mayor Bringing Back City Fitness Challenge This Month
Paul TenHaken (via Facebook), Canva
It's time once again to get your sneakers ready and put some air in your bike tires!  For the fourth year in a row, Sioux Falls Mayor Paul TenHaken is getting the city pumped for the Mayor's Fitness Challenge.
All you have to do is log 100 miles by either walking, running, or biking beginning Saturday, April 22nd. Mayor TenHaken recently posted on his Facebook sharing the exciting news of the 2023 #100Miles100DaysSF fitness challenge.
In the Facebook post on his page, Mayor TenHaken explains the 2023 #100Miles100DaysSF fitness challenge party is at Levitt at The Falls at 9 AM.  Last year in a fun Facebook video, Mayor TenHaken reminded his followers and viewers that taking care of your mental health is super important. This was especially true throughout the COVID-19 pandemic. Being active is one way to keep your mind and body healthy.
The #100Miles100DaysSF Fitness Challenge is coming back with a goal. This year, Mayor TenHaken wants to set a record in the city. He explains, "Spring is here and it's time to get moving! Stay motivated and active with the #100Miles100DaysSF challenge!" It's working out for 100 days and getting at least 100 miles recorded by the end of the challenge. This community's goal is to run, walk, bike, rollerblade, or walk on your hands...haha kidding!
Residents can even purchase #100Miles100DaysSF gear to celebrate this annual event. It's truly a great initiative to get involved in the community and kick-start your health journey.
The #100Miles100DaysSF is a great way to experience the bike trails and the open spaces that Sioux Falls has to offer. I know I had a blast participating in the previous Fitness Challenges all while enjoying some great sunny days!  Even my dog, Honey was able to join me for some miles when the challenge first started!
Don't forget to use the hashtag #100Miles100DaysSF when you're posting pictures or selfies on social media. You might win some sweet prizes too. More details can be found here. Let's get active together, Sioux Falls!
NEED TO KNOW: Sioux Falls Outdoor Public Pools And Spray Park
Summer in
Sioux Falls
is beautiful. But sometimes you need to cool off. Sioux Falls has some great outdoor public pools and a fun spray park in addition to the indoor
Midco Aquatic Center
.
Sioux Falls public pools are open from 1:00 PM to 5:00 PM and from 6:30 PM to 9:00 PM.
Prices are $5 for ages 2 to 17, $6 for adults, seniors 55+ are $5, and children under 2 are free. The Spray Park and the wading pools at Frank Olson, Kuehn, and McKennan are free.
You can also get a Sioux Falls swim pass and swim all summer. You can buy a swim pass at the Midco Aquatic Center or at most of the outdoor pools all summer. For more about the Sioux Falls
swim pass click here
.
13 Times Sioux Falls Made it into a 'Jeopardy!' Question
If the world was divided into
Jeopardy!
and
Wheel of Fortune
people, I would be down for
Jeopardy!
all the way. It's a lot more fun, it makes me feel smart because I can retain lots of trivia, and I am a horrible speller. So
Wheel
is out, no whammies.
Recently I discovered (I mean wasted a lot of time on)
a website
that is an archive of clues that have been on
Jeopardy!
.
While digging around the archive, I wanted to find out how often Sioux Falls came up in a question (Answer) on the show. Since 1990
Sioux Falls
has been part of a question or an answer 13 times.
More From Hot 104.7 - KKLS-FM