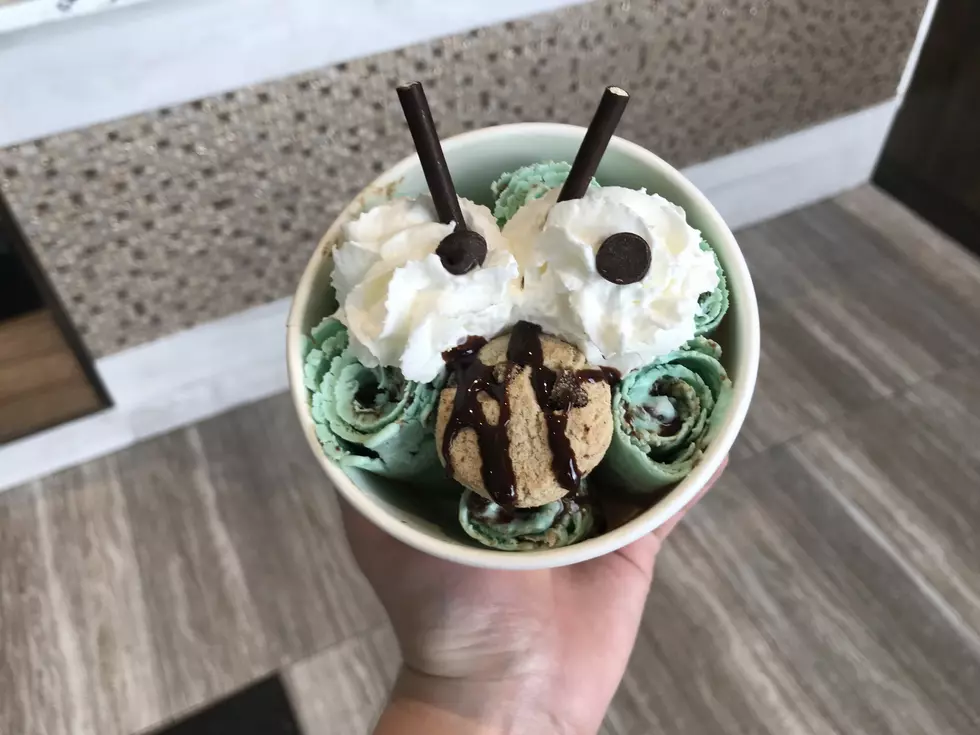 Natasha/Hot 104.7
While I was in Omaha visiting my brother and sister-in-law we decided to go out for ice cream, but not just any ice cream. Thai rolled ice cream.
Thai rolled ice cream is a very popular street food in Southeast Asia. It is also commonly known as stir-fried ice cream.
The process is pretty cool. The ice cream base and mix-ins are poured onto a very cold surface and then they mix it up until it is ice cream. It is made right in front of your eyes. Then they get it in a thin layer and roll it up with what looks like a putty knife. Then the ice cream rolls are put in a cup and the decorating begins. The toppings and decorations were taken very seriously and it showed. Everything looked amazing.
It was a bit mesmerizing watching them make the rolled ice cream.
My rolled ice cream concoction was called Monster Ink. It had cookie dough and chocolate bits. I didn't realize they were making mine because it was green. I figured green meant someone ordered mint. But in hindsight, it is called 'monster' ink, so green makes sense. It was delicious!
The shop in Omaha that we visited was called Freezing. Makes sense.
I was under the impression that Sioux Falls did not have a rolled ice cream shop, but I stand corrected. According to Google, TASTEAS Natural Teas & Rolled Ice Cream is located on 41st Street. I'm definitely gonna have to check that place out ASAP.
More From Hot 104.7 - KKLS-FM