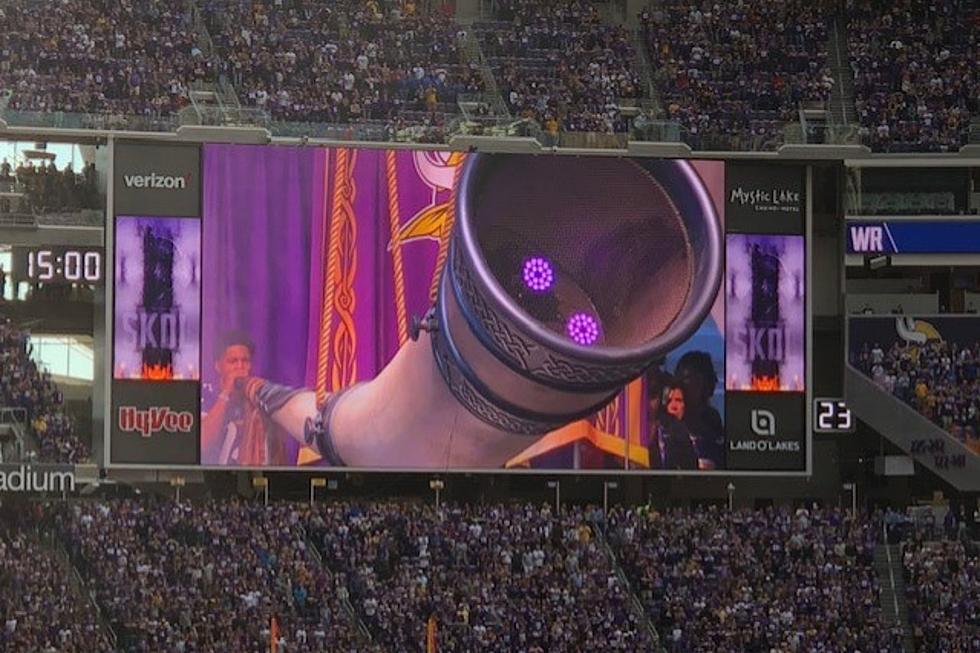 How The Vikings Saved Minnesota Taxpayers Millions
Photo by Brooks O'Brian
US Bank Stadium, the home of the Minnesota Vikings since 2016, came at a cost of $1.1 Billion.  Yes. That's Billion…with a "B".  But, SO worth it, right?
Once we all saw that stadium full of purple seats:
We heard the bang of the war drum start:
Then the crowd starts the SKOL chant:
Finally the sound of the Gjallarhorn to announce the beginning of the game. Talk about exciting! (See the end of the story to find out how to win your tickets to a Vikings game)
Have you been curious as to what exactly a Gjallarhorn is? According to Norse mythology, the Gjallarhorn was sounded to announce the arrival of the gods. Since 2007, the Gjallarhorn has signaled the Vikings are ready and the start of a battle on the gridiron will now begin. Sounding the Gjallarhorn is something only an honored few can lay claim to.
The stadium was scheduled to be paid off by 2046. But we Minnesotans very quietly got a huge gift at the beginning of June. There wasn't a lot said about it but according to FanNation – Inside the Vikings online, among other news outlets, thanks in part to a bill signed by Minnesota Govenor Tim Waltz and revenue from Electronic Pull Tabs, the stadium was paid off at the end of June. What's amazing about that is that it's a full 23 years early. So what does that mean to us? This will save Minnesota taxpayers $226 Million in interest!
Now who's ready for the Vikings Season to start?
SKOL! To the game with Brooks O'Brian! I want you to come with me to see the Vikings play their final Pre-Season game on August 26th. Listen to win your tickets
8 Apps Minnesota Enjoys More than Watching the Super Bowl
Apps or food we enjoy in Minnesota when watching football and more specifically during the Super Bowl
40 Things to Do in Central Minnesota This Summer
More From Hot 104.7 - KKLS-FM