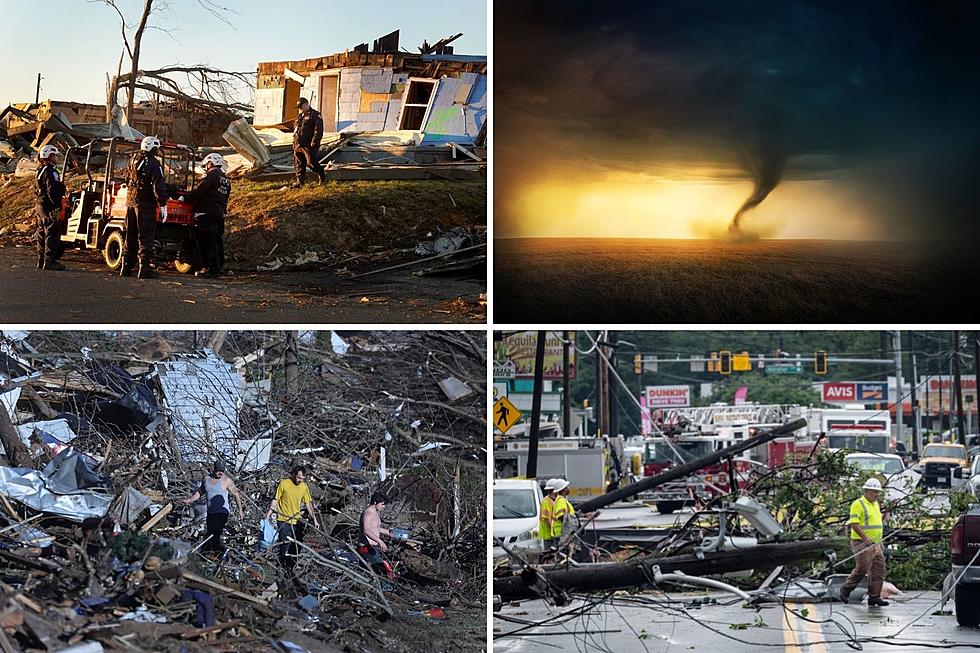 How Can South Dakotans Help the Tornado Victims?
Getty Images
If your heart is calling you to help the victims of last week's horrific tornado devastation that ripped through a nine-state region here in the U.S., the Eastern South Dakota Chapter of the American Red Cross has several ways to lend a hand.
As you might imagine, the spirit of giving during the Christmas season is alive and well in several people here in South Dakota. A number of individuals have already reached out to the American Red Cross here in the Sioux Empire inquiring about possible ways to help.
Patty Brooks, the executive director for the Eastern South Dakota Chapter of the American Red Cross told Dakota News Now, "That's the midwest philosophy. We're here to help and I think as midwesterners that's what we're going to do. If we can't help financially we're going to roll up our sleeves and do what we can to be a trained volunteer and deploy out and be there."
According to Dakota News Now, the chapter has already deployed 17 people from the state to assist.
People like Tom Henley from Aurora, South Dakota. Henley has been volunteering with the Red Cross for 5 years. He told Dakota News Now, "I looked at my wife and I said you know Red Cross is going to call are we going? She said, yeah we're going."
Henley is heading down to the heart of the devastation to help provide spiritual care to victims.
Like so many other people from South Dakota and throughout the country, he will be on-site lending support over the Christmas holiday.
If you too feel compelled to lend a hand, the American Red Cross has identified the biggest needs at this time as being blood and financial donations.
The easiest way to get involved is by visiting the Red Cross website for donation information.
Source: Dakota News Now 
Do You Remember These 10 Crazy Snowstorms In South Dakota?
Here's some news that some South Dakotans prefer not to hear this time of year. Winter is coming. In denial? The dropping temperatures and early snowstorms out west by
Deadwood
speak for themselves.
Slowly but surely, people of the
Sioux Empire
are bracing for colder weather and snow-covered roads. Even though snow will soon be gracing the Sioux Empire with its presence, some snow showers will not compare to these ten dreadful snowstorms that hit South Dakota.
Only In Your State
highlights these ten snowstorms in
South Dakota
as a reminder for people to always be aware of the roads during the winter. These South Dakotan winters can be harsh, which is why it is always a good idea to plan ahead and prepare for the worst.
Do you remember any major snowstorms that hit South Dakota?
Worst Places to Live in South Dakota
A surprising town was named the worst place to live in all of
South Dakota
and the reason behind it is a bit unexpected.
Money Inc.
made a list of the 20 worst cities and towns to live in all of South Dakota and no part of the state is left unmarked.
The list focused on a number of key factors, including crime rate, unemployment, low wages, and school funding.
So which city is the "worst" in South Dakota, according to the article? Read on:
More From Hot 104.7 - KKLS-FM