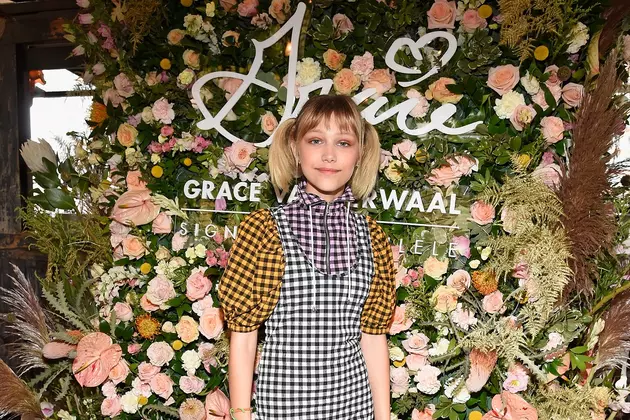 Grace VanderWaal Is 'So Excited and So Scared' About Her Role in 'Stargirl' (INTERVIEW)
Kevin Mazur, Getty Images
It's been just a little over two years since Grace VanderWaal, only 12 years old at the time, walked away as the champion of America's Got Talent. During her stint on Season 11, she stunned audiences and judges alike with her precocious musical talent, unique ukulele playing and relatable original songs, something she's carried through her young, yet already accomplished career.
In 2017 alone, VanderWaal received the Billboard Woman in Music Rising Star Award, a Teen Choice Award and the Radio Disney Music Award for Best New Artist. She also released her debut full-length album, Just the Beginning, which featured the hit single "Moonlight"—a track that effortlessly fused VanderWaal's acoustic indie spirit with dance-friendly radio beats.
Like her album titled suggestz, the young star was truly just getting started: Since the beginning of 2018, VanderWaal has toured with Imagine Dragons, released a gorgeous collection of ukuleles with Fender, and was cast as Stargirl in Disney's upcoming adaptation of the beloved book of the same name.
As Fender's youngest signature artist, what does it mean for you to inspire young people—young girls especially—to pick up an instrument and learn how to make music?
It's so cool. I feel like it's just so important for child and teenage development to have music in your life, honestly. And I just think it's really, really, really rewarding to me, personally, just emotionally, to know that I might have brought that into someone's life. And that just means a lot to me, because I know how important it can be.
That reminds me of your foundation, Little Miracles. Arts funding is so integral to childhood development and teenage development. What inspired you to launch the organization, and why do you think that's so important for people to have?
What inspired me to launch that was I actually have a school near me, East Ramapo school, and that's what we're focusing on right now. I literally drive by this school more than three times a week, I'd say. And it used to be one of the best schools in Rockland County, and now it's one of the worst. It was just really, really heartbreaking to watch these kids and see them slowly get more and more things taken away.
I just thought that was really heartbreaking and unfair for them, and there were tons of other things going on behind the scenes. I was just like, "Well, I want to help, I won this show, I can help now, I have the money to help." So I did ! And now I think that we should focus it on some other schools, once we help East Ramapo. They already made a show choir called the Little Miracles, and they're actually so cute and amazing. I watched their show and they were like, "Let's get loud! Let's get loud!" They were doing dances... It's amazing what children can do once it's offered, you know?
What advice would you give to young people who are considering auditioning for shows like AGT or The Voice?
I think that it would just be to make sure that you're very, very secure with yourself. I've seen way too many insecure people get taken advantage of, and it's very, very sad because people can sniff that out so fast if you're unsure and insecure in yourself. They will take advantage of that. Just make sure you're really sure of yourself before you jump into anything, or else you might wake up and be like, "Who am I?" You might lose yourself, and that's a horrible feeling.
Not letting people walk all over you, and learning boundaries, is a lifelong journey. Have you had experiences like that since getting into the music industry?
Yeah, I mean, I think everyone has pretty much in the industry, but I feel like you just have to kind of set your ground because it is pretty current. It isn't like [it was in] the 2000s. They're not going to force you to be sexual, show your body, and do all these things that you don't want to do. If you stand your ground and show them who you are, like my label knows who I am ... America's Got Talent, when I was on that show, they started to know who I was and realized, "Okay, we can't touch her."
The news about your Stargirl movie casting is so exciting! Tell me where you're at with that.
I'm actually leaving tonight for New Mexico. I'm going to be there filming for ten weeks. I'm going to start pre-production the day after tomorrow, and I'm so nervous but so excited. I've been acting out my lines in the shower while washing my hair, like, "Leo!" I'm so excited, and I'm so scared, but I definitely think it's gonna be an amazing experience.
'American Idol,' 'The Voice' & 'X Factor' Winners Through the Years
More From Hot 104.7 - KKLS-FM