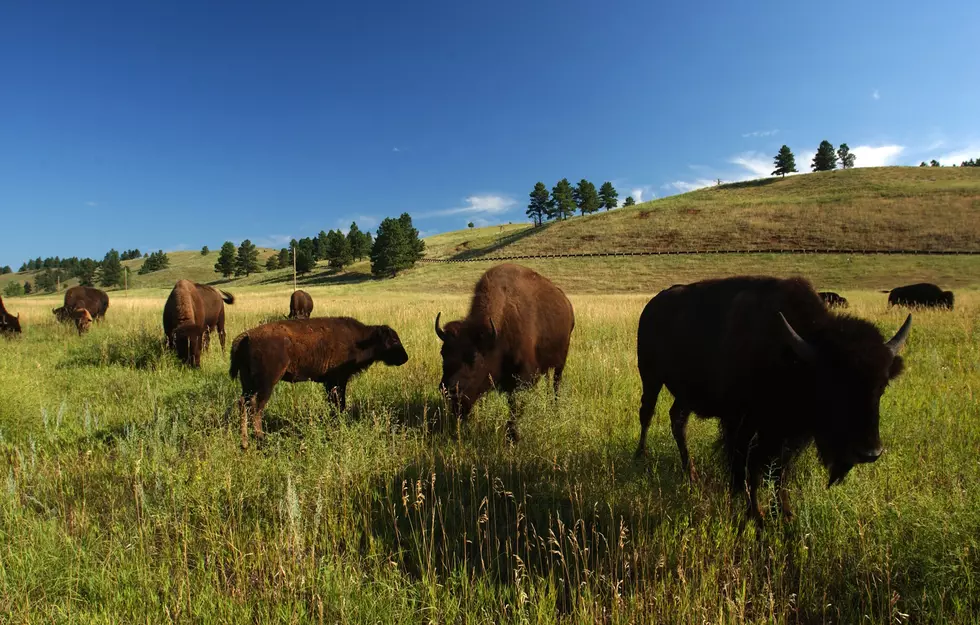 Friendly Reminder: Stay Away From The South Dakota Bison
Getty Images
This is a busy time of year in the state of South Dakota.  Tourists from all over the country are visiting the state to check out fairs, view historical landmarks, and experience the ever-popular Sturgis Motorcycle Rally.
Since there are currently so many nonresidents in our state of "Great Places, Great Faces," a viral photo is resurfacing on social media as a friendly reminder to stay away from the state's wildlife.  This especially includes the buffalo roaming in Custer State Park.
An ambulance from Custer, South Dakota appears to have a new accessory in the buffalo picture.  The picture was posted after a woman visiting Custer State Park got a little too close to one of the babies in a herd of bison.  In fact, "Biker Betty" is lucky to still be alive.
This accident occurred at Custer State Park just one year ago. One of the bison charged this woman and attacked her for getting too close.  This buffalo was able to rip her jeans off by grabbing onto her belt.  This situation could have easily taken a turn for the worse.
Remember, if you are planning to visit Custer State Park, or any park where wildlife is present, keep your distance. Heck, keep more than 6-feet apart.  Yes, it's amazing to see animals like these majestic bison up close and personal.  However, it is not worth risking your health and well-being.  Take your photos safely from a distance.  Those photos are still going to be worth a thousand words!
LOOK: Here are the best lake towns to live in
Many of the included towns jump out at the casual observer as popular summer-rental spots--the Ozarks' Branson, Missouri, or Arizona's Lake Havasu--it might surprise you to dive deeper into some quality-of-life offerings beyond the beach and vacation homes. You'll likely pick up some knowledge from a wide range of Americana: one of the last remaining 1950s-style drive-ins in the Midwest; a Florida town that started as a Civil War veteran retirement area; an island boasting some of the country's top public schools and wealth-earners right in the middle of a lake between Seattle and Bellevue; and even a California town containing much more than Johnny Cash's prison blues.
More From Hot 104.7 - KKLS-FM