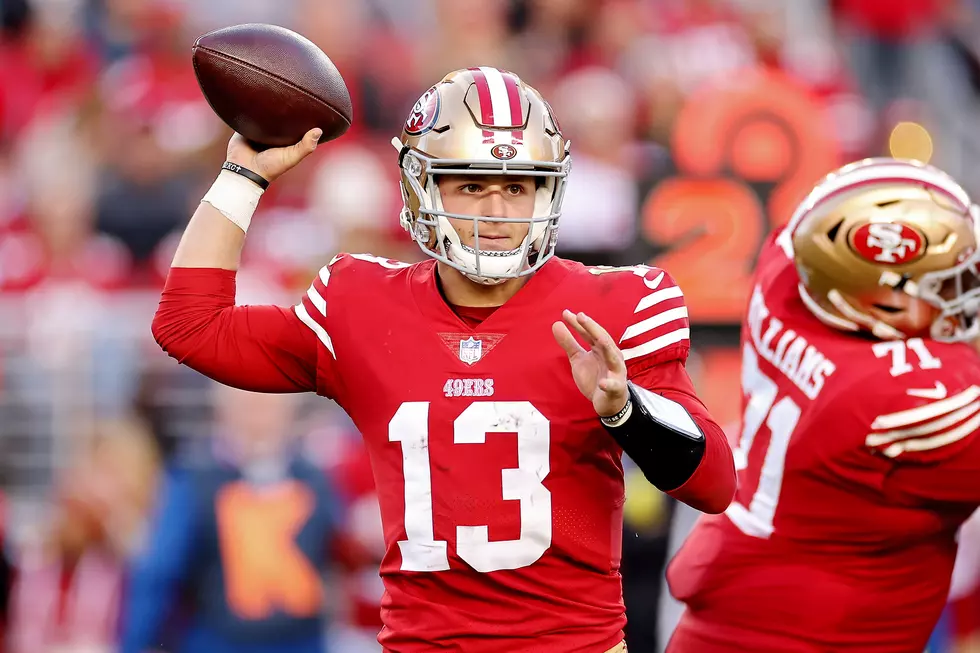 Brock Purdy Drops Bombshell About His Health For 2023 Season
Getty Images
Former Iowa State quarterback Brock Purdy had a dream rookie season in the NFL come to a rough end. Mr. Irrelevant became the starter in San Francisco and helped lead the 49ers to the playoffs. But during the NFC Championship game, Purdy suffered a severe elbow injury. The Niners lost, and the season was over.
Purdy tore the UCL in his throwing elbow and the quarterback had surgery on March 10th. Yahoo Sports reports that the surgery was a repair rather than reconstructing the ligament. The move was aimed at speeding up Purdy's recovery time. A reconstruction, called Tommy John surgery, would have all but ended Purdy's chances of playing this season. But when will Brock actually be able to play this year? One person who isn't sure is Purdy himself.
During the interview with Yahoo Sports Purdy reveals that he has removed the brace on his elbow that is pictured above. He called getting the brace off "a big win." But then Purdy stated something that has taken many by surprise. He stated that it is still early in the recovery process and that he's "not really sure, honestly" whether he'll play in 2023. This makes Purdy the first person with the 49er organization to express doubt on whether he'll play this season.
Sports Illustrated reports that Niners GM John Lynch stated at the NFL's annual meetings in Arizona that he hoped Purdy would be ready for the start of training camp. SI reports that coach Kyle Shannahan stated that Purdy might not be ready until around week 4 of the regular season. If there is a chance that Purdy could miss the whole season, it alters what the Niners may need to do during the upcoming NFL Draft and during free agency. Stay tuned. Here is hoping Brock is a quick healer!
LOOK: These Are the Richest NFL players
To uncover the richest NFL players,
Stacker
consulted
Celebrity Net Worth
and ranked them by their 2022 net worth, calculated using a proprietary formula.
CHECK IT OUT: 100 sports records and the stories behind them
More From Hot 104.7 - KKLS-FM