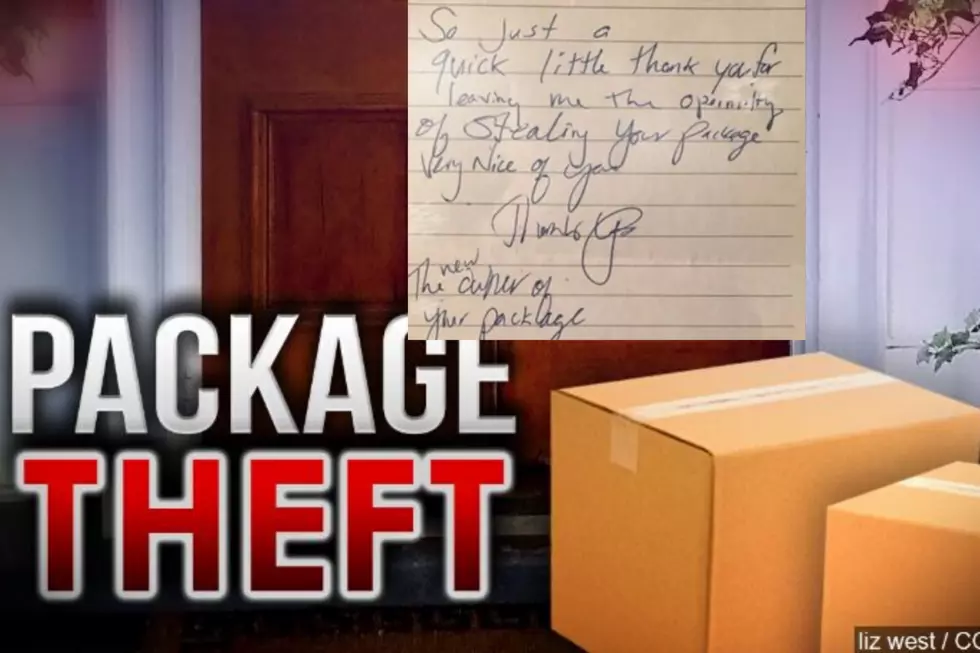 Bah Humbug! St. Paul Porch Pirate Leaves a 'Thank You' Note
KSFY TV (with permission)
This tactic used by a Minnesota porch pirate takes being a thief to a whole new low.
KSFY TV is reporting that a St. Paul, Minnesota resident had a gift lifted off their doorstep by a holiday porch pirate sometime on Thursday (December 12) while they were away from their home.
The thief not only stole their package, they also left a thank you note to rub it in.
According to KSFY, the note read, "Thank you for the opportunity of stealing your package." The thief then signed the note, "The new owner of your package."
Sheesh! Talk about getting kicked in the teeth by the Grinch that stole your Christmas presents.
Porch pirates truly are the scourge of the earth, especially during this time of the year. That's why authorities want to remind those of us, who choose to do a lot of online shopping, there are a few simple tips to follow to make sure your holiday purchases don't end up under a strangers tree.
For instance, you can:
Require a signature for delivery
Have your package delivered to a trusted neighbor who's home
Have your package delivered to your work address
Have your package delivered to an Amazon locker
Have your package delivered to a neighborhood store
And finally, look into the many innovative apps that allow delivery people to leave packages in your home or vehicle.
Not only do you have to worry about some ho, ho, hosebag stealing your gifts, now, they might also leave you a thank you note! Talk about the ultimate Bah Humbug!
Source: KSFY TV
More From Hot 104.7 - KKLS-FM