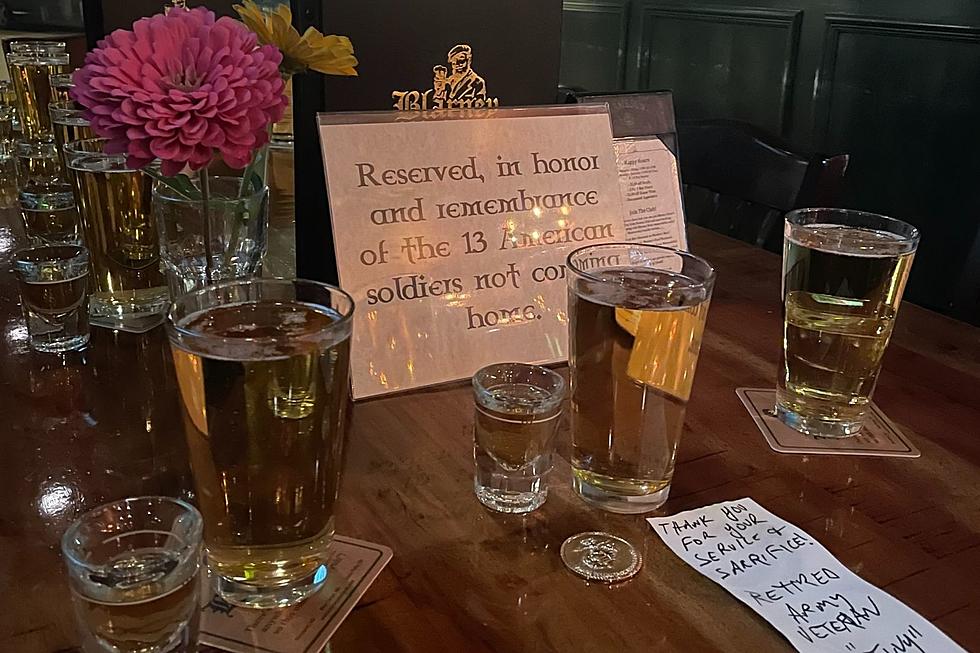 A Sioux Falls Bar Honors The Lives Of 13 American Soldiers
Christine Manika (TSM)
13 chairs are gathered at one table inside of a Downtown Sioux Falls bar.  Each chair has a beer and a shot in front of it almost like the individuals at this table are celebrating something big. However, instead of these 13 chairs being filled with laughter, they remain empty. It's like time has stood still.
This picture is the reality for 13 American families who lost a son or daughter, husband or wife, brother or sister...This photo represents the 13 American soldiers who tragically lost their lives in the Kabul airport attack on Thursday, August 26th.
So which Downtown bar in Sioux Falls is remembering and honor these 13 lives lost in this unique and very touching tribute? You can thank the crew at the Blarney Stone Pub for this sentimental gesture.
People across the United States have been finding ways to honor those 13 soldiers who selflessly and courageously died fighting for our country.  Bars like Blarney Stone Pub have left a table reserved with drinks and flowers.  The whole idea was initiated by the Blarney Stone Pub's manager. It's just such a surreal feeling seeing this table.  Truly bone-chilling.
I paid my respect to the table when I first encountered it at the Blarney Stone Pub. While standing in front of the table, I could not help but think of the American soldiers who died for this nation.
If you're visiting the Blarney Stone Pub this week, think of these soldiers and raise your glass to them in memory of their dedication and service:
Marine Corps Sgt. Nicole L. Gee, 23, of Sacramento, California
Marine Corps Cpl. Hunter Lopez, 22, of Indio, California 
Marine Corps Cpl. Daegan W. Page, 23, of Omaha, Nebraska (Also grew up in Red Oak, Iowa)
Marine Corps Cpl. Humberto A. Sanchez, 22, of Logansport, Indiana
Marine Corps Lance Cpl. David L. Espinoza, 20, of Rio Bravo, Texas
Marine Corps Lance Cpl. Jared M. Schmitz, 20, of St. Charles, Missouri 
Marine Corps Lance Cpl. Rylee J. McCollum, 20, of Jackson, Wyoming 
Marine Corps Lance Cpl. Dylan R. Merola, 20, of Rancho Cucamonga, California
Marine Corps Lance Cpl. Kareem M. Nikoui, 20, of Norco, California 
Navy Hospitalman Maxton W. Soviak, 22, of Berlin Heights, Ohio
Army Staff Sgt. Ryan C. Knauss, 23, of Corryton, Tennesse 
Source for names: The New York Times
Jefferson High School
More From Hot 104.7 - KKLS-FM