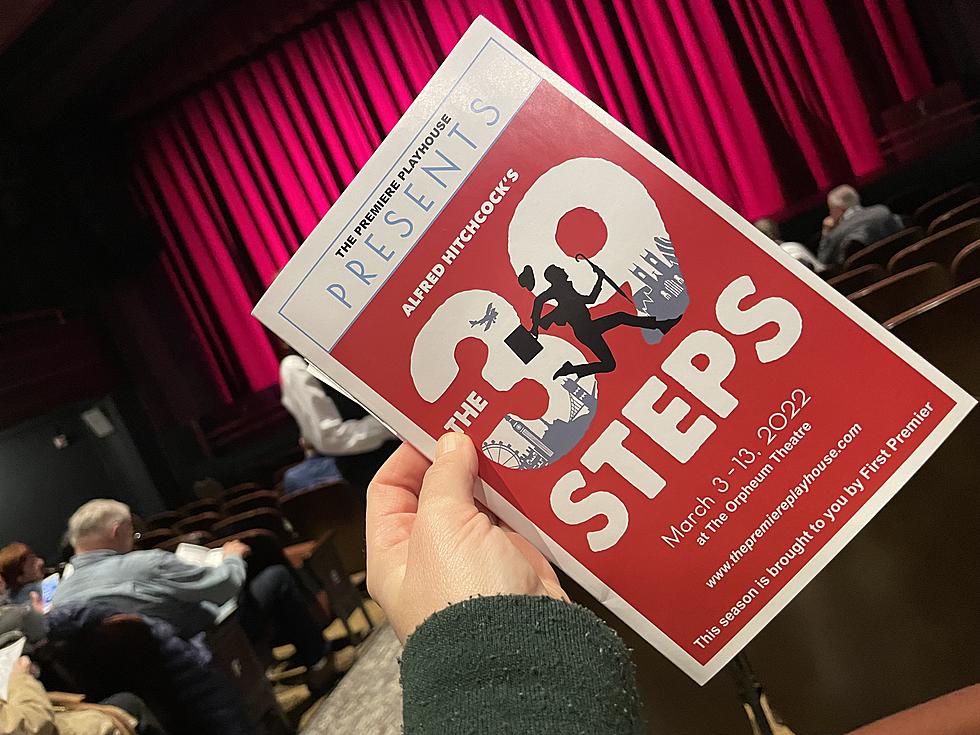 The Premiere Playhouse Presents Alfred Hitchcock's 'The 39 Steps'
Natasha-TSM
Alfred Hitchcock's The 39 Steps opened last night (March 3, 2022) at the Orpheum Theatre in downtown Sioux Falls.
The show is the fourth in The Premiere Playhouse's 19th season.
How to describe The 39 Steps? Well, you might see Alred Hitchcock's name and assume it's intense or scary. Not so much. This show takes an Alfred Hitchcock movie from 1935, The 39 Steps, and adds a dash of comedy. Its sort of like Hitchock meets Monty Python.
The whole show is also performed with only four cast members. Yup, only four people play 80 characters!
On The Premiere Playhouse website, this amazing element of the play is explained, "One actor plays the hero, Richard Hannay, an actress plays the three women with whom he has romantic entanglements, and two other actors play every other character in the show: heroes, villains, men, women, children and even the occasional inanimate object. This often requires lightning-fast quick-changes and occasionally for them to play multiple characters at once."
I had the privilege of seeing the show on opening night and I wasn't sure what to expect, but I was blown away by the cast and crew! Mo Hurley and Jacob Cox play Clown 1 and Clown 2 that do most of the quick character work. They deserve a round of applause. I don't know how they kept straight their accents, jackets, sweaters, and wigs. A  special shoutout to Mo Hurley for having to recite a very long, rapid-fire, scientific equation towards the end of the play. Color me impressed.
Seriously, the whole cast of four, the aforementioned Mo Hurley, Jacob Cox, as well as Marisa Moser and Tanner Sabol, should be very proud.
Probably my favorite moment of the show is when Tanner Sabol as Richard Hannay has to get out of a chair without moving a body on top of him. It's hard to explain. You just have to see it.
You're probably still wondering what exactly are The 39 Steps? Well, you'll just have to see the show to find out!
There are nine more opportunities to see The 39 Steps. Shows are 7 p.m. Thursday, Friday, and Saturday with 2 p.m. matinees on Saturday and Sunday through March 13th.
For more information and to buy tickets, click here.
Cabaret is the final show in the Season 19 lineup for The Premiere Playhouse. Auditions for Cabaret are on March 6th and 7th. More information about that, here.
Cabaret opens May 12th!
See Some of Sioux Falls' Beautiful Murals [PHOTOS]
I was in
Canton
, SD, and I happened upon a new mural.
It was really cool and that got me thinking that I know of a few murals in Sioux Falls, but I bet there's more than I realize. So, I put it out on social media for the people of
Sioux Falls
to tell me where all the murals are!
A few of them I had never seen, or never even been to that part of town, and a few of them, I drive by all the time and never noticed!
I know a few businesses have murals inside their establishments, but I decided to keep it to murals that are totally open for the public to see. No need to be 21!
So, here we go! Let's check out some of Sioux Falls' murals.
Did I miss one? Let me know!
More From Hot 104.7 - KKLS-FM