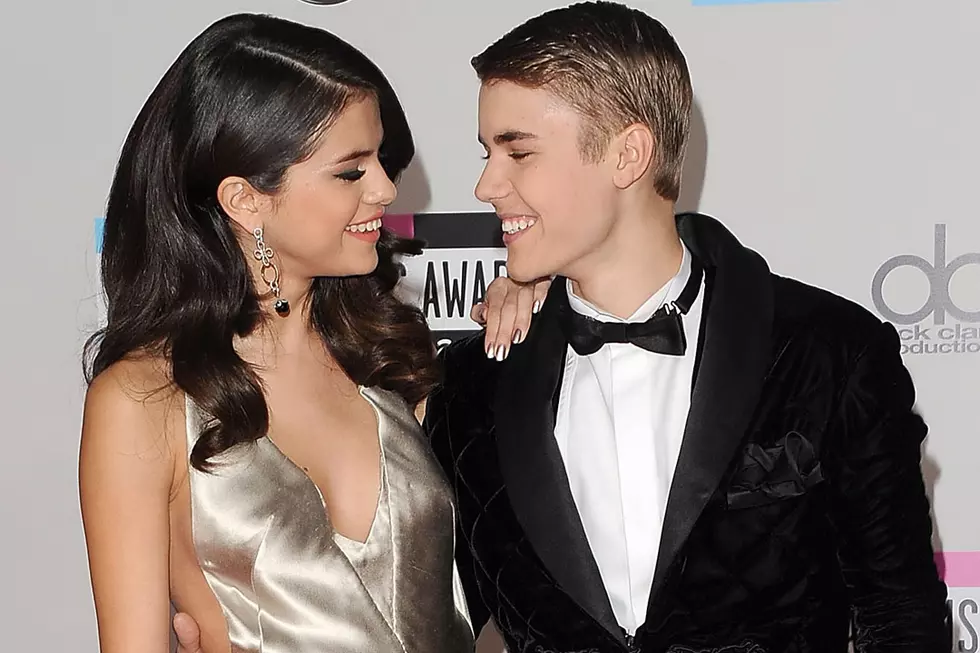 An Exhaustive History of Every Song Selena Gomez + Justin Bieber Have Ever Written About Each Other
Jason Merritt, Getty Images
There are few celebrity relationships that have been as meticulously documented as the tumultuous, years-long courtship of Selena Gomez and Justin Bieber — thanks in large part to the on-again, off-again lovebirds themselves.
Since first sparking romance rumors back in 2010, the two have frequently dissected their love in song, from the can't-get-you-out-of-my-head magnetism of "All That Matters" and "Nobody Does It Like You" to the wistful regret of "Sorry." By now, almost all of their music is guaranteed to prompt speculation, and of course, there are times when fans have been wrong: Gomez's "Same Old Love," for example, is widely thought to be about Bieber, but was in fact written by Charli XCX, Ross Golan, and producers Stargate and Benny Blanco, not Gomez. (Though surely, she can relate to at least some of its content).
Still, between their massive 2012 breakup and their 2018 reunion heard-round-the-internet, the two have accrued a collection of tracks about one another so large they could fill a Greatest Hits album and then some. Below, look back at the many, many tunes they've penned for each other, and sound off in the comments if you think we've missed any.
1

"Love Will Remember," 2013

This emotionally charged ballad, released on Gomez's 2013 album Stars Dance after the couple's first big breakup, literally starts with a voicemail from Bieber.

"That's the most personal track on the record, for sure," Gomez told InStyle of the song. "I think it's a sweet way of releasing it. It's not an aggressive approach to what people are probably expecting. I'm sure he'll love it too."

2

"Forget Forever," also from Stars Dance, details the breakdown of a once-idyllic romance that sounds suspiciously like Gomez and Bieber's. "Our love was made to rule the world / You came and broke the perfect girl," Gomez opines.

3

Just five short months after Stars Dance, Bieber unveiled his second compilation album, Journals, a project replete with tracks heavily speculated to be about Gomez. He wrote on Twitter that "Heartbreaker" was "a song for people going through heartbreak — like [he] was when [he] wrote it," and since he penned Journals while on tour for Believe between 2012 and 2013  — smack in the middle of he and Gomez's first split — its subject seems pretty indisputable.

4

Another Journals entry, "Bad Day" bemoans the demise of a since-soured relationship — and again, given the timing, seems quite obviously directed at Gomez.

"Never thought a love like yours would leave me all alone, oh no / Didn't waste any time / But you had already made up your mind / No sympathy / Cause I was out of line, oh yeah," he sings.

5

Bieber confirmed this sultry Journals slow jam was about Gomez during an interview with Power 106 Los Angeles.

"'All That Matters' was written when I was in a great place in my relationship," he explained. "At that time, she was all that mattered."

6

Bieber hinted Journal's "Recovery" was about Gomez on Twitter.

"Recovery is an acknowledgment that in life you can't just fall down and not get over things. You have to step up and recover," he wrote. "At the time, I was going through a very hard breakup and when you're going through stuff like that, you think that the world is just gonna end. Then you wake up the next day and realize that life has to go on. Recovery is that feeling you get when you start to move on and make things better for yourself because yesterday is gone and tomorrow is here."

7

Basically, Bieber spent almost the entirety of Journals pouring his heart out about Gomez. This mid-tempo R&B burner, about his addiction to a certain someone's lips, is another all-but-confirmed ode to Gomez.

"I am a hopeless romantic so when I love someone, I never want to let them go," he said of the track, per Rap-Up. "This song is about the rush you get when you have that feeling. No matter how hard you try, you can't let that person go. You just want to hold on as tight as you can."

8

Bieber apparently had some more post-breakup mourning to do after Journals, because one month later, he shared "Nothing Like Us," a somber, piano-driven ode to a past romance. Within three months, he and Gomez had seemingly reunited.

9

"Nobody Does It Like You," 2013

On this Stars Dance bonus track, released in July 2013, Gomez alludes to Bieber's then-mounting bad boy image, singing, "You're my bad boy fairytale / Prince charming with a dark side / I wanna be your bad girl / You bring out my wild side."

10

"The Heart Wants What It Wants," 2014

Gomez confirmed "The Heart Wants What It Wants," the video for which begins with a tearful spoken word reflection about Bieber, was about her former flame during On Air with Ryan Seacrest.

"He [Justin] thought it was beautiful. I think it was really hard," she explained. "I support him. I think I always will. I'm upset when he's upset; I'm happy when he's happy. I don't want anything bad ever to happen to him. It hurts me. That's all."

11

Bieber has never explicitly said his EDM team-up with Skrillex and Diplo is about Gomez, but eagle-eyed fans have scrounged up some pretty convincing evidence. The accompanying video makes multiple references to his famous ex, including a stick figure drawing of her and short-lived fling Zedd. (Fans also speculated Gomez's 2015 collab with Zedd, "I Want You to Know," is about Bieber, but it was written by Zedd, KDrew, and OneRepublic's Ryan Tedder, not her).

14

While on the Ellen DeGeneres Show, Bieber also revealed "What Do You Mean?," a trop-house ode to a fickle flame, is about Gomez.

15

As is "Mark My Words," a shimmery, synth-saturated downer that hints at a reconciliation.

16

Bieber's BloodPop-assisted "Friends," a thudding electro number that ponders the possibility of being friends with an ex, came out just before he and Gomez were spotted hanging out again — which seems a little too coincidental to not be related.
More From Hot 104.7 - KKLS-FM