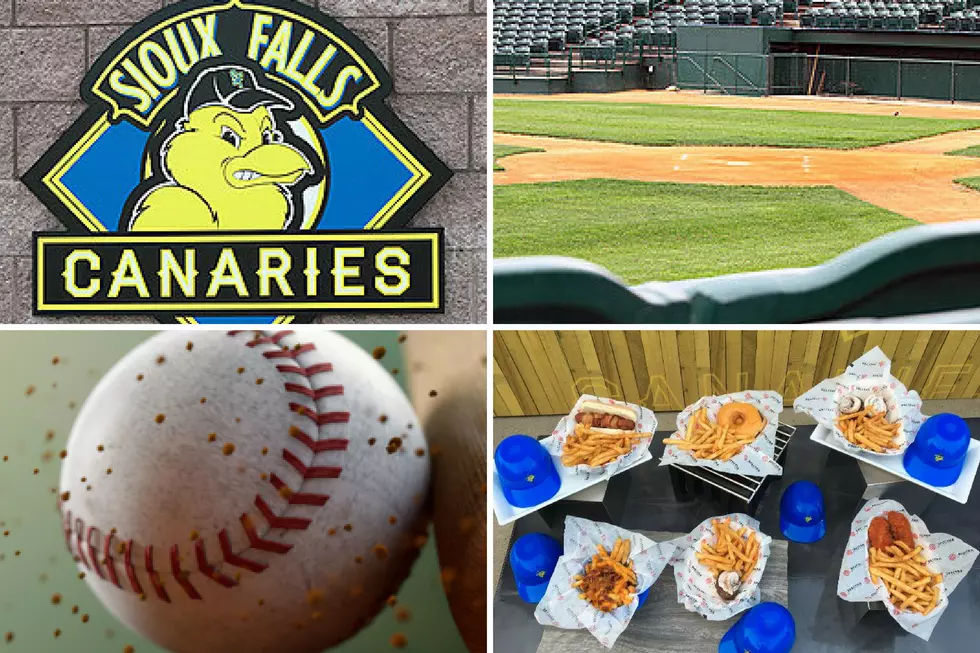 Sioux Falls Canaries Baseball Returns Friday Night
Anthony Wright/Results Radio/Thinkstock/KSFY TV (with permission)
Baseball season is back in the Sioux Empire. The Sioux Falls Canaries have their home opener against the Chicago Dogs this Friday, (May 18) at The Birdcage. The first pitch happens around 7:05 that night.
If you're a fan of the team, you know The Canaries are coming off their best season since 2012 with a record of 45-55. According to KSFY TV, many of the same players are returning in 2018, so the Birds are hoping for even bigger things this season.
Canaries fans need to know the team has planned quite a few exciting things to help keep fans entertained at the ball park this season, besides watching some great baseball.  
The fun starts right away Friday night when the team rolls out their new "Eat Your Opponent Menu." KSFY TV is reporting that Spectra Food Services & Hospitality has added a specialty food menu for each home stand this season. During the home opener this Friday, fans will be able to dine on Chicago Style Hot Dogs. When the team plays the Wichita Wingnuts down the road in June, Wingnut Burgers will be served. What's a Wingnut Burger you ask? It's a 1/3 lb. beef patty smeared with creamy peanut butter topped with smoky bacon between a fresh Casey's Bakery kaiser bun. Now that's what I call a heap of good eating!
Those are just a small sample of the types of meals fans can expect to nosh on this season during every Canaries home game.
In addition to the Chicago Style Hot Dogs this Friday and Saturday, the Birds will be offering the first 1,000 fans in attendance both nights a Canaries magnet schedule. KSFY reports they'll also be face painting for the kids, along with bounce houses and fireworks after the game on Friday night.
You can wind up the weekend, by bringing out the entire family to the ballpark on Sunday, for Family Fun Day. The game starts at 1:05 that afternoon. Right after the game is over, kids can run the bases and get autographs from their favorite Canaries players.
Canaries ticket information for the 2018 season can be found here.
Source: KSFY TV
---
See Also: