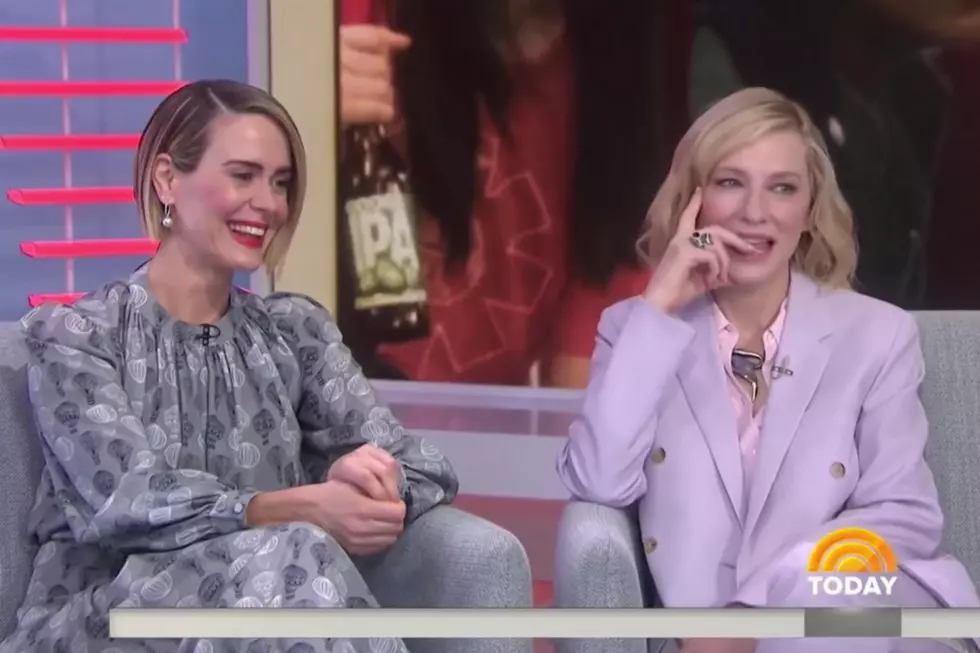 Sarah Paulson and Cate Blanchett's 'Today' Show Interview Is Really a Lot to Take In (VIDEO)
Today, YouTube
It's possible that a celebrity friendship has never been so perfectly encapsulated as it is in Sarah Paulson and Cate Blanchett's Today show interview.
Throughout the six and a half minute video, the Ocean's 8 co-stars barely let host Hoda Kotb get a word in edgewise, teasing and joking with one another in a fit of non-stop laughter. At one point, Blanchett even sits on Paulson's lap and pretends she isn't there anymore, and later, Paulson pulls Blanchett's hair to return the favor. Kotb tries to regain control of the sit down all the while, but to no avail.
"You guys clearly have a thing going on," she says at the start of the interview, to which Blanchett quips, "No, it's over."
Paulson quickly jumps in, explaining "it ended about an hour ago" and that they're "having a hard time."
"Because you came wearing that," Blanchett retorts, pointing at Paulson's dress. "Get a stylist."
And then Paulson comes in with a "your mom" joke, because really, at this point, why not?
"I borrowed it from your mother!" she shrieks. "I got it from your mom."
To see the exchange — and so, so much more — watch the video above.
Ocean's 8, which also stars Sandra Bullock and Rihanna, opens in theaters Friday (June 8).
12 Female Celebrity Friendships That Have Outlasted the Spotlight
More From Hot 104.7 - KKLS-FM