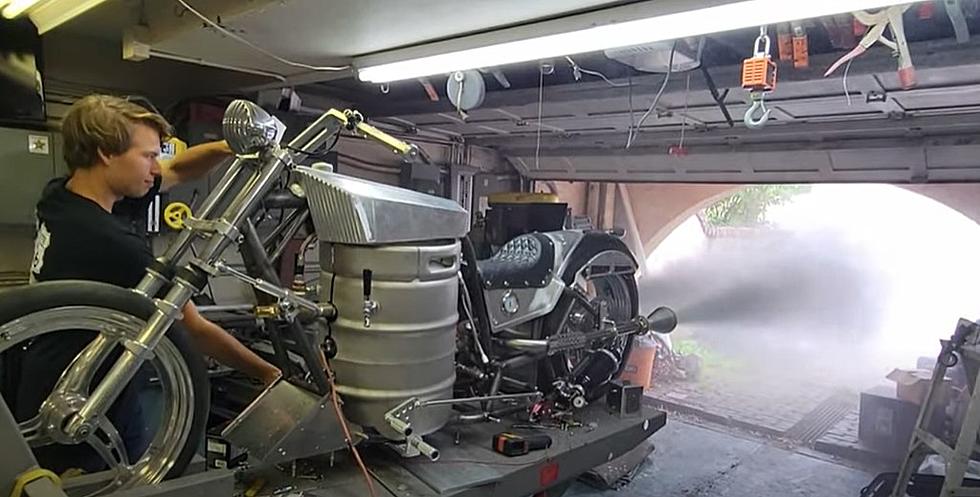 Minnesota Man Creates Beer-Powered Motorcycle [VIDEO]
Ky Michaelson- Rocketman Enterprises- Youtube
A Minnesota man known for his unusual inventions has outdone himself with his latest innovation: a beer-powered motorcycle.
According to FOX9 News in Minnesota, Ky Michaelson has previously rolled out such oddities as a rocket-powered toilet to a jet-powered coffee pot. This time, the Bloomington man is presenting a beer-powered motorcycle.
The motorcycle's design foregoes a typical gas tank in favor of a 14 gallon beer keg. The keg is heated by a coil that brings the liquid up to 300 degrees, which turns the beer into steam strong enough to propel the bike.
While he doesn't seem totally sure how fast it could go, he tells FOX 9 that he believes it could potentially hit 150 mph.
"The price of gas is getting up there. I don't drink. I'm not a drinker, so I can't think of anything better than to use it for fuel," Michaelson told FOX 9.
Michaelson's son, Buddy, says that 'any kind of liquid' would do, but his dad chose beer. He likes to bring the bike, nicknamed "Rocketman" around to area car shows and has even won first place at a couple of them.
He told FOX 9 he plans to test "Rocketman" on a drag strip soon to see just how fast it can really go, but he doesn't plan on selling the bike anytime soon. In fact, he plans on putting into a museum... the museum in his own house comprised of his own inventions!
More From Hot 104.7 - KKLS-FM