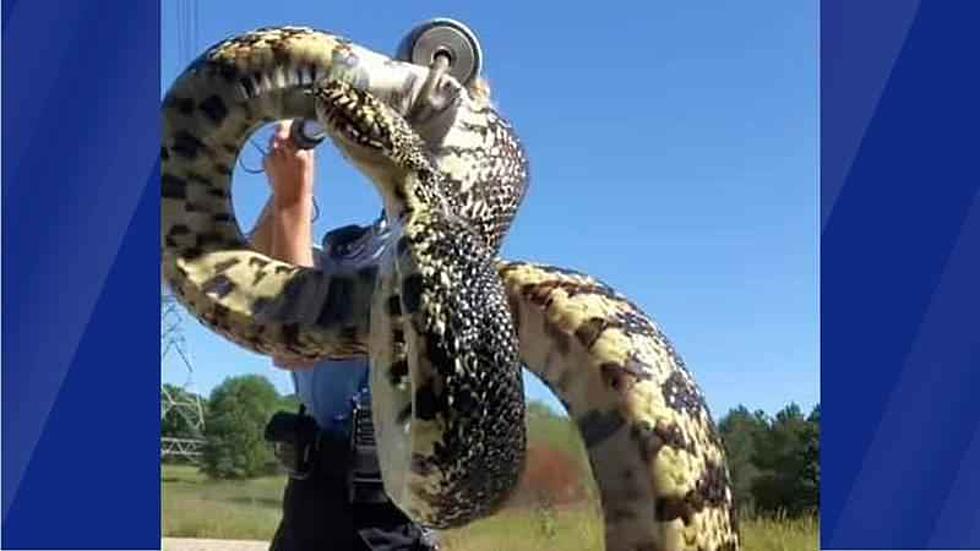 Minnesota Homeowner Has Slithering Unwanted Guest Evicted
Coon Rapids Police Dept
When I lived in Florida for a decade, it was a pretty common thing for a snake to take up residence in or around your home. As long as they weren't poisonous, I really had no problem with them. In fact, every morning I would encounter a 4 to 5-foot rat snake slithering through the yard.
A homeowner in Coon Rapids recently had to call the Coon Rapids Police Department to get a CSO out to their house to remove a snake. According to KSTP-TV the unwanted house guest was a 5 foot Bull Snake.
WATCH OUT: The 10 Deadliest Creatures in US: South Dakota Has Lots of Them
As you can see from the pictures, that's a pretty good-sized snake. Bull Snakes are the largest in Minnesota.  This one is about 5 feet long but they can grow to about 8 feet long.
Can you imagine encountering this size snake in your home?  The CSO that was sent to the home to deal with the snake wasn't shy about letting us know that snake eviction were not the favorite part of her job.
"99% of the time being a CSO you get to help very cute creatures. The other 1% we try not to think about 🐍." said CSO Sullivan
CSO Sullivan used one of those retractable leashes like they use to secure animals like raccoons, dogs, cats, and now snakes.  She just slipped the knot around the snake's neck and kept the snake a safe distance.
If you are concerned about the snake's fate, no worries. The snake was released into Bunker Hill Recreation Park. So maybe it'll make its next trip to your house, or not.
TRENDING FROM RESULTS-TOWNSQUARE SIOUX FALLS:
10 Really Strange Things That Are Still Illegal in South Dakota
Even though these laws are rarely ever enforced nowadays, they still are on the books in South Dakota. Here are the Ten Commandments of South Dakota Law:
Know Your South Dakota College and University Mascots
The college football experience is an ultimate high for football fans and it takes several other teams to make that happen week after week during the season.
Just think about what goes into gameday? First and foremost, the players and coaching staff who put in hours and hours of practice and training to play in front of their fans. Then there's field prep, game officials, live broadcasts, concessions, and on-the-field entertainment. Yep, entertainment.
Second to the game, who do you watch? The cheerleaders? The band at halftime? What about the mascot? That's a job not many people can do.
I asked Sioux Falls native and former Cagey mascot for the Sioux Falls Canaries and Little Red & Herbie for the Nebraska Huskers Nate Welch about being a mascot:
What does it take to be a mascot?
"Losing a bet or filling an opportunity!" Welch says, "An internal energized desire to love life. After meeting great performers who are introverts out of costume, they become the center of attention when they take the stage. And also feeding off the performance of others."
Why does the mascot never talk?
"Know your role and shut your mouth. You are there to entertain. Tell the story with your actions and not your voice."
Advice to someone putting on that costume for the first time?
"Remember you are now in a costume. Have fun. Otherwise, you're just a dork in tights. If the fur ain't flying you ain't trying."
So, can you name the mascots at our South Dakota Colleges and Universities? Check out the gallery below:
More From Hot 104.7 - KKLS-FM