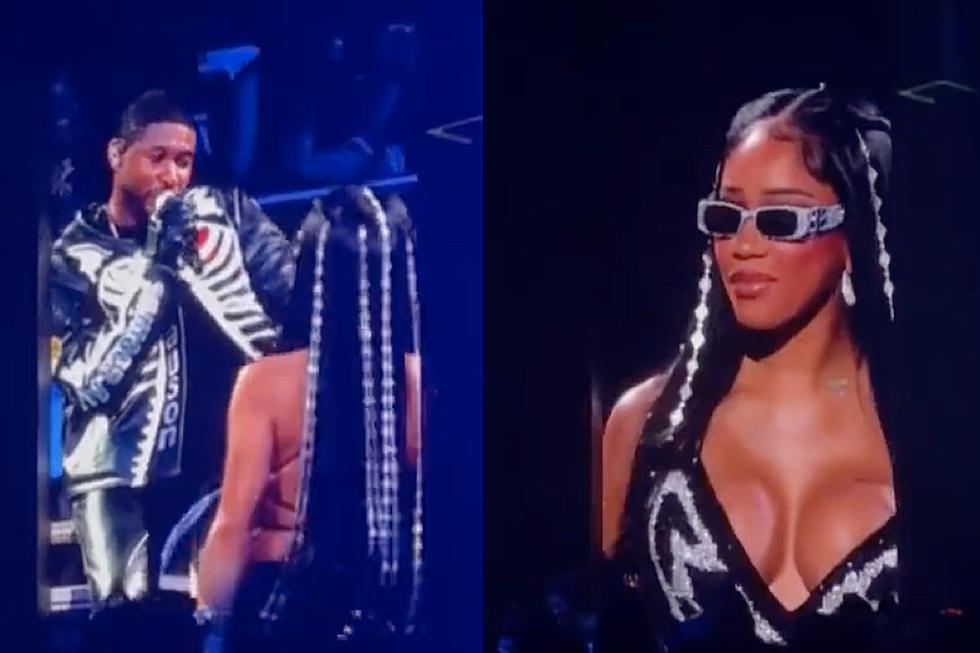 Saweetie Refuses to Sing 'There Goes My Baby' With Usher at His Show, Fans Wonder Why
thewavecheckk/Twitter
During his Las Vegas residency show, Usher serenaded Saweetie with his ballad "There Goes My Baby" but the "Icy Grl" rapper refused to sing with him.
Saweetie Refuses to Sing With Usher During His Las Vegas Performance
On Friday night (July 7), Usher performed his Las Vegas residency show and seductively crooned his 2010 ballad "There Goes My Baby" to Saweetie who was sitting in the audience. The R&B superstar sung his song to the rapper and periodically held the mic so she could sing along with him. But she refused. After much goading from Usher, Saweetie finally gives in and sings the "Baby" part twice much to the crowd's enjoyment.
Fans React to Saweetie's Behavior Towards Usher During His Performance
Fans who watched the video wonder why Saweetie didn't sing along with Usher when he approached her. Many people pointed out the uproar over actress Keke Palmer being serenaded by Usher earlier this week.
In that viral video, the Nope star hugged Usher while wearing a sheer Givenchy dress and bodysuit that revealed her backside. Keke's boyfriend, Darius Jackson, took issue with it and jumped on Twitter to publicly shame the mother of his child over her outfit and behavior with the R&B crooner.
Saweetie is reportedly dating rapper YG and some folks believe she didn't want to cause ripples in her relationship with him. However, some people felt that Saweetie should have sung along for the simple fact that it's Usher.
"Saweetie didn't have to be all up on usher but she could have at least appeared enthusiastic and took them shades off. she lucky he didn't boot her off stage like prince did kim k," wrote one fan on Twitter.
"Wuz YG on Saweetie mind wen she was keeping it P wit Usher? Damnn lol," tweeted one person.
A third person commented: "YG is Saweetie's boyfriend; she wasn't going to do a Keke and live. YG don't play that s**t."
YG and Saweetie Confirm They Are Dating
Back in May, YG and Saweetie have confirmed they're an item after photos of the pair kissing and hugging on vacation popped up on the internet.
During Memorial Day Weekend, the newly-minted hip-hop couple took a baecation to Cabo, Mexico. The Shade Room obtained photos of the California rappers showing PDA while relaxing at a resort, which can be seen below. Several photos show them hanging out in a hot tub alone. While a few photos show them canoodling with YG kissing on Saweetie.
See Women Rappers Who Made Hip-Hop History