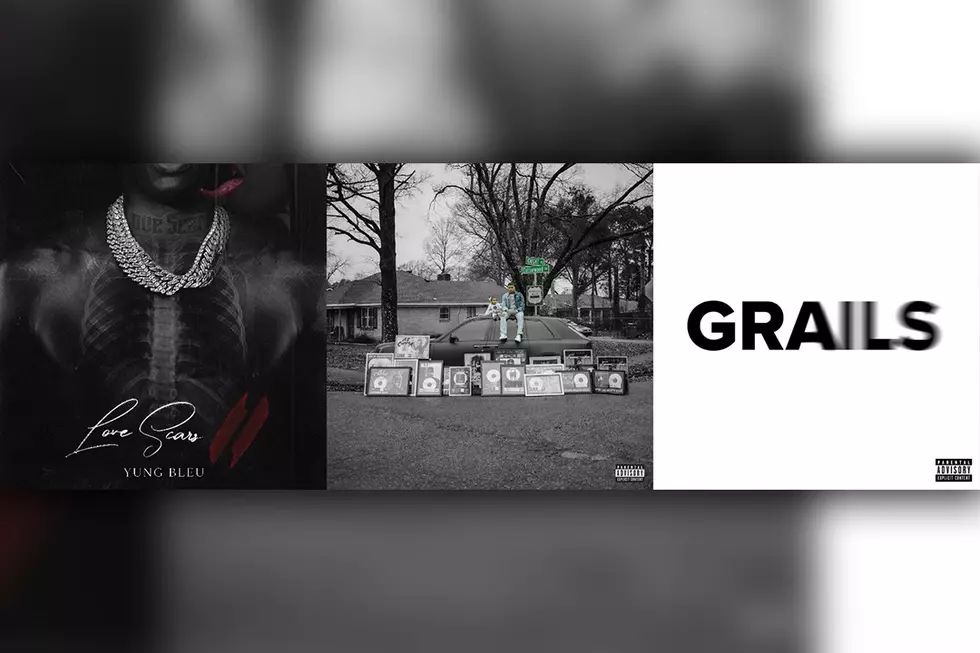 NLE Choppa, Yung Bleu, Pi'erre Bourne and More – New Hip-Hop Projects
Moon Boy University/Empire/NLE Choppa/Entertainment/Warner Records/SossHouse/Interscope Records
At April's halfway point, new music is springing up left and right from multiple facets of the rap game. This week, a Memphis spitter on a current tear drops an album full of hot singles, an Alabama-bred rap-crooner delivers a sequel to a popular project, an incredibly talented multihyphenate comes through with a new EP and more.
NLE Choppa puts out his first project of the year in the form of Cottonwood 2. Considered his sophomore studio album, the 22-track LP serves as the sequel to 2019's gold-certified EP, Cottonwood, and includes a bevy of previously released singles that have found success throughout the first part of 2023.
Cottonwood 2's lead single, "Do It Again" featuring 2Rare, a Jersey Club-style turn-up anthem that landed on the Billboard Hot 100 singles chart, has been tearing up dance floors since its December release. On the heels of that, NLE Choppa tapped Lil Wayne for an homage to the classic New Orleans bounce sound with the single "Ain't Gunna Answer," which has seen over 6 million streams on Spotify and a ton of radio spins throughout the country since it dropped last month.
Other singles on Cottonwood 2 include "Mo Up Front," "Champions" and "Sl*t Me Out," which despite some controversy for walking Sukihana by her hair in the official music video for the remix, soared to the very top of TikTok's music chart upon its release.
In promotion of his new album, NLE Choppa hit up Instagram earlier this week to shout out various high schools across the country and offer a chance for one group of students to experience a live performance in the flesh. Choppa announced that he would visit one of the high schools he listed to put on a show for the students who rack up the most pre-saves for Cottonwood 2.
Not even six months after the release of his latest album, Tantra, Yung Bleu returns with Love Scars 2, a new project billed as the follow-up to his 2020 EP, Love Scars: The 5 Stages of Emotions. Previewed by two singles in 2023, "Games Women Play" and "Kissing On Your Tattoos," the Mobile, Ala. rapper-singer's 15-track offering sees guest appearances from two other hip-hop adjacent crooners, Chris Brown and Ty Dolla $ign.
In unveiling the track listing and cover art for Love Scars 2 via Instagram, Yung Bleu encapsulated the project's emotion-filled theme with one profound quote.
"What we have once enjoyed, we can never lose," Yung Bleu wrote. "All that we love deeply becomes a part of us. Love Scars."
After a year in 2022 that found Pi'erre Bourne not only being named one of the best producers of the year but also having his most recent full-length album, Good Movie, mentioned among the year's best hip-hop projects, the globally renowned artist comes through this time with his new EP, Grails.
With Pi'erre Bourne's new 8-song project, the remarkable multi-hyphenate repping both Queens and South Carolina delivers on his promise to fans by finally releasing tracks he's been teasing for months such as, "IG," "Chicken and Waffles" and "Honeyberry 2," the sequel to his popular 2018 hit, "Honeyberry."
Check out other new projects this week from Logic and C Dot Castro, Black Thought, Prof and more below.
NLE Choppa Entertainment/Warner Records

NLE Choppa Entertainment/Warner Records

Moon Boy University / Empire

Moon Boy University / Empire

Glorious Game

Black Thought & El Michels Affair

A Town Full of Nowhere

B.o.B

President Obandman EP

Bandmanrill

Defiant Records LLC/Warner Records Inc.

Defiant Records LLC/Warner Records Inc.

Art of Words

Grafh and 38 Spesh

Colors (Deluxe)

BigBabyGucci
More From Hot 104.7 - KKLS-FM