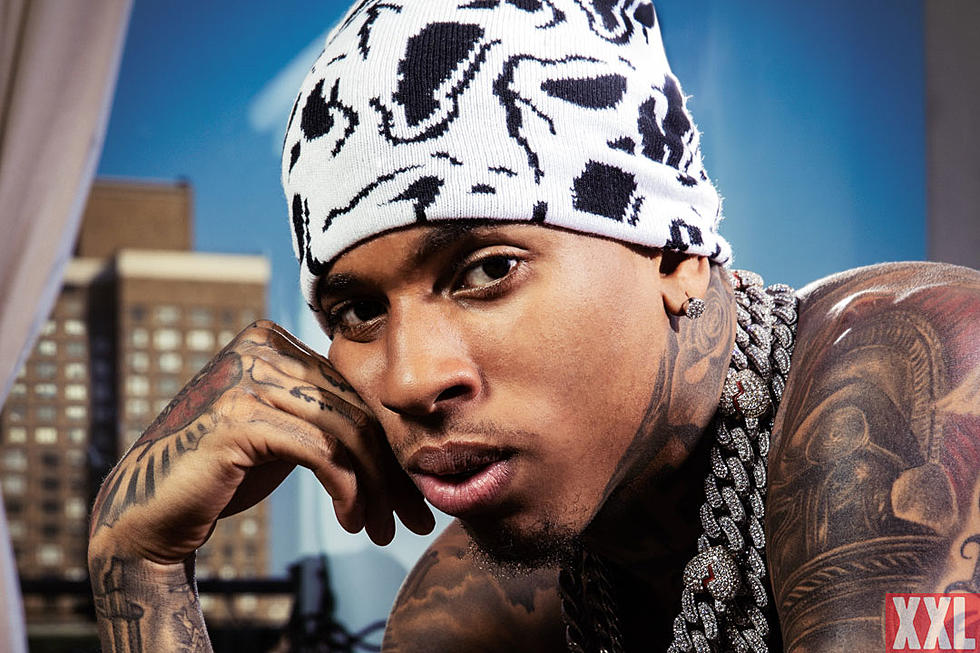 NLE Choppa Discusses Evolving in the Face of Controversy, Fatherhood and Philanthropy
Shareif Ziyadat for XXL
Changes
NLE Choppa has grown up in the public eye and has the bumps and bruises to show for it. But he's on a mission to evolve as an artist, philanthropist and father.
Words: Peter A. Berry
Images: Shareif Ziyadat
Editor's Note: This story appears in the Summer 2023 issue of XXL Magazine, on stands now.
During a rap career that stretches five years, NLE Choppa has been many things: herbalist, activist and chopper-wielding dancer. On this humid May evening in New York City, he is a wellness coach, at least for a few minutes. Sinking into the foot of his sleeping mother's bed inside the Mondrian Park Avenue hotel, he discusses his daily meditation ritual while diving into the nuances of proper respiratory health: remember to breathe through your nose. "That's how the nasal passage and the throat is connected," he says matter-of-factly. "It's pretty much just how the body's designed."
Choppa's become his own kind of architect as he oscillates between his responsibilities as a father, aspiring community leader and Billboard Hot 100-dweller. The 20-year-old rapper, born Bryson Lashun Potts, is building dreams from raucous rap tunes while crystallizing his status as one of the most successful young rappers of his era. Since releasing his first song, "No Love Anthem," at the age of 15, Choppa has earned hundreds of millions of YouTube views and nearly as many Spotify streams. His 2019 debut EP, Cottonwood, has been certified gold and its 2020 follow-up, Top Shotta, went platinum in June of this year, while tracks like "Shotta Flow" and the Roddy Ricch-assisted "Walk Em Down" have each gone triple-platinum. Choppa's only continued to climb.
His latest offering, Cottonwood 2, is an electric showcase of his many styles, featuring percussive flows and varied collaborations rendering a mosaic of menace, resilience and youthful exuberance. The deluxe version of the project, released in April, includes a Sexyy Red-assisted remix of "Sl*t Me Out," a ravenous sex anthem that's raunchy enough to make Khia blush: "Put your a** in my face 'til I get pink eye/F**k you anywhere, I'm that type guy/At the church, on the plane, at the basketball game/I don't care, I'ma bust my nut 'til I die."
Thanks in part to TikTok, the initial slow-burning track exploded over a year after its 2022 release, peaking at No. 28 on the Billboard Hot 100 chart, his highest placement to date. It's NLE Choppa's biggest song, but it came with a controversy that proves he might still have room to grow. In the video for the single's remix, Choppa grabs St. Louis' Sexyy Red and Delaware rapper Sukihana by their hair before walking them like dogs. Naturally, a lot of folks were upset. "People sensitive," he maintains, while acknowledging some validity to claims of sexism. "You gotta be understanding of all points of views." Whatever lesson there is to be learned from that situation will be part of an evolution Choppa's not afraid of.
"Instead of running from it, [I'm] running towards it," Choppa expresses. "Evolving my sound, evolving me as a person, evolving my team. I'm just a big fan of growth."
"Sl*t Me Out" coproducer CashMoneyAP says it's Choppa's willingness to experiment that helps power the progress of the artist's music. When they met a few years ago, most of Choppa's releases were freestyles. By the time "Walk Em Down" arrived, the rapper had learned how to compose compelling hooks while being more purposeful with his time in the studio. "He really grew up mentally," adds AP, who can count on regular text messages from Choppa when it's time to put together a new song. "Some rappers, they got so much shit going on, but it's hard for [them] to focus on something. [With] him, it's just like, if he needs something done, he is gonna do it."
Constructive criticism is taken positively, too. "We could give him an input on something that he needs to improve and he will do it," CashMoneyAP explains. "He's open to doing different things." Choppa flourishes outside his comfort zone. "The people that stuck are stagnant because they're running from growth and, you know, it brings discomfort," he says. "But I'm always comfortable when I'm not comfortable."
On a less existential level, Choppa's a little drowsy, speaking at a volume just above a whisper. He's recently returned from Dubai and appreciated the architecture, the beaches and the vibes, which are all a lot prettier than the nation's strident anti-LGBTQ laws. After a brief rooftop photoshoot at the hotel, Choppa wants to watch FX's new Tupac Shakur docuseries, Dear Mama, but hasn't had time to yet. He lets loose plans to tour internationally and collect more platinum plaques. He sounds equally excited about acting, a side hustle he realized he needed after watching Netflix's The Harder They Fall and feeling left out.
Acting gigs would just be the latest additions to a long list of side missions that would make Snoop Dogg proud. One of those quests involved Choppa creating his own Brazilian butt lift pill, which he claimed to have extracted the ingredients from herbs he shipped in from Honduras in 2022. In 2021, Choppa claimed to have helped cure someone of cancer, though he later clarified that he only contributed to the factors that led to the alleged patient's recovery.
When he isn't diving into literal medicinal properties and herbal remedies, he's preaching the value of semen retention and veganism. He even had his own vegan food trucks pull up to his concerts. "I feel like it's the right thing," he affirms. "That's how my ancestors ate."
If his miscellaneous adventures feel inspired by potentially sketchy YouTube documentaries, it's because they very well could be. Choppa takes unconventional wisdom from the recommended viewing lists on the YouTube sidebar when he's not recording music or traveling the world. "I try to apply whatever works for me," he says of dodging the fake news. "Whatever works for me, that's the truth of it."
If conducted the wrong way, it's the sort of scholarhood that can be dangerous, but to say Choppa's studies reflect the typically half-assed research associated with most curious 20-somethings would be reductive; his non-rap activities are generally rooted in a couple of distinguishing factors, both threaded by a sense of purpose. One is spontaneity. "He's just impulsive," says his father Brandon Potts, who's sitting against the hotel room's window. "So, what you see as him now, it's just like what he was as a kid." The spirit might have been the same, but what and how Choppa was in his earlier years varied.
Some of Choppa's earliest compulsions led him to play basketball and football, where he became a standout at Memphis' Cordova High School. Eventually, he was steered toward the streets and bad drug habits. "You only be around your parents so much, and then you be around your peers. And sometimes, your peers influence you more than your parents," the rapper's father admits.
In the second episode of Choppa's 2019 docuseries, The Rise of NLE Choppa, the artist recalled the way a stint in a juvenile detention center pushed him away from crime and mischief. At times, his surroundings and his instincts guided him in troubling ways, but at their best, they led him to charity, a path that was paved with an abnormally immediate sense of responsibility.
As a child, he'd walk the streets of Memphis with his parents and ask them to give him money so he could hand it to the homeless people they'd walk past. Years later, his quirky, kinetic brand of good samaritanism continues to surface, as his pops recalls it did during a pandemic stay in New York City. "We was staying in this certain area, we gotta go past this way every day, past homeless folks," Brandon Potts recalls. "So, one day, we was coming back to where we stayed, [and] he like, 'Turn around, go to McDonald's.'"
"Like, you don't even like f**kin' McDonald's," Choppa's dad tells. "So, we go to McDonald's. He orders 20 nugget meals, 20 burgers and all this. I'm like, 'What the f**k all this for?' So, I order and then he like, 'Let's go feed the people on this bridge.' So, it's just him."
On a grander scale, Choppa led a cause that was also close to home. Following the tragic death of 29-year-old skateboarder Tyre Nichols at the hands of five Memphis police officers this past January, Choppa launched the hashtag #SkateForTyre before guiding a group of skating protesters in a demonstration against Nichols' killing. It was a bold move that would most likely make Choppa's idol Tupac Shakur proud.
"I'm more than just music," Choppa proclaims. "I feel like I have a lot I can bring to the table that can benefit people's lives on a day-to-day basis. So, within that process, I try to do whatever I can to help people."
His self-imposed mission is one that keeps him close to his hometown roots. After moving out of his parents' house at 18, he relocated to a new home just a short way away. While it feels like most platinum-selling artists are eager to continue building the hometown-to-Los Angeles pipeline, Choppa chose to stick around.
"If I was in L.A. or in Atlanta or anywhere else, it would be hard for me to know what the city needs," he reflects. It sounds like a line from The Dark Knight, but there's a real gravity to the sentiment, especially considering the tragic fate that's often-awaited rappers who choose to stay where they were raised.
For his part, Choppa's facilitated reading challenges for kids in the city. When he hasn't been doing that, he's hosted town hall meetings for at-risk youth who stumbled down a path he once again found himself on when he was arrested for burglary, drugs and weapons charges in 2021.
It's part of a winding road that includes bouts with drug abuse, impromptu career additions and sprightly raps. Basketball practices became video shoots, freestyles morphed into Billboard Hot 100 hits and sudden donations grew into organized community initiatives. As a child, Choppa operated from a place of feeling, and he hasn't stopped in adulthood. His undertakings can be as sudden as they are confusing, but his father's learned to step out of the way.
"We always used look at [him] like, 'Why you doing that?' But everything [he] do always turn out for the better," Potts says of some of his son's actions. "Sometimes you gotta let a kid be what he gotta be and just see what he gon' grow into."
As a father himself, Choppa finds himself tasked with the same wait-and-see mission his parents accepted about 21 years ago. His interpretation of parenthood involves the same sort of metaphysical elements he speaks of with meditation. Legally speaking, Choppa's had one child so far, but he says he's got three: a daughter that was born in 2020 to an ex-girlfriend, the baby he and a different ex-girlfriend are expecting, and Seven, the baby boy the latter two lost to a miscarriage last year. "Just because something's not here physically doesn't mean it's not here spiritually," he discloses.
"Instead of running from it, I'm running towards it. Evolving my sound, evolving me as a person, evolving my team. I'm just a big fan of growth."
After his first daughter was born in 2020, Choppa began formally documenting his adopted vegan lifestyle with regular YouTube posts while promising his fans that he would be leaving his self-destructive tendencies behind. In his mind, the secondary effects also helped push him toward his own life's work. "Being the best role model for my daughter has made me a better role model for kids all around the world in general," he says regarding fatherhood. "Just knowing I had to be the best version of myself for her."
If history's shown anything, it's that different iterations of Choppa will surface with each new idea, a reflexive tradition that's steered him to an eclectic path as healer, teacher, rapper, guardian and entrepreneur. The descriptors are simultaneously scattered and united—random, but connected. It's the evolving result of inspiration, impulse and success. "Everything that I wanted in my life, I've always accomplished," he maintains. "Everything that was sent my way to destroy me, I always overcame. I realize what I can really do. I realize the mark I can leave on the world."
While the giving spirit has been ingrained in him since he was young, his calling has a bigger purpose. "I always wanted to be a helper and a protector," NLE Choppa reveals. "I've always been a leader and I unconsciously was doing it, but now I know like, 'OK, this what God want me to do.'"
Say amen to that.
See NLE Choppa's XXL Magazine Summer 2023 Issue Photos
The Freshman issue of XXL magazine is on stands now. See Finesse2tymes, Rob49, Fridayy, GloRilla, 2Rare, SleazyWorld Go, Lola Brooke, Central Cee, Real Boston Richey, Luh Tyler, TiaCorine and DC The Don's official Freshman pages. In addition to interviews with all 12 artists in the 2023 Class and Freshman cyphers producer Pi'erre Bourne, it includes interviews with Lil Baby, NLE Choppa, Boosie BadAzz, Toosii, DDG, Saba, producer Go Grizzly, engineer Jaycen Joshua, singer Coco Jones, SinceThe80s' President Barry "Hefner" Johnson and AEW wrestler Swerve Strickland, plus a look back at what the 2022 XXL Freshman Class is doing, hip-hop's love for golfing featuring Scarface, OMB Peezy and pro golfer Harold Varner III, conversations with 10 new artists making noise and a deep dive into A.I. hip-hop songs. You can also buy the 2023 XXL Freshman Class issue here.
See the 2023 XXL Freshman Class
More From Hot 104.7 - KKLS-FM