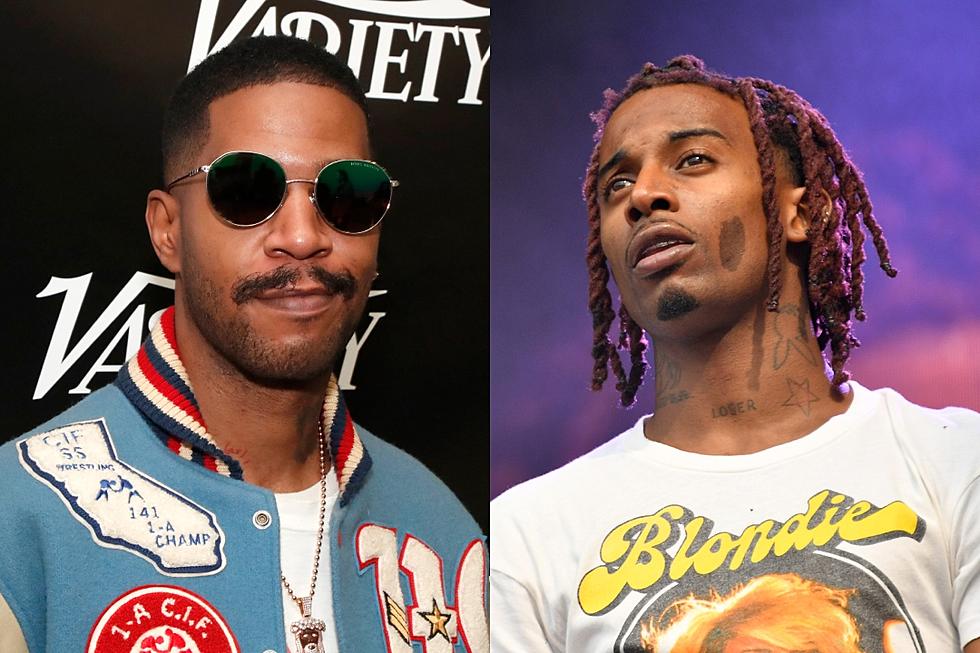 Kid Cudi Claims Playboi Carti Song Is No Longer Happening
Astrid Stawiarz/Dia Dipasupil/Getty Images (2)
Kid Cudi has unfortunately confirmed that his highly anticipated "Solo Dolo Pt. 4" collab with Playboi Carti is no longer happening and asked his fans to "forget" about the song entirely.
Kid Cudi Says "Solo Dolo Pt. 4" Will Never See the Light Of Day
Cudder updated fans on the status of his forthcoming album, Insano, on Monday (Sept. 4) and said he'd have to push the project back until January of 2024. A fan replied directly to to Kid Cudi's news on X (formerly Twitter) and asked once and for all if "Solo Dolo Pt. 4," Cudi's collab with Playboi Carti, would make the final cut. Cudi said the song is "not happening."
"Not happenin' man please yall stop asking [about] this song," he replied. "Forget it exist in ur minds. Please."
The disappointing update comes after Cudi informed his fans back in May that Playboi Carti hadn't cleared the new track, which Cudi first teased during a performance.
"He [Playboi Carti] won't clear it which is very weak," Kid Cudi bluntly stated in a tweet when a fan inquired about the status of "Solo Dolo Pt. 4." "So yea it won't be on there. Which is OK becuz the s**t I have on this album f**kin smacks and ur faces will melt."
Were Playboi Carti and Kid Cudi Ever Close?
This news comes as a surprise to fans of both Cudder and King Vamp considering how close the rappers appeared to be. Back in 2021, Carti joined Cudi for a candid conversation with Interview Magazine. At the time, it was all love between the two artists but perhaps Kid Cudi's falling out with Kanye West could be to blame for the holdup between Cudi and Carti.
"When I get around you, I realize why I love you so much," Playboi Carti told Kid Cudi. "I even appreciate [Kanye West] for introducing me and you. Being able to talk to somebody who understands what I'm saying, I got that from his whole camp... I felt that energy from everybody he deals with. I didn't feel like a loner. The world I'm trying to build, he already got it going on. Ye is on this King Vamp s**t. Cudi is on this King Vamp s**t. Y'all already on that."
Kid Cudi Still Dropped Off New Music
In better news, Kid Cudi dropped off two new Insano tracks on Tuesday (Sept. 5) to keep fans satisfied until January. The two new tracks, "ILL WHAT I BLEED," and "MOST AIN'T DENNIS," dropped as Cudi reaffirmed to his dedicated supporters that the lengthy wait would be worth it.
"Hey fam!!" he wrote on X. "Got some updates for y'all. Some bad news, some good, I have to push INSANO back til January. I want to make sure that everything lines up and I give y'all the best version of myself. This album is amazing and I want to make sure I present it in the best way for y'all. That's the bad news. I still plan on releasing the next single soon so don't even worry about that."
He went on to say: "These songs are some of my favorites on the album and I really think you'll dig em. I'm sorry for the delay everybody but I'm a perfectionist. And things gotta be right. I love y'all!!! Enjoy!"
Kid Cudi's rollout of Insano began with the song "Porsche Topless," which dropped back in June.
Read More: Kid Cudi Thinks Drake Is Corny, Consequence Says
Listen to Cudi's newest Insano tracks below.
Listen to "Ill What I Bleed," "Most Ain't Dennis" and "Porsche Topless"
See the Best Hip-Hop Projects of 2023 So Far