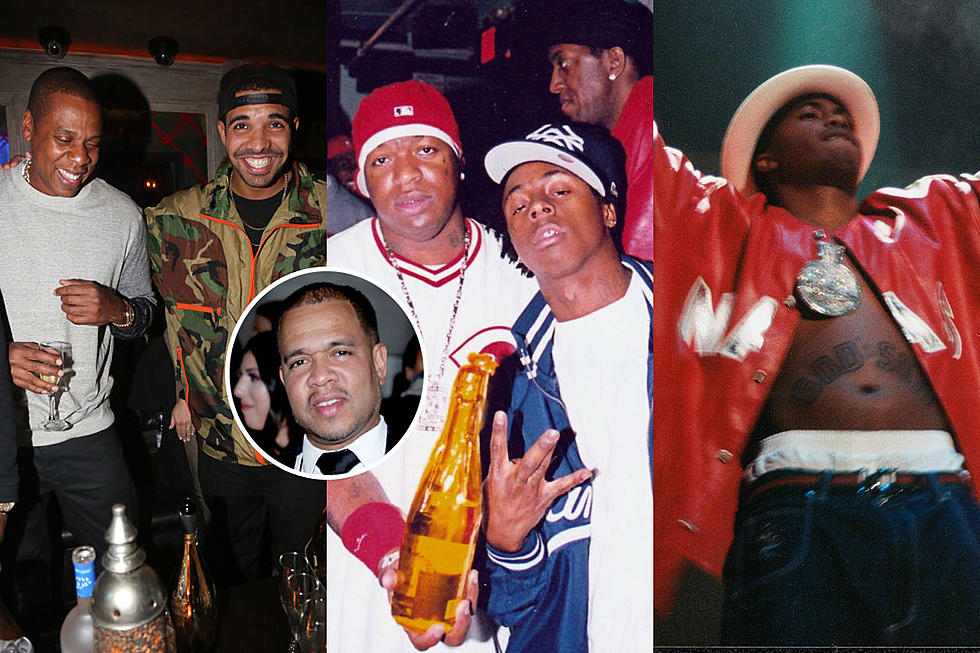 Here Are the Real Stories Behind These Throwback Photos of Jay-Z, Lil Wayne, Nas, Drake and More
Johnny Nuñez (3)/Rob Kim/Getty Images for The Recording Academy
The Bigger Picture
Nearly three decades into his career, photographer Johnny Nuñez's eye for freezing moments in hip-hop history continues to bring forth breathtaking images that speak more than a thousand words.
Interview: Aleia Woods
Editor's Note: This story appears in the Spring 2023 issue of XXL Magazine.
A life-changing car crash on the exact day The Notorious B.I.G. was assassinated, March 9, 1997, was the day distinguished hip-hop photographer Johnny Nuñez, 51, took his then-hobby of snapping pics seriously. Following that moment, Nuñez utilized the earnest strategies he acquired from his mother, an Avon cosmetics seller, to secure photography placements in publications by handing out roses, cigars and miniature bottles of Hennessy to staff members in hopes of embedding himself in their minds.
Twenty-six years later, the Greenpoint, Brooklyn native has captured some of the most iconic photos the rap game has seen. From pre-billionaire Jay-Z and pre-Grammy Award-winner Nas, to Bronx legends Fat Joe and Big Pun, and much more, Johnny Nuñez's lens has witnessed it all. Nuñez's gift of photography even got him name-dropped in Nas' record "27 Summers": "Premiere movies with my man DeNiro/And Johnny Nuñez got all the pictures."
In honor of the 50th anniversary of hip-hop, the sublime photographer is also launching his own immersive hip-hop photography experience this year to showcase never-before-seen images, videos and more that he has taken over the years.
Johnny Nuñez takes XXL on a trip down memory lane, explaining the stories behind 10 of his most notable photos featuring rap icons Jay-Z, Lil Wayne, Nas, Drake and more.
See the Stories Behind These Throwback Photos of Jay-Z, Drake, Lil Wayne, Nas and More
Check out additional interviews in XXL magazine's spring 2023 issue, including the cover story with Lil Durk, conversations with Coi Leray, Key Glock, Joyner Lucas, Fridayy, Luh Tyler, Lola Brooke, Destroy Lonely, Blxst, Curren$y, Finesse2tymes, Vic Mensa, Toosii, DJ Drama and actor Tyler Lepley, plus a look at how famed hip-hop attorney Bradford Cohen helps clients like Drake and Kodak Black beat their cases, veteran photographer Johnny Nuñez tells the behind-the-scenes stories of 10 of his iconic hip-hop photos and six rappers from six different eras—Melle Mel, MC Shan, RZA, Lupe Fiasco, B.o.B and Cordae—discuss the change in hip-hop over 50 years. 
See Photos From Lil Durk's XXL Magazine Spring 2023 Cover Story
More From Hot 104.7 - KKLS-FM