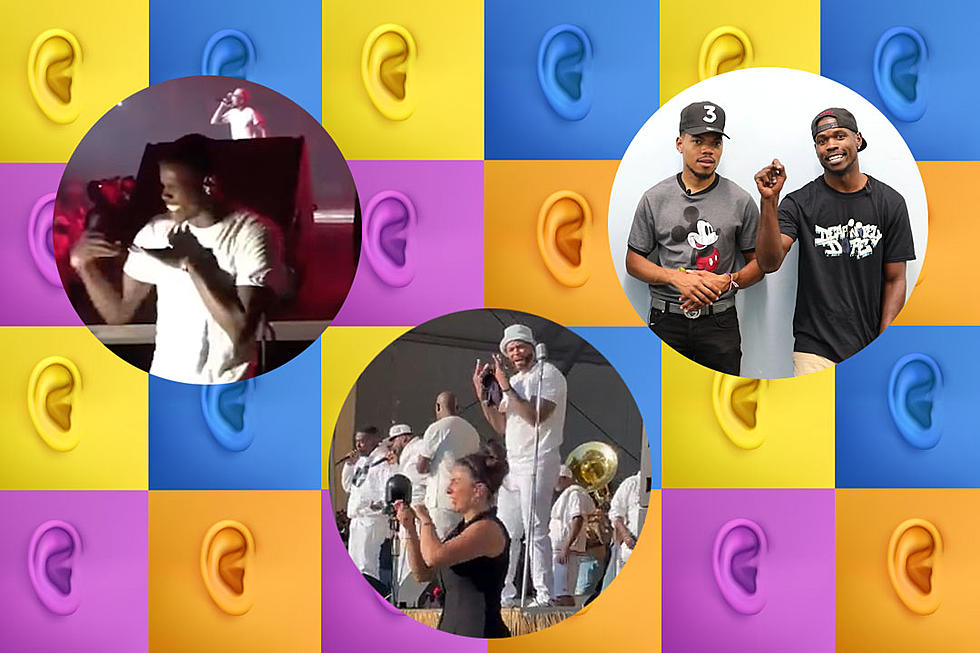 A Deep Dive Into Sign Language Interpreters in Hip-Hop and How It All Works
Alex Sholom/iStock/Getty Images Plus/Pigeons & Planes/@AiMedia01/YoutTube (2)/ShotByLu/Twitter
Throughout the past decade, sign language interpretation has infiltrated hip-hop in a major way. Talented masters of American Sign Language have transformed their abilities to interpret rappers' lyrics visually into a form of performance art in its own right. These interpreters provide their services to music lovers within the Deaf and Hard of Hearing community.
Beyond simply using American Sign Language (ASL) to enhance the concert-going experience for Deaf and Hard of Hearing hip-hop heads across the globe, skillful interpreters have evolved their craft into a show-stealing art form that often leaves even the rappers themselves awestruck.
Matthew Maxey, the founder of Deafintely Dope, an organization dedicated to linking hip-hop and the Deaf and Hard of Hearing community together, showcased his skills as an ASL interpreter at a 2 Chainz show in Washington, D.C. last month. The moment took a turn for the hilarious much to the pleasure of both the massive crowd on hand and the Atlanta spitter himself. A now-viral video clip finds 2 Chainz comically throwing up an NSFW prayer on behalf of all in attendance in between songs while Maxey provides a visual representation of Tity Boi's words onstage.
"I pray everyone get some head before I go to sleep at night," 2 Chainz said as the charismatic ASL maestro moves his hands around his pelvic region with his tongue out.
Just last week, Method Man found himself completely enamored with ASL interpreter Holly Maniatty's flawless interpretation of Wu-Tang Clan's "Can It Be All So Simple" while the legendary rap crew performed their 1993 track live on stage at New Orleans Jazz Festival.
Interestingly enough, in the case of the comedic 2 Chainz performance, Matthew Maxey is actually deaf himself. Maxey spoke with XXL to provide great insight into the world of ASL interpretation for rap music and what it means for those who are able to be part of the culture in more ways than ever. He's been lauded for his work interpreting lyrics at shows with Chance The Rapper, Jadakiss and more. Maxey was born with severe hearing loss, a trait that he says is very rare in his field as "very few [deaf people] are up for the challenge." Despite that, he hopes to bring more deaf interpreters into the fold that can "fit the vibe" in hip-hop.
Once Matthew Maxey was fitted with hearing aids at 2 years old, the Decatur, Ga. native developed a strong love for music. After learning American Sign Language while attending Gallaudet University in Washington, D.C., as a young adult, he found his calling.
"During my time at Gallaudet University in D.C., I wasn't really a fan of the traditional ASL culture," Maxey says of his inspiration to bring hip-hop and sign language together as one. "As I learned more vocabulary words in sign language while being exposed to the deaf culture, I found myself enjoying the process of applying those vocabulary words to some of my favorite songs. The more I would try to combine sign language that I learned from the Deaf community and music, the more I learned about the world of ASL interpreting and how hip-hop was one of the most criminally underrepresented aspects of that field."
Maxey became determined to bring his two worlds together and become a hip-hop ambassador for the Deaf and Hard of Hearing community. After gaining momentum by signing the lyrics to hip-hop songs on YouTube back in the early 2010s, which garnered support from artists like Mac Miller and Big K.R.I.T., Maxey developed a combination of "cultural fluency" and "vibe that fits the music," which he considers to be the most important skill set needed to be a successful ASL interpreter in the rap game.
In 2014, Maxey combined his unique circumstances and undeniable passion for hip-hop into an opportunity to become one of the most renowned live ASL interpreters in the game in the form of his organization, Deafintely Dope.
"The Deaf community has always been about, 'Hey, we want to be a part of you [hip-hop]. We just don't know how to communicate with you," Matthew Maxey said in a 2018 interview with ABC13 Houston when explaining Deafinitely Dope's mission. "I feel like there's more to life. I feel like there's more of a purpose. And then I realized, with me kind of going in between two worlds, with the Deaf and the hearing worlds, I have more flexibility than the norm. What can I do with it? What can I create with it?"
Equipped with everything he needed to achieve his life goal of providing accessibility to rap music for the Deaf community and at the same time providing an accurate representation of hip-hop culture, Maxey landed his first gig interpreting for a hip-hop show in 2017. He was launched right into the spotlight.
Maxey's inaugural performance at the Bonnaroo Music and Arts Festival found the Georgia-born rap enthusiast signing lyrics for DRAM, Travis Scott, The Weeknd and Chance The Rapper, which led to the Grammy-winning Chicago rhymer inviting Maxey out on tour as his personal interpreter. While on the road with the Coloring Book MC in 2017, Maxey personally taught Chance how to sign his own lyrics to the song "Blessings," which Maxey considers to be one of his most crowning achievements.
One of the first ASL interpreters to bring hip-hop performances into the limelight is the aforementioned Holly Maniatty, who Matt Maxey says is actually the person who helped get him booked at his very first show in 2017.
Holly's first time taking the stage at a rap show was at the Bonnaroo Music and Arts Festival in 2009, for the Beastie Boys' final performance ever. The job required over 100 hours of research by Holly before the show even started, according to her interview with Slate in 2013. From there, Maniatty and her then-seemingly rare skill set went viral in 2013, for her enthusiastic sign language interpretations once again at Bonnaroo that year during performances for both Killer Mike and Wu-Tang Clan.
When Killer Mike spotted Holly doing her thing on the side of the stage at 2013's Bonnaroo, the Run The Jewels MC could not contain his excitement. The Atlanta-bred spitter famously put Maniatty's sign language skills to the test by challenging her to sign some of the most explicit curse words he could think of at the moment.
"That is some cool s**t," Killer Mike said, referring to Holly Maniatty being able to interpret his lyrics via sign language in the video clip below. "I've never seen that before. Shout-out to the hearing impaired, I'll join you soon. Check this out."
Mike raps: "This s**t is cool as a muthaf**ka/S**t, goddamn/F**ck, goddamn/Muthaf**ka, s**t."
After earning the respect of Killer Mike and all in attendance that night by seamlessly using ASL to interpret all of the curses, Holly Maniatty quickly became one of the premier hip-hop-focused interpreters in her world. In the years since, her work has been widespread across the internet with performances alongside the likes of major headliners like Jay-Z and Eminem.
For both Matthew Maxey and Holly Maniatty, the actual sign language interpretations are only a portion of what they feel is important and necessary to provide Deaf and Hard of Hearing fans with a legit concert experience. Holly says that she spends much of her time watching past performances of her artists in order to include the same energy that they bring to the stage.
"[Eminem] has a very specific body cadence," Holly told Slate in 2013. "And if you're able to mimic that, it almost looks like you are him. Jay-Z's got a big boisterous chest-out way to rap sometimes. So you have to watch how they move the body because the more genuine you are to their way of presenting themselves as an artist, the more equal of an experience the deaf person is going to have."
Now that he has established himself as one of the most sought-after ASL interpreters in the hip-hop space with appearances at the MTV Video Music Awards and major festivals around the country, Matthew Maxey considers himself an entertainer who is just as much a part of the show as his rapper counterparts. In fact, through dance, his animated personality and of course, American Sign Language, Maxey refers to himself as a "Deaf Performer" rather than just an interpreter.
"I am a Deaf Performer," Maxey tells XXL. "Interpreters are impersonal with providing a service. Deaf Performers, we feel the music in our mind, body and soul. And maybe it's just way more enhanced and appreciated because we're Deaf and we understand what the Deaf community is looking for when they want to experience the music."
He continues: "Accessibility is always the goal. I grew up in an era where reading CD booklets that had lyrics helped me to feel connected with artists. The same feeling can be shared when artists are willing to make their shows accessible for the Deaf community to feel connected with them in real life. Whenever you get a bunch of people that love music and sign language and providing access together, there's nothing like making a difference and enjoying the tunes in the process."
As the inclusion of ASL interpreters at rap shows becomes an increasingly popular practice, the profession doesn't come without a certain set of challenges. Aside from the intense amount of work required to translate rap lyrics into American Sign Language in an incredibly short amount of time, which Matthew Maxey says can be up to 30 songs in a matter of one month, sign language interpreters can be often met with ignorance from those who don't necessarily understand their purpose.
Also, in some cases, concert venues may not be fully equipped to properly accommodate ASL interpreters. Thankfully for fans within the Deaf and Hard of Hearing community, people like the Deafinitely Dope boss are up for the challenge.
"Production teams are sometimes unaware of how to work with interpreters," Matt Maxey says. "Festivals and venues may not value our services so the way they place interpreters can be detrimental to the access provided."
He adds: "The stigma of 'Why do deaf people go to concerts?' has become a big motivational tool. The sign language community has come together to try to help set up interpreters and performers for success by choosing some talents that can interpret for artists that they can match."
While hip-hop fans and rappers alike often find it hilarious when their interpreters need to translate their vulgarity into sign language, as was the case when ASL Interpreter Kelly Kurdi became a viral sensation in 2021, for her apologetically raunchy sign language rendition of Cardi B and Megan Thee Stallion's "WAP," some professional signers can be scrutinized for simply translating rap lyrics verbatim. In the case of Holly Maniatty, she's been hit with some backlash for signing the N-word in performances with hip-hop acts who frequently use the word in their rhymes.
"Some people made some comments or, I guess, threw some heat my way about signing the N-word during that concert," Maniatty said in an interview with NPR in reference to one instance where she was criticized following a Wu-Tang show. "And it's interesting that all those people that said that that wasn't appropriate, none of them were users of ASL and/or interpreters. And as an interpreter, we're ethically bound not to change the message that we're given."
While Matthew Maxey says signing the N-word isn't typically an issue for a Black person such as himself, he finds that other interpreters get around that particular situation by using ASL signs for words like "homie," "brother" and "friend."
Through perseverance, innovation and raw talent, the people who've capitalized on their innate abilities to bridge the gap between hip-hop and the Deaf community have gone above and beyond in their work to bring musical sign language interpretation into the mainstream. The marriage between ASL and the rap game has even found its way onto popular TV shows such as Jimmy Kimmel Live!, which featured Holly Maniatty in 2014, among others, as they engaged in a "Sign Language Rap Battle" segment while Wiz Khalifa rapped his smash hit, "Black and Yellow."
With ASL Interpreters and Deaf performers such as Matthew Maxey, Holly Maniatty and Kelly Kurdi among those who've carved out their own niche in the spirit of the rap game and its rebellious nature, perhaps sign language interpretation should be considered the newest addition to the fundamental elements of hip-hop culture.
See ASL Interpretations of Hip-Hop Songs From Matthew Maxey, Holly Maniatty and More Below
Read 10 Wild Stories That Took Place During Hip-Hop Tours
More From Hot 104.7 - KKLS-FM