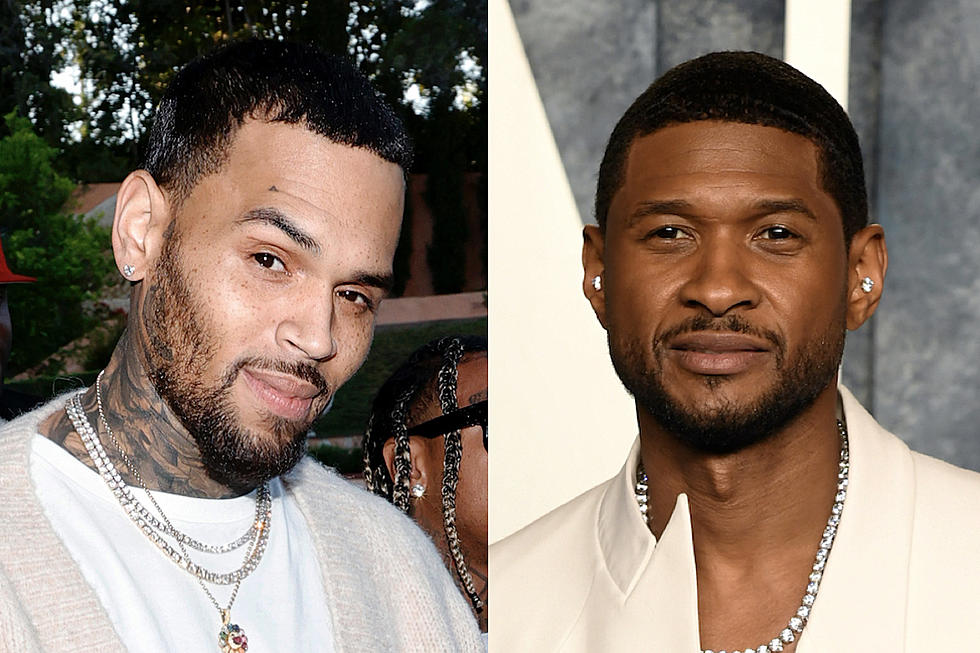 Chris Brown and Crew Fight Usher at Birthday Party – Report
Frazer Harrison/Jon Kopaloff/Getty Images (2)
Chris Brown and his crew reportedly fought Usher at Chris' 34th birthday party in Las Vegas last night.
Details are scarce, but according to a report on Hollywood Unlocked, published on Saturday (May 6), Chris Brown and his crew reportedly jumped Usher outside of Skate Rock City in Las Vegas on Friday night (May 5). Breezy was at the venue for his surprise 34th birthday party organized and hosted by Usher, himself.
According to a source, the celebrity-filled birthday party was going well until Chris Brown reportedly acted rudely toward singer-actress Teyana Taylor for unknown reasons. The insider observed that Brown appeared to be "visibly drunk" when he started interacting with her.
A few guests and Usher tried to intervene but at some point, according to the source, Brown called the "Confessions" singer a "coward" and left the party. The drama escalated outside the venue onto Brown's bus when Usher confronted the singer about his behavior.
The source told Hollywood Unlocked that a physical altercation occurred between the two men with Usher leaving the tour bus with a "bloodied nose."
XXL has reached out to officials at Skate Rock City and Chris Brown's rep for comment.
Interestingly, video from the event—before the alleged fight occurred—shows Brown and Usher in celebratory mode as Bow Wow encouraged partygoers to sing "Happy Birthday" to Breezy. You can watch it below.
This news comes as a shock because in the past Usher has saluted Chris Brown for his stellar work in the R&B genre. Last October, Usher shared on his Instagram page a video of himself at his Las Vegas revue praising Breezy. In the caption he wrote, "LEGEND."
If the reports are true, let's hope Chris Brown didn't ruin his friendship with Usher over his alleged misbehavior at a party.
See 10 of the Shortest Beefs in Hip-Hop
Beefs within rap that ended quickly.
More From Hot 104.7 - KKLS-FM