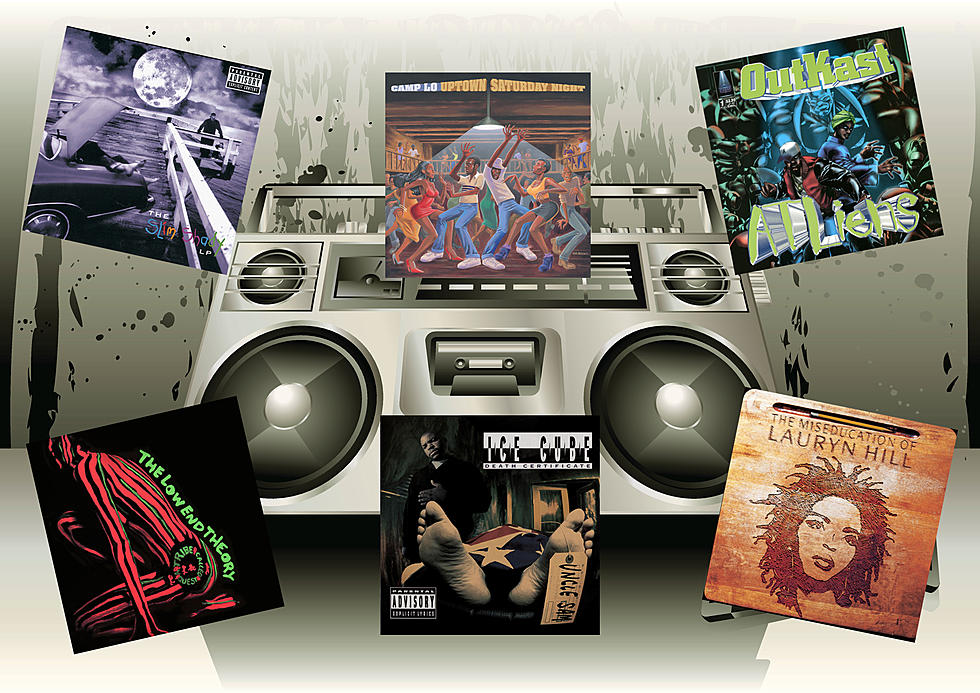 40 of the Best Hip-Hop Album Covers From the 1990s
Aftermath/Interscope/Profile/Artista Records (2)/LaFace Records/Jive Records/Lench Mob/Priority/Ruffhouse/Columbia Records
The most memorable album covers tell a story in itself or, at the very least, illustrate what the album may sound like. The Beastie Boys' debut, Licensed to Ill (1986), and its busted down jet with the words "Eat Me" written backwards on the wing screamed irreverence, while De La Soul's vibrant, flower-infused cover for their inaugural album, 3 Feet High & Rising (1989), made it clear they were all about the peace, love and harmony.
It's a practice that dates way back to 1939, when 23-year-old Alex Steinweiss was working at Columbia Records as the label's first art director. One day, Steinweiss grabbed a photographer and jetted down to New York City's West 45th Street, the site of the iconic Imperial Theatre. He convinced the venue's owner to change the marquee to say "Smash Song Hits by Rodgers & Hart" and the photog snapped a picture. In that moment, the first album cover was born.
In the 1990s, album covers were integral to learning about an artist. The advent of Google wasn't until 1998, so music fans had to get creative, and a big part of that was reading the liner notes. Throughout the 1990s, hip-hop albums with artistic, cool, controversial and innovative covers were dropping at a dizzying pace. There are dozens of them that are forever embedded in rap fans' collective conscience, from A Tribe Called Quest's The Low End Theory and Ice Cube's Death Certificate to OutKast's ATLiens and Lauryn Hill's The Miseducation of Lauryn Hill. In the spirit of hip-hop's 50th anniversary, XXL highlights 40 of the best hip-hop album covers from the 1990s. Check them out below.
See 40 of the Best Hip-Hop Album Covers From the 1990s
Album covers from Jay-Z, OutKast, Eminem and more.