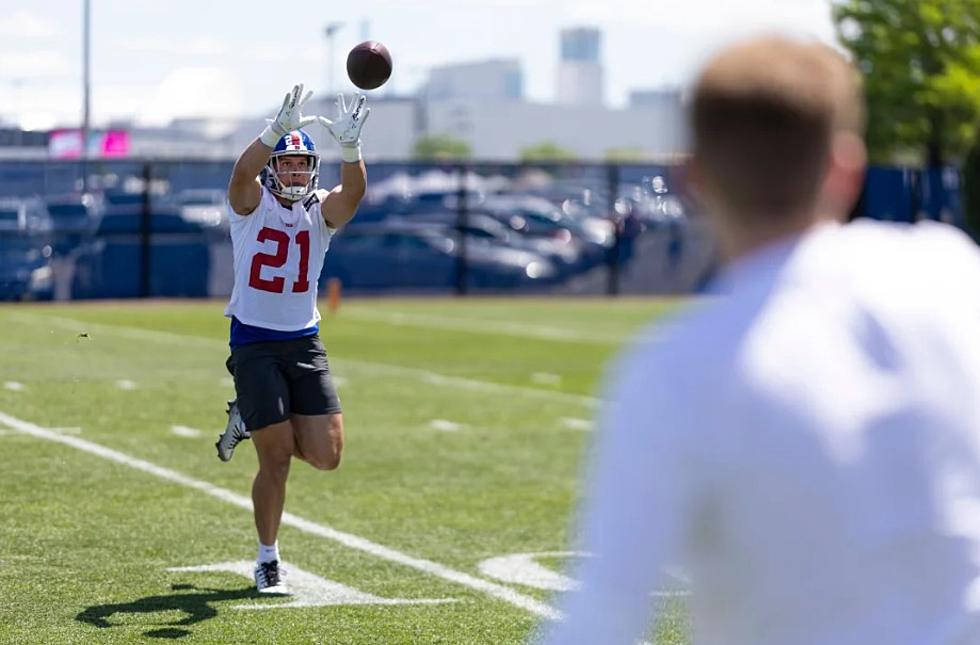 Augustana's Eli Weber Earns Tryout at Minnesota Vikings Minicamp
attachment-Eli Weber - Matt Swenson New York Football Giants
After he put his skills on display for the NFL at a rookie minicamp tryout with the New York Giants, Augustana's Eli Weber joined Overtime with Bert Remien on Tuesday to share some big news.
The Minnesota native said he indeed has another rookie minicamp tryout this weekend, with his hometown Minnesota Vikings:
Weber, who starred at Augustana here in Sioux Falls, recently wrapped up a rookie minicamp tryout with the Giants, and now has another chance to impress with the Vikings.
On ESPN Sioux Falls' Overtime with Bert Remien Tuesday afternoon Weber discussed how things went out in New York and New Jersey, and what's ahead in his playing career.
Here is the entirety of the interview that was heard live Tuesday on ESPN 102.3 AM 1000 KSOO:
Weber, who per Augustana's website is listed at 6'1 and 205 pounds, aims to make an impression on the Minnesota Vikings coaching staff similar to what Augustana alum CJ Ham did just a few short years ago.
Weber, a Dawson, Minnesota native, will attend Vikings rookie minicamp this weekend as a tryout, in hopes of landing a roster spot ahead of further offseason activities for the NFL franchise.
Over the course of his collegiate career in Sioux Falls, Weber played in 46 games, recorded 224 total tackles, and hauled in 12 interceptions. He was named a first-team all-NSIC performer three times during his career.
Source: Go Augie

South Dakota Born NFL Players of this Century
While not a traditional powerhouse Nation Football League feeder, South Dakota has produces a fair number of football players that went on to the big time in the NFL.
Here are some that have played on various teams over the last couple of decades.
More From Hot 104.7 - KKLS-FM