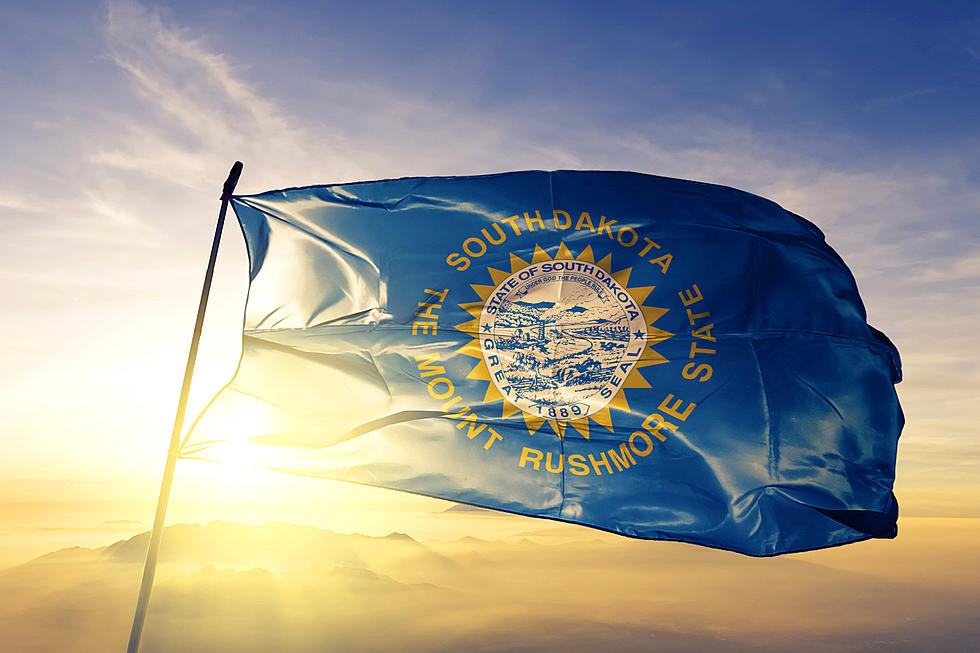 How Many of These 'South Dakota' Songs Do You Know?
Oleksii Liskonih via Getty Stock/ThinkStock
Over the years, certain states have become synonymous with certain songs that namecheck them in the title.
Songs like 'New York New York', 'California Girls', 'Deep in the Heart of Texas', and 'Midnight Train to Georgia', just to name a few.
And while South Dakota isn't linked with any well-known tunes, there have been more than a handful of songs that mention the Mount Rushmore State in their titles, including at least a couple that have been done by some of the most famous musicians on the planet.
A discussion on songs with 'South Dakota' in the title has to start with 'Hail, South Dakota', written by Deecourt Hammitt, which has been as the official state song since 1943.
Do you know the words?
Hail! South Dakota,
A great state of the land,
Health, wealth and beauty,
That's what makes her grand;
She has her Black Hills,
And mines with gold so rare,
And with her scen'ry,
No state can compare.
Come where the sun shines,
And where life's worth your while,
You won't be here long,
'Till you'll wear a smile;
No state's so healthy,
And no folk quite so true,
To South Dakota.
We all welcome you.
Hail! South Dakota,
The state we love the best,
Land of our fathers,
Builders of the west;
Home of the Badlands,
And Rushmore's ageless shrine,
Black Hills and prairies, Farmland and Sunshine
Hills, farms and prairies, Blessed with bright Sunshine.
Four years later, 'Old Blue Eyes' himself sang about the Mount Rushmore State when Frank Sinatra released 'I Gotta a Gal I Love (in North and South Dakota)' as the B-side to the single 'That's How Much I Love You', in 1947.
Things were pretty on the 'South Dakota' song front for another quarter century when the Bee Gees released the Barry Gibb-written 'South Dakota Morning' off of the group's 11th studio album, Life in a Tin Can, in 1973.
A year later, in 1974, American singer and songwriter Kinky Friedman released 'Rapid City, South Dakota' the opening track on his self-titled second studio album.
The song was based on a real-life incident that happened in South Dakota's second-largest city.
The song was later covered by Dwight Yoakam on the 1999 Kinky Friedman tribute album, Pearls in the Snow.
In 1988, American singer and songwriter Nanci Griffith released the song 'Deadwood, South Dakota' on her 11th studio album, One Fair Summer Evening.
The song was written by her former husband, Eric Taylor.
In 2011, the New Jersey-based rock band Hudson Falcons released the song 'South Dakota Nights' on their fifth studio album, Dancing Underneath the Moonlight.
They dedicated the song to the city of Yankton during a concert there that same year.
Most recently, in late 2020, 'South Dakota' was released by Frontier Needs Heroes, which is the moniker of singer and songwriter Brad Lauretti.
It was included on his fifth studio album, Go With the Flow.
A Survival Guide For Your First Winter in South Dakota
Sioux Falls,
South Dakota
, and the rest of the Sioux Empire (AKA southeastern South Dakota) are welcoming thousands of new residents every year.
Many of you new folks will be experiencing your first eastern South Dakota winter. While it doesn't usually get as bad as our Dakota friends up north, I speak from experience when I say it can get a little rough.
So, to help ease you into winter in Sioux Falls and South Dakota here are some winter survival tips:
5 Things South Dakota Gave the World
South Dakota
may not get much respect. We get a blizzard and it's a footnote on the national scene, but if Florida gets a bit chilly it's breaking news. But, maybe it's fine to be forgotten about. We kind of like being left alone on our quiet piece of the plains.
South Dakota has given a lot to the world though. Not just giant mountain carvings and settings for HBO shows, but awesome things that the rest of the world should thank us for.
More From Hot 104.7 - KKLS-FM