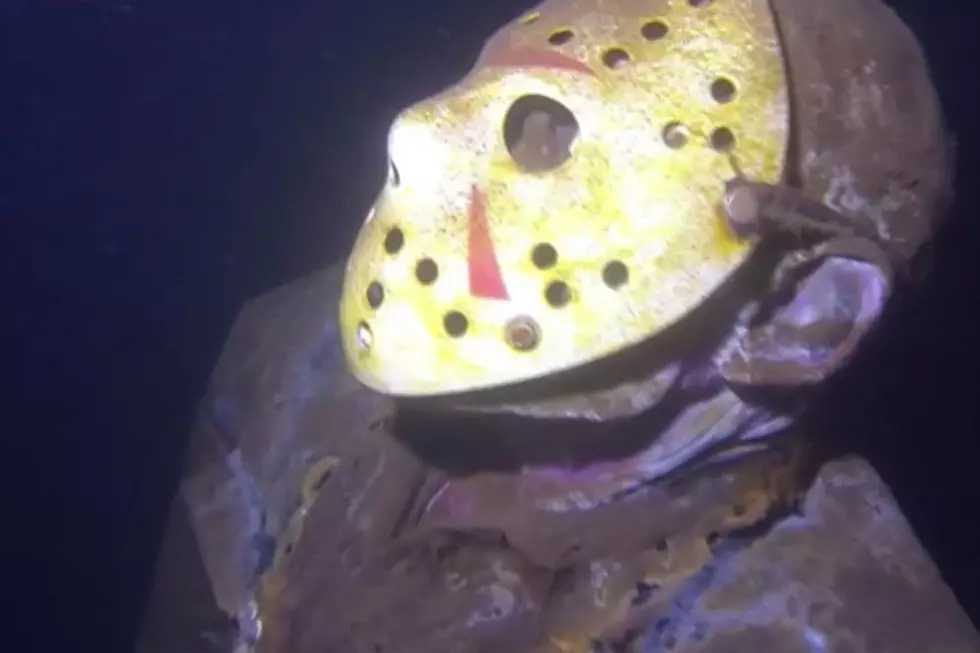 'Jason Voorhees' Now Lives at the Bottom of a Minnesota Lake
Dakota News Now (with permission)
Fans of the motion picture Friday the 13th will absolutely love this!
Minnesota is known for being the land of 10,000 lakes, and one of those lakes is also the new home of Jason Voorhees, the infamous serial killer from the "Friday the 13th" franchise.
In the Friday the 13th movies, Jason of course terrorizes camp counselors from Crystal Lake, in New Jersey. Thanks to Doug Klein, from Crosby, Minnesota, Jason now has the job of frightening visitors who dare to take a dip in Loise Mine Lake located in Crow Wing County, Minnesota.
Dakota News Now reports that Klein is an electrical by-day, but, in his spare time, he's a scuba diver who loves to place odd things he creates underwater in the popular swimming, snorkeling, and scuba diving lake near Ironton, Minnesota.
Over the years Loise Mine Pit has developed quite a reputation with people from all over the region and the country. And for the past ten years, anyone who has taken a swim in this lake has had the chance to see the legendary Jason Voorhees tethered to the bottom of the 112 feet deep state-owned mine pit.
Jason is lurking down there with several other oddities Klein has created, including a shark he found in a dumpster.
Dakota News Now is reporting that Klein, together with his fellow diving buddy Curtis Lahr has created a number of crazy things that they have placed inside Loise Mine Pit to help build on the lake's reputation.
Lahr even placed a video of their Jason Voorhees creation on YouTube that has gone viral several times.
According to Dakota News Now, it sounds like Jason might soon have the company of another legendary movie serial killer at the bottom of Loise Mine Pit. Klein is contemplating creating a Freddy Krueger figure from the "Nightmare on Elm Street" movies next.
If you enjoy scuba-diving, and a good scare, you might consider making the trek to Loise Mine pit yourself next summer to get up close and personal with Jason and all of his other pals.
Source: Dakota News Now
10 Things You Quickly Learn When You Move To Minnesota
TV Show Says This Is "Ugliest House In Minnesota". Yikes!
This TV show is looking for the Ugliest Houses In America. Check out why they think this Minnesota house is the ugliest in the state. What do you think?
More From Hot 104.7 - KKLS-FM