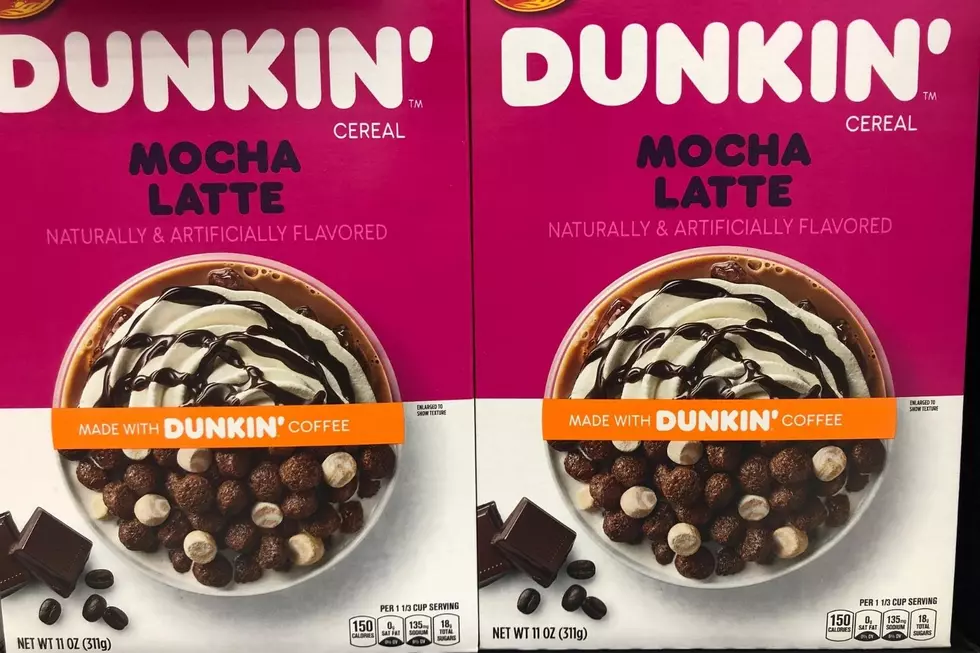 I Spy With My Little Eye…The New Dunkin' Cereal In Sioux Falls!
Credit: Christine Manika (TSM)
Over the weekend, I decided I needed a quick shopping trip.  I was restocking my fruits and vegetables along with some breakfast food like eggs and bagels.  When I was approaching the checkout line, there was a new cereal in the breakfast aisle that immediately caught my eye.  I couldn't believe it...it was a coffee-flavored cereal from Dunkin'!
It's not a Dunkin' Donuts store location, but I'll take what I can get.
The popular coffee franchise partnered with Post Consumer Brands to "brew" two new kinds of cereal for coffee lovers everywhere-Dunkin' Caramel Macchiato and Mocha Latte.  According to the Dunkin' website, these flavors "were inspired by Dunkin' fans' two favorite flavors and mark the first collaboration between Post and Dunkin'."
Josh Jans, Brand Manager of Cereal Partnerships at Post Consumer Brands, explains that coffee and cereal are American's top "go-to" breakfast foods.  It just made sense to combine both companies to help people start their day.  "Dunkin' coffee is a daily ritual for Americans, and we're excited to be partnering with them to indulge their fans' coffee cravings. Getting the flavor right on our new cereals was a top priority, and we think we've nailed the rich, smooth and creamy taste," explains Josh Jans.
So does the new cereal from Dunkin' actually taste like coffee?  It appears that this breakfast cereal does have a little "kick" to it.  The cereal contains a small dose of caffeine, just around a tenth of a cup of coffee.
The new Dunkin' Caramel Macchiato and Mocha Latte cereals just started to hit the store shelves around the nation.  You can learn more about what Dunkin' is brewing next by clicking here.
Oh, and Dunkin' if you're reading this, Sioux Falls needs a store to keep running with you soon.  Please and thank you.
Enter your number to get our free mobile app
Baking Banana Bread
More From Hot 104.7 - KKLS-FM