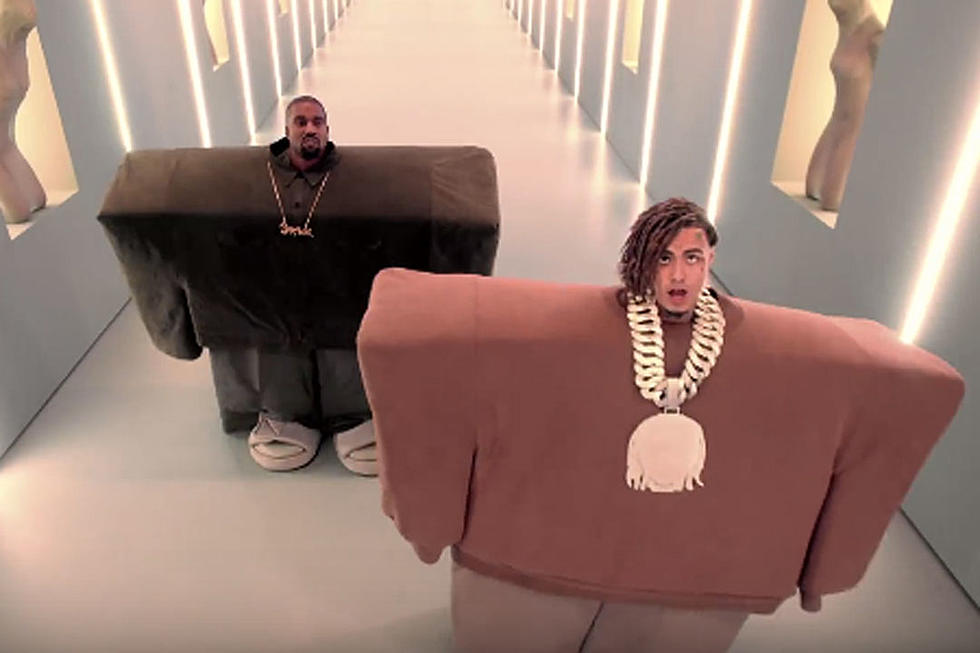 Hip-Hop and Pornhub: A Brief History
lilpump via YouTube
For a culture that was built on being edgy, it's no surprise that hip-hop has long been rife with X-rated bars. As such it's only natural that the porn industry and hip-hop have intertwined for decades.
2 Live Crew set the bar early for explicit visuals in 1991 with "Pop That Pussy," while videos like Ludacris' "P-Poppin" and Nelly's "Tip Drill" helped to bring rap raunchiness into the 21st century. These days, Pornhub is the internet's top portal for pornography and thus a perfect home for hip-hop synergy. The Montreal-based site has collaborated with rap artists quite a few times since its 2007 launch, aligning perfectly with the freedom for (XXX) expression that the internet has allowed. Traditional platforms like YouTube don't support prominent nudity, which has allowed Pornhub to step up and facilitate the showcasing of NSFW visuals.
From partnering with artists to debuting music videos to giving rappers the chance to direct full-on adult movies, Pornhub has become a semi-staple in hip-hop culture over the past few years. It's even served as a safe haven for material that doesn't have a sexual side—videos or songs banned for allusions to violence (U.K. drill videos) or copyright issues (Jacquees' unauthorized remix of Ella Mai's "Trip"). Recently, Kanye West worked directly with the site to curate the aesthetics of the 2018 Pornhub Awards. And everyone from Wale to YG to Ugly God to Migos has name-dropped the site in a rhyme.
Check out a brief history of Pornhub and hip-hop, below.
Hi-Rez Releases "Pornhub" Song

November 2013

Hi-Rez is a 24-year-old Florida rapper who has steadily been making music for more than a decade and clearly isn't afraid to express his love of Pornhub.

On his Product Of My Environment project, he included an ode to the mega porn site in the best way he knew how; deep references and explicit metaphors. Lines like, "Pornhub is my favorite site/Morning, afternoon, and night/Black, Asian, Spanish and White/Live chat for a low-ass price" are as cringe-worthy as they are honest.

Coolio Collaborates with Pornhub for "Take It to the Hub" Video

September 2014

After Coolio dropped a song and video titled "Take It to the Hub," TMZ posted a report that he'd inked a deal with PornHub Records and had an album in the works. The "Gangsta's Paradise" rapper later denied the rumor, telling Rolling Stone that it was just a promo track for the site: "If I want to see porn, I'll fuckin' put a mirror next to my bed."

Regardless, the video speaks for itself and is of course NSFW.

Waka Flocka Flame Collaborates With Pornhub for "Bust" Video

April 2015

Waka Flocka Flame is as diverse in his music making as he is with his affiliations. Waka, who has collaborated with animal rights group PETA, was one of the first rappers to embrace Pornhub Records. His video for the EDM-infused "Bust" was dubbed as an "unofficial porno" made by and for the growing PornHub community.

Mykki Blanco and Pornhub Produce "Loner" Music Video

November 2016

Mykki Blanco has been steadily breaking barriers for artists in the transgender and multi-gendered community—one example is the release of the Pornhub-produced music video for "Loner."

"Loner" isn't the raunchiest rap video—there's only minimal full-frontal nudity—but it does push rap video boundaries with erotic scenes and an array of thought-provoking visuals. It's proof that Pornhub-produced music videos don't need to be particularly raw; they can be mentally captivating as well.

CJ Fly Premieres "Dope" Video on Pornhub

April 2017

Pro Era's rapper CJ Fly collaborated with Pornhub to debut his NSFW video for "Dope." The track itself is fairly mellow and fits in with the narrative of his Flytrap project, yet the video shows nudity—and a plethora of drugs and other illegalities—that's best suited for Pornhub.

Young M.A. Directs a Pornographic Film

April 2018

Not only can Young M.A. whip off a jaw-dropping freestyle, she's also got a vision for adult filmography. She added the title of director to her résumé in April, when she helmed a Pornhub exclusive movie titled The Gift, which features an all-female cast with her music as the provocative backing soundtrack. Win win.

Cardi B Searches Peak and Plummet on Pornhub

May 2018

Around the end of 2017, Cardi B's increasing fame coincided with her popularity on Pornhub. The site's Insights Log showed her name spiking by more than 1,000 percent from December—when she and Offset dry humped on Instagram Live—to April 2018, when she revealed her pregnancy on Saturday Night Live. The numbers fell shortly after.

Drake's Baby Mother Searches Spike on Pornhub

June 2018

The talk of this summer was Drake and Pusha T's beef—more specifically the outing of Drizzy's child with adult actress Sophie Brussaux.

Once it was discovered that Sophie, who went by the moniker Rosee Divine, was in fact the mother of Drake's child, Pornhub searches for her name went through the roof.

Her name was searched less than 50 times per day before the reveal, but that number jumped to a staggering 500,000 times per day after Pusha pulled back the curtain on Drake's personal life.

U.K. Rap Videos Uploaded To Pornhub After YouTube Ban

July 2018

Earlier this year, more than 30 videos from U.K. rap artists were banned from YouTube due to heavy depictions of gang violence—most notably 1011's "No Hook" and 410's "Sparkz."

Those two videos (along with a few others that also depict excessive gun imagery), have resurfaced on Pornhub. It's another example of how the international porn site can be a safe haven for raw rap visuals.

Kanye West Curates Pornhub Awards and Premieres "I Love It" Video

September 2018

Kanye is the most recent hip-hop mega star to align with PornHub and he's done so in a major way. After casually shouting out the website during an appearance on Jimmy Kimmel Live!, Kanye partnered with Pornhub to curate their first-ever PornHub Awards.

The curation included award presenters being dripped up and draped out head to tow in Yeezy clothing, minimalist Kanye stage design and award-specific merch for purchase after the show. Kanye also premiered his video for the Lil Pump-assisted "I Love It."

Jacquees' Remix of Ella Mai's "Trip" Surfaces on Pornhub

October 2018

Jacquees' flip of Ella Mai's "Trip" took a life of it's own after it began to rival the popularity of the original track. So after that beloved, unauthorized remix was scrubbed from the internet, an anonymous hero took matters into his or her own hands and uploaded it to Pornhub. It's since been removed from there as well, but sleuth searchers can still track it down there.
More From Hot 104.7 - KKLS-FM