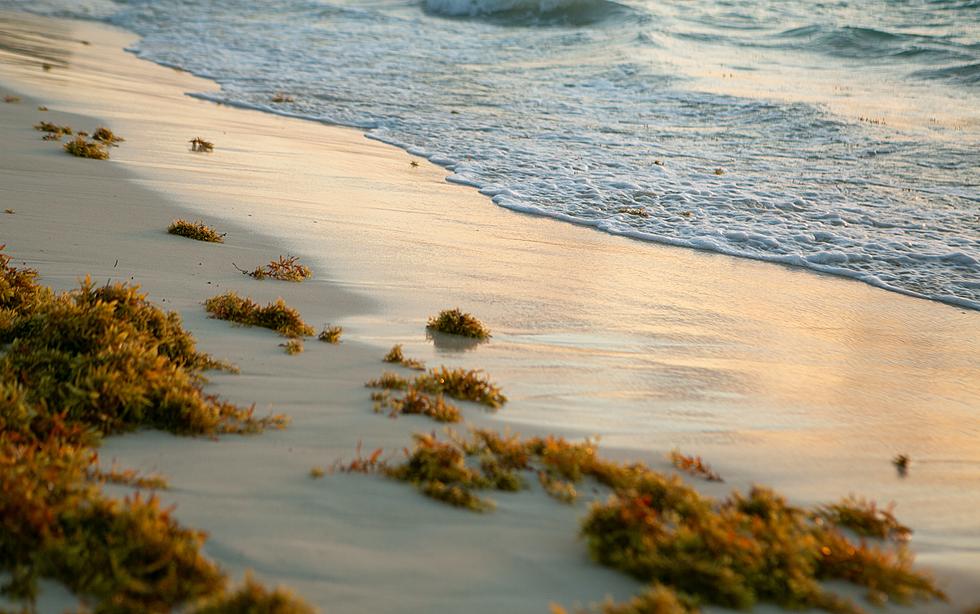 Giant Blob of Seaweed 'Twice the Width of U.S.' Head Toward Florida Coast
Thor Tryggvason, Unsplash
There's something headed toward the U.S. coast and it sounds like something straight out of a horror movie.
Even the name, Sargassum, sounds like something that could be coming soon to a theater new you but instead, it will be coming to beaches to antagonize tourists, and the bloom of sargassum headed toward us may be the largest we've ever seen in history if scientists are correct.
What is a Sargassum bloom?
A Sargassum bloom is basically a huge gathering of a type of seaweed called Sargassum. It usually happens out in the open ocean and this seaweed is normally found in the Sargasso Sea which is between Bermuda, Puerto Rico, and the eastern coast of the United States.
Lately, there have been big blooms of Sargassum happening in other parts of the ocean like the Caribbean and Gulf of Mexico.
Why is Sargassum bad? Is it dangerous?
These blooms can be pretty bad news for marine life because they use up oxygen in the water and can make it hard for other types of marine plants to get sunlight.
Sargassum blooms are happening more and more often and getting bigger too. This might be because of things like climate change, ocean currents, and pollution from human activities. They can mess up coastal areas by washing up on beaches, smelling really bad, and messing with tourism and fishing industries.
Size matters
Scientists say that the bloom that is floating out in the ocean is "twice the width of the U.S." and is currently headed for Florida. The 5,000-mile-wide blob of seaweed is so huge that it can be seen from space.
This means that it is very likely that Florida beaches could soon be inundated with seaweed just as tourists and beachgoers are looking to get out for some fun in the sun. Scientists say that what they see on satellite does not bode well for a clean beach year.
Adding to Florida's beach problems
This, after Florida's Gulf coast is already dealing with an algae bloom at the peak of spring break tourism. Dead fish washing ashore, along with the risk of respiratory irritation for humans has already caused the cancellation of festivals and events in addition to driving beachgoers away.
Red tide, a toxic algae bloom that occurs naturally in the Gulf of Mexico, is worsened by the presence of nutrients such as nitrogen in the water. The Florida Fish and Wildlife Conservation Commission warns people to not swim in or around red tide waters over the possibility of skin irritation, rashes and burning and sore eyes. People with asthma or lung disease should avoid beaches affected by the toxic algae.
The Florida Fish and Wildlife Conservation Commission on Friday reported that it had found red tide in 157 samples along Florida's Gulf Coast, with the strongest concentrations along Pinellas and Sarasota counties.
From blooms to tides, we'll keep an eye on things—and if you've got any vacation plans that involve beaches in Florida, you should too.
LOOK: Here are the 50 best beach towns in America
Every beach town has its share of pluses and minuses, which got us thinking about what makes a beach town the best one to live in. To find out,
Stacker
consulted
data from WalletHub
, released June 17, 2020, that compares U.S. beach towns. Ratings are based on six categories: affordability, weather, safety, economy, education and health, and quality of life. The cities ranged in population from 10,000 to 150,000, but they had to have at least one local beach listed on TripAdvisor. Read the
full methodology here
. From those rankings, we selected the top 50. Readers who live in California and Florida will be unsurprised to learn that many of towns featured here are in one of those two states.
Keep reading to see if your favorite beach town made the cut.
More From Hot 104.7 - KKLS-FM