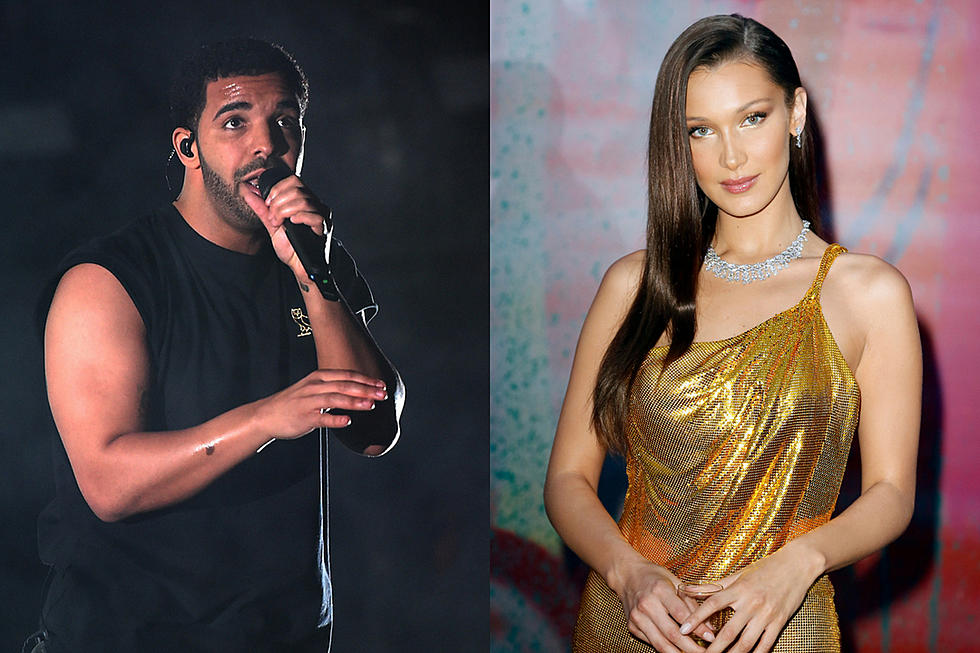 Every Bella Hadid Reference on Drake's New Song 'Finesse,' Explained
Kevin Winter, Getty Images; Ernesto S. Ruscio, Getty Images
Drake's new album, Scorpion, is officially out, and so, apparently, are all of his secrets. Not only does the mammoth 25-track project confirm that, unbeknownst to the public, he quietly fathered a child, but it also heavily hints that his rumored romance with Bella Hadid did in fact happen.
For those who missed their reported fling the first time around, Drake and Hadid first ignited speculation when they were seen leaving a club together last June. Then in October, Drake threw the 21-year-old model a birthday party, and her mother, Yolanda Hadid, went on Watch What Happens Live and said they were "friends" after ungracefully dodging the question of whether or not they were a couple. Neither party every addressed their so-called fling directly, and according to a source for Us Weekly, things ended over text in November when Drake "basically ghosted" Hadid.
Enter Scorpion. Drake casually glosses over a Hadid shout-out on "Sandra's Rose," rapping, "My house is full of supermodels just like Mohammed Hadid" in reference to her father. But the real tea comes via "Finesse." He starts off by saying something about wanting his baby to have her eyes, then gets progressively less subtle:
"I'm going against my own advice
Should I do New York I can't decide
Fashion week is more your thing than mine."
Hadid is, of course, a model who's regularly walked in shows at New York Fashion Week. Here, Drake is likely referring to September 2017's spring/summer fashion week, as the party he threw for Hadid happened only a month later.
He then explains that he struggled with keeping their relationship out of the public eye, saying he "can't even lie," "would rather stay inside," and "can't be in a room with [her] and stand on different sides."
In the second verse, Drake mentions Bella's sister, Gigi Hadid ("You and your sister / Too hot to handle"), and alludes to tension with her ex-boyfriend The Weeknd throughout the song:
"One thing at a time
I have to learn to hide
One thing at a time
Emotions running high
I wish you felt alright"
(In October, Page Six reported that Drake and the Weeknd were feuding over Hadid, with a source saying, "They both hang in the same Toronto crew and now they're having to pick sides ...They aren't getting along right now...The groups are beefing because [Drake] broke the bro code. [He and Hadid] 100 percent hooked up." Hadid and The Weeknd have since seemingly reunited.)
It's also worth noting that the song directly following "Finesse" is "Ratchet Happy Birthday," which may or may not be a nod to the bash Drake threw for Hadid. Make of it what you will below.
19 Totally Random Celebrity Couples You Never Knew Dated
More From Hot 104.7 - KKLS-FM