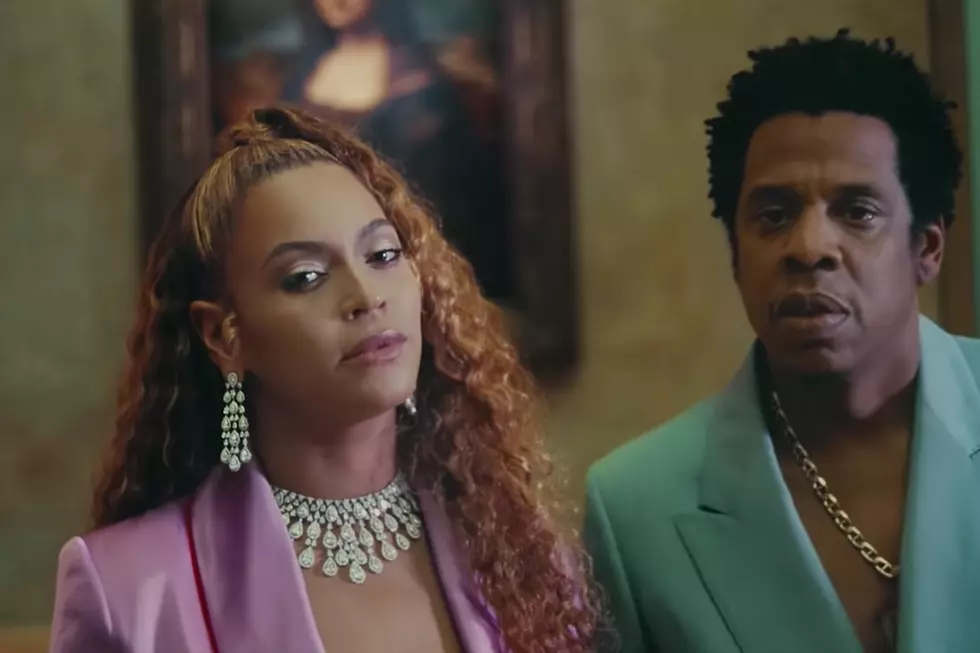 Beyoncé + Jay-Z's 9 Most Savage 'Everything Is Love' Lyrics
Beyonce, YouTube
It's been two days since Beyoncé and Jay-Z surprise-released their long-anticipated collaborative album, but the internet is still deep into recovery mode.
The record, titled Everything Is Love, covers a lot of ground across nine tracks, leaning headfirst into the marital strife separately chronicled on Lemonade and 4:44 and re-positioning the couple atop pop culture's throne. It's essentially a sonic proclamation that, after a few turbulent years, music's reigning monarchs are finally back on solid footing.
But while the takeaway is, largely, a blissful reconciliation, Everything Is Love is not without a hefty share of scandal: Together, Bey and Jay take down everyone from Drake and Kanye West to the NFL, the Grammys, and Donald Trump.
Below, the most savage lyrics from the album (which is now streaming via Apple Music, Tidal, and Spotify).
1

Confronting Jay-Z's Cheating on "Lovehappy"

"You f--ked up the first stone, we had to get re-married"
"Yo chill"
"We keeping it real with these people, right?/ Lucky I ain't kill you when I met that bitch"
"You know how I met her/ We broke up and got back together/ To get her back I had to sweat her."

2

Shading Spotify on "Nice"

"My success can't be quantified/ If I gave two f--ks about streaming numbers, would've put 'Lemonade' up on Spotify/ F--k you, f--k you."

Beyoncé opted to keep her 2016 tour de force a Tidal exclusive by not putting it on Spotify, forgoing hundreds of thousands of potential streams that she evidently could not care less about.

3

... the Grammys on "Apes--t"

"Tell the Grammys f--k that 0 for 8 s--t/ Have you ever seen the crowd goin' apes--t?"

Jay-Z was notably up for eight Grammys ― the most of any any nominee ― at the 2018 awards show, but didn't win in any category.

4

...the Super Bowl," Also on "Apes--t"

"I said no to the Super Bowl/ You need me, I don't need you/ Every night we in the end zone/ Tell the NFL we in stadiums too."

5

...and Kendall and Kylie Jenner on "Friends"

"Y'all put n----s on a T-shirt, it hurts you ain't never meet 'em."

The Jenner sisters caught flack last year for cropping their faces over Tupac and the Notorious B.I.G., resulting in a lawsuit that has since been settled.

6

Addressing Jay-Z's Fallout With Kanye West on "Friends"

"I ain't goin' to nobody nothin' when me and my wife beefin' / I don't care if the house on fire, I'm dyin', n--ga, I ain't leavin' / Ty-Ty take care of my kids, after he done grievin' / If y'all don't understand that, we ain't meant to be friends."

This appears to be a reference to Kanye West, who has publicly said he was upset that Jay-Z and Beyoncé didn't make it to his 2014 wedding.

7

Denying Jay-Z's Alleged Love Child on "Heard About Us"

"Billie Jean in his prime/ for the thousandth time, the kid ain't mine/ Online they call me dad kiddingly / You're not supposed to take this dad thing literally."

This is likely a reference to Rymir Satterthwaite, a rapper who has claimed to be Jay-Z's illegitimate son since at least 2015.

8

Dissing Donald Trump on "SALUD!"

"Your president tweeting about Hov like he knows us / My road to the top was to take what you owe us / I give a f— what that man find vulgar / Just look in my eyes when you toast us."

9

Calling Out Drake on "Boss"

"N----s rather work for the man than to work with me

Just so they can pretend they on my level, that s--t is irkin' to me

Pride always goeth before the fall, almost certainly

It's disturbing what I gross (what I gross!)

Survey says you not even close (not even close)

Everybody's bosses 'til it's time to pay for the office

To them invoices, separate the men from the boys, over here

We measure success by how many people successful next to you

Here we say you broke if everybody gets broke except for you."

There are a few things to unpack here: 1) Drake reportedly turned down a contract with Jay-Z's Tidal in order to work with Apple, and now Jay-Z is airing him out for it. 2) Drake also rapped on "Summer Sixteen" that he "used to wanna be on Roc-A-Fella" then "turned into Jay," but Jay-Z makes clear they're not yet on the same level. and 3) Drake infamously sent Pusha-T a $`100,00 invoice for "promotional assistance and career reviving" amid their feud in May; Here, Jay-Z chides him for being petty.
More From Hot 104.7 - KKLS-FM