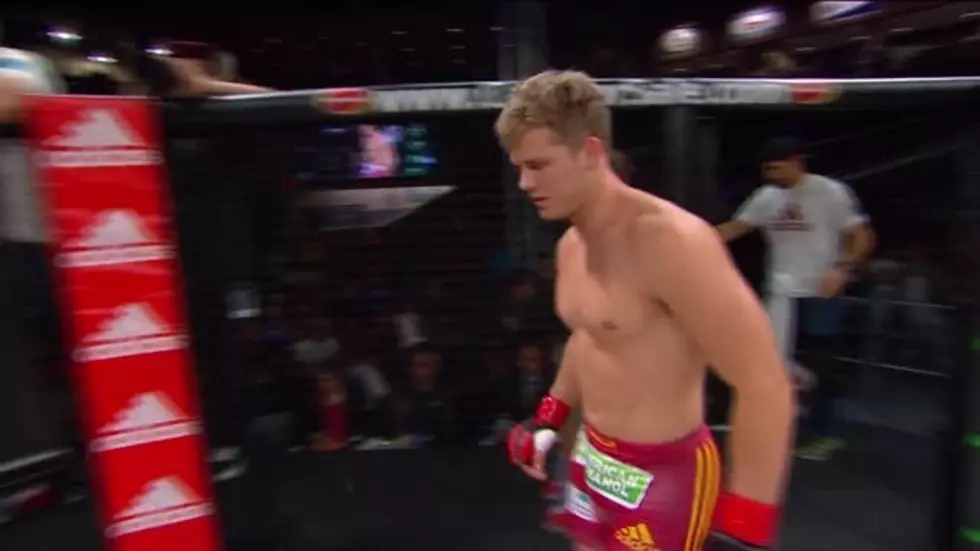 Logan Storley Has Successful Bellator Debut
Photo From KDLT-TV
This past weekend we were out on the boat and as it usually does, the conversation turned to wrestling. First it was Connor McGreggor. Then the talk took on a local slant.
Did you hear about the Logan Storley fight? I hadn't.
I knew of Storley's reputation in South Dakota wrestling (six time state Champion four time All-American at the University of Minnesota). This is what I heard out on the boat.
Is there are fighter on the planet that Storley couldn't bring down with a double legged take down?
None I know.
Takes em down, then pounds on them.
Did you see those elbows.
Wow
That's part of it. You either punch their lights out standing up, or your drag em down on the canvas and wipe last nights data off their hard drive.
Sounds like that's what Storley did when he defeated Kemmyelle Haley in his Bellator MMA debut July 14. Storley defeated Haley by TKO in 1:44 in the first round.
For those of you who didn't see the fight, I'll describe. Logan Storley, take down. Single leg. Lined him up and tucked the opponents elbow in with his knee and then the storm clouds gathered quickly.  Logan Storley then introduced Kemmyelle Haley to is right elbow. And it was an emphatic and spirited introduction.
---
More From Hot 104.7 - KKLS-FM