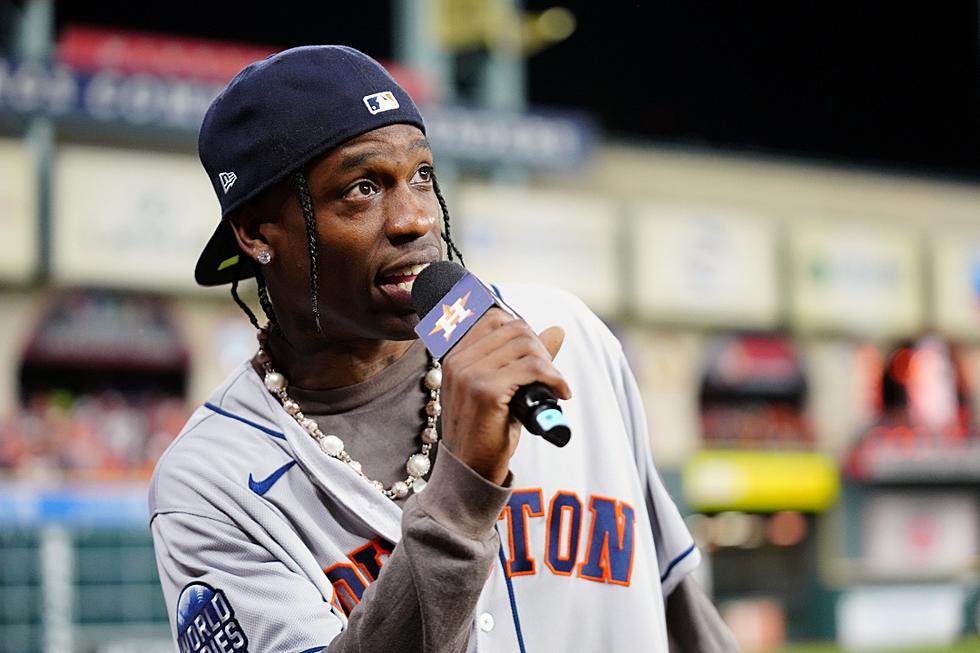 Travis Scott Plays Utopia for Houston Astros Players, Says Album Is on the Way
Daniel Shirey/Getty Images
Travis Scott recently granted Houston Astros players an exclusive listen to his long-awaited Utopia album.
On Monday (May 15), Travis Scott showed up at Minute Maid Park, the home of his hometown Houston Astros baseball team, and was a guest of honor for the 'Stros' game against the Chicago Cubs. La Flame was videoed participating in batting practice. He also gave a sneak-peak of his new album to the entire team. Scott spoke with Fox 26 News' Mark Berman during his appearance.
"Live from Utopia. It's on the way now, Mark," Travis Scott explained. "I had to come down here and play Utopia for the boys down here in the lock room. Had to get them right before the game."
Fans have been waiting for five years for the follow-up to Travis Scott's 2018 Astroworld album, which featured the diamond single "Sicko Mode." Travis was prepping the album when the 2021 Astroworld Festival tragedy put the LP on the backburner. Back in February, Travis updated fans on the release date, saying he would be putting out Utopia following the releases of albums from the artists on his Cactus Jack label.
"Sheck Wes you know The Scotts is on the way," Travis told the crowd during a show at his Cactus Jack All-Star Weekend event in Houston. "We got Faygo about to put out a little EP that's on the way."
"And right after that Utopia is [dropping]," he added. "So we came here to drop that message and I can't wait 'til these muthaf***as drop their s**t," he concluded.
See Travis Scott Giving an Update on His New Utopia Album Below
Here Are 20 Signs You're a Travis Scott Fan
La Flame's fan base is ready to rage at a moment's notice.
More From Hot 104.7 - KKLS-FM