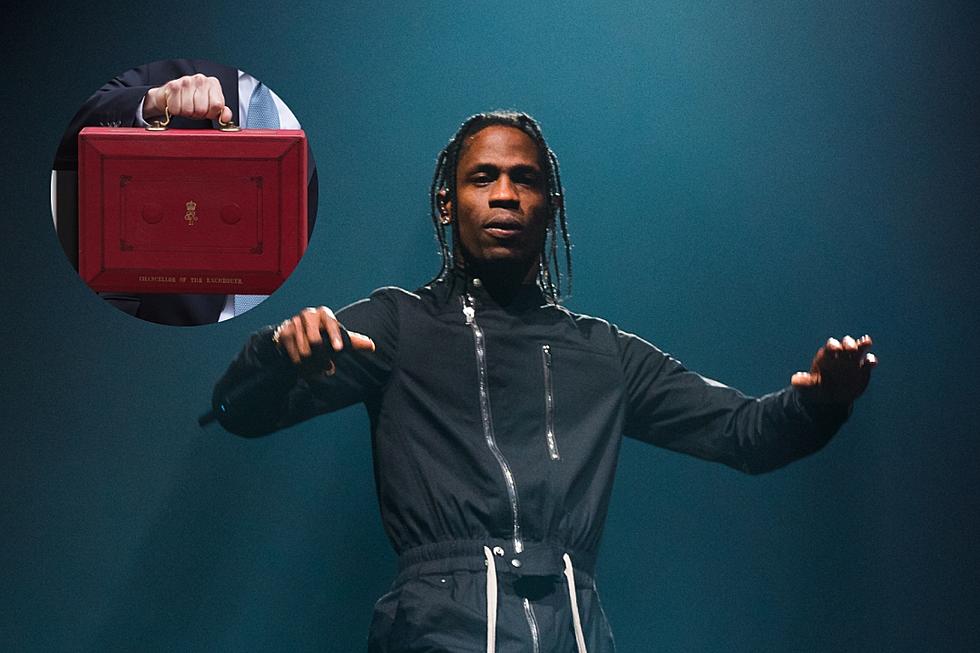 Travis Scott's Security Carries Around Utopia Album in Briefcase Handcuffed to His Wrist
Wiktor Szymanowicz/Anadolu Agency/Mauricio Santana/Getty Images (2)
Travis Scott's new Utopia album is being kept under lock and key, literally.
On Thursday (May 18), photos (below) surfaced of Travis Scott being escorted to his car by his security guard. In the photos, La Flame's security guard is holding a briefcase that is handcuffed to his wrist. The word "Utopia" is scribbled across the brown briefcase in black marker.
Travis Scott keeping the album with him instead of uploading it to the cloud is an old-school move that might show he is being very protective about the album falling into wrong hands and being leaked online. Then again, it could all be part of promotion for the new LP. Or, less interestingly, Travis' jewelry collection.
Also on Thursday, Travis Scott's frequent collaborating producer Mike Dean shared a post on Instagram showing himself mixing Travis' new album.
Fans have been waiting on a new Travis Scott album for nearly five years, with the release being delayed in the wake of the deadly 2021 Astroworld Festival. Recently, there have been signs that the album is loading. Back in February, Travis updated fans on the release date, saying Utopia would drop following the releases of projects from his Cactus Jack artists.
"Sheck Wes you know The Scotts is on the way," Travis told the crowd during a show at his Cactus Jack All-Star Weekend event in Houston. "We got Faygo about to put out a little EP that's on the way."
"And right after that Utopia is [dropping]," he added. "So we came here to drop that message and I can't wait 'til these muthaf***as drop their s**t," he concluded.
Earlier this week, Travis debuted the album for the Houston Astros baseball team.
See Photos of Travis Scott's Bodyguard Carrying Around a Briefcase That Appears to Contain the Rapper's Long-Awaited Utopia Album Below
Here Are 20 Signs You're a Travis Scott Fan
La Flame's fan base is ready to rage at a moment's notice.