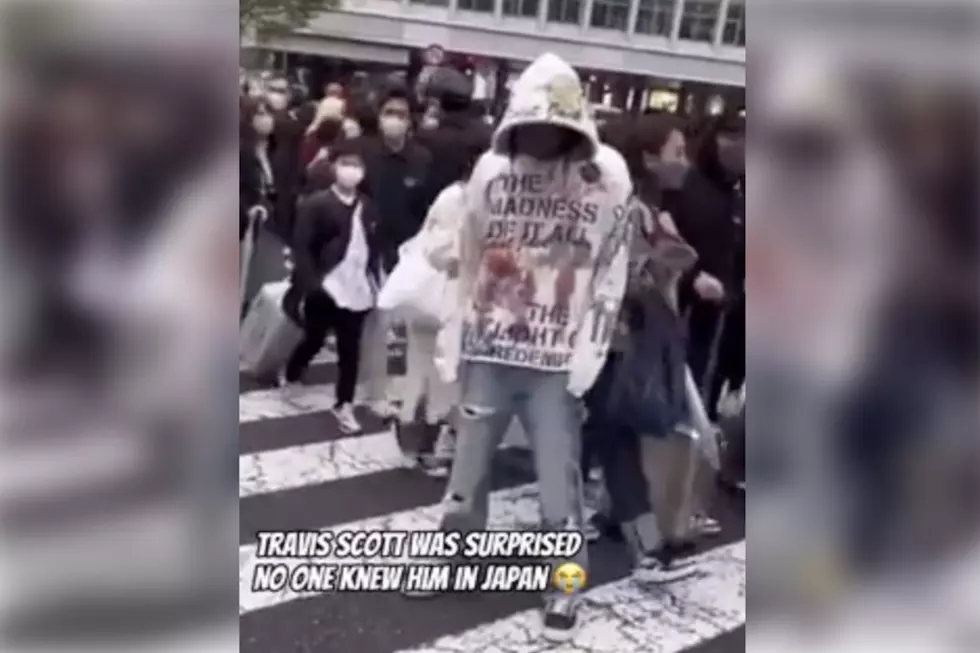 Travis Scott Stands in Crowd of Pedestrians in Japan, No One Recognizes Him – Watch
kirawontmiss/Twitter
Travis Scott is arguably the most famous rapper in the world. Except in Japan?
On Sunday (April 2), Twitter user @kirawontmiss posted a video of Travis Scott standing in a crowd of people, presumably, in Japan and no one recognized him. In the clip, the Houston rapper-producer appears to be posing for photos at a crosswalk with hundreds of people walking by. Travis posed in his large printed hoodie right in the middle of the crowd of locals who were going about their day.
La Flame stood there for a second and then tried to join the pedestrians as they went about their business. Amazingly, no one seemed fazed that standing before them is Travis Scott. The 31-year-old artist removed his hood and walked away with his entourage as they laughed about what happened.
"This gotta be so embarrassing [two loudly crying face emojis]," tweeted the Twitter user who posted the clip.
It's unclear where it happened in Japan. Some reports suggested that it occurred in the capital city of Tokyo. Either way, it was an awkward moment for the "Sicko Mode" rapper.
This wasn't Travis' first trip to Japan either. Back in 2014, the Astroworld creator traveled to the Land of the Rising Sun for the very first time. A video travelogue was released called "Houston To Osaka," which chronicled Travis' travels in Osaka, Japan. You can watch below.
As for the viral video, several people have mentioned the causal behavior of people in Japan is part of the Japanese culture.
"Japan honestly don't care they just be vibin," wrote one person.
Another fan concurred: "They also don't like making a scene or standing out too much. So I doubt anyone wants to start herding to him. Especially in the middle of the Shibuya crossing."
Judging by the video, we don't think Travis Scott wasn't embarrassed by the situation.
Watch Travis Scott Stand in Front of a Crowd of People in Japan and Not Get Recognized Below
See Rappers Who Got to the Bag Through Video Games