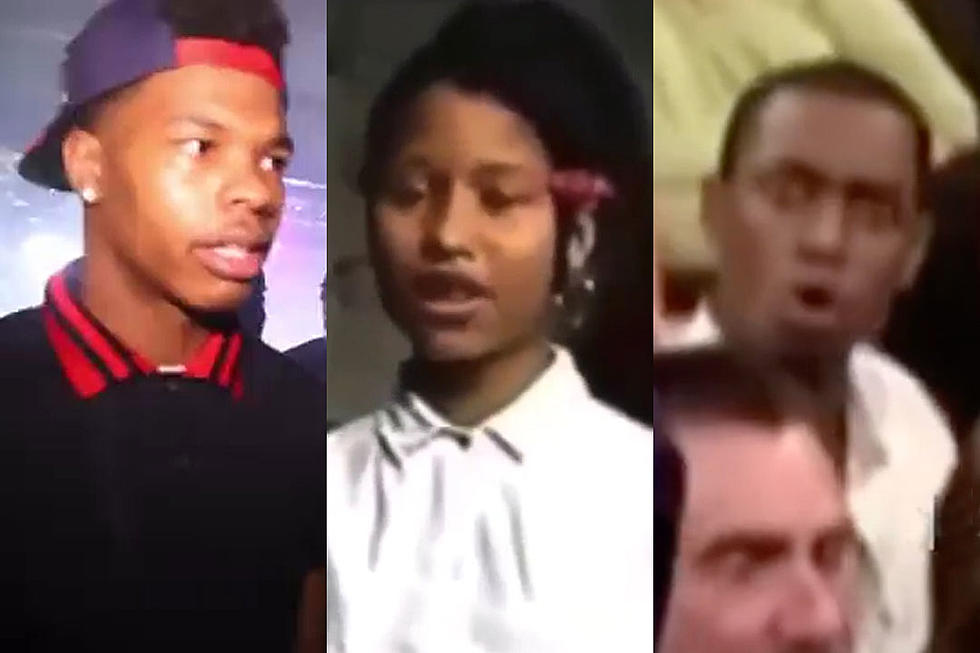 Check Out These Sightings of Rappers Before They Were Famous
stilllsmallz/Twitter (2)/Famous Faces TV/YouTube
As much as rappers are in the public eye, they're normal people who did normal things before the fame. Every once in a while, footage surfaces on the internet of an artist before the glow up. In some instances, those clips come from a celebrities childhood. Take for example the torch-bearers of Lil Wayne's YMCMB collective. A few years back, a newscast of an elementary-aged Nicki Minaj made waves among fans. In the instance from an unidentified time period, Onika speaks about her future aspirations of working in the medical field, though she opted for the music industry down the line instead. Another example is Drake, who was hired on Degrassi: The Next Generation as a teenager. Drizzy's show character Jimmy Brooks was later commemorated by the 21 Savage collaboration "Jimmy Cooks" in 2022.
Other times, rappers have been caught being flies on the wall. Back in 2013, Fivio Foreign was an audience member on The Steve Wilkos Show, something that fans didn't discover until 2023. Sukihana had a similar moment of discovery when folks dug up the fact that she was featured on The Jerry Springer Show in 2018. Elsewhere, a handful of rappers have made cameos in music videos, too. Like that one time Cardi B was featured in a music video for 2013's "Tadow" by N.O.R.E. or when Gunna was seen cooling in the back of Young Thug's 2015 music video for "With That."
All in all, plenty of artists have been caught in 4K pre-fame. Here, XXL takes a quick dive into rapper sightings that preceded their rise in the music video. Check out the rappers before they were famous below.
Nicki Minaj is an undisputed rap G.O.A.T., but back in the day she had her sights set on being a nurse. During an old newscast, an elementary-age Nicki got some camera time.

"My name is Nicki Minaj and I go to P.S. 45. I would like to be a nurse growing up so I could help people less fortunate than me," she said during the broadcast.

Context around this highlight is unclear, but certainly came far before Nicki etched herself into the history of music.

In the music video for Whitney Houston's 2011 release "Whatchulookinat," a kid Offset was seen getting down. He stands out not only because of his dance moves, but also because of the grey suit he was wearing around other background dancers who seemingly opted for black. The first close-up comes around the 51-second mark of the video and continues on and off until the song ends.

Around April of 2022, fans dug up a dated video of Fivio Foreign being an audience member on The Steve Wilkos Show. The clip of him making a wild face appears in season seven, episode 36 of the show, which aired in November of 2013. When the video resurfaced, Fivio later explained, "My girlfriend at the time—she my baby moms now—she wanted to go to the joint. I'm like, aight we out. They said you had to clap. You had to act like you extra into it so you can get on TV. I'm like, aight, I wanna be on TV. It's all good."

Fivio's rap career found life in 2019.

Sukihana's rap career had already started when she appeared on The Jerry Springer Show back in May of 2018, though she hadn't reached mainstream heights yet, making this cameo worthwhile. During the Sex for Rent episode of the show, Suki was accused of being a homewrecker and used that opportunity to come out, clear the air and perform her early catalog track "5 Foot Freestyle."

Leading up to Gunna becoming Young Thug's most successful YSL protégé, the two were homies in real life. Back in 2015, Gunna was spotted kicking it with Thug in the music video for the track "With That." He first pops up about the 51-second mark in the below video wearing all black and hitting a blunt. And he appears a couple of more times throughout. Gunna started releasing music for real a year later.

In 2013, nearly half a decade before Cardi B even started rapping, she appeared in the music video for a song called "Tadow" by N.O.R.E. featuring French Montana, Pusha T and 2 Chainz. At the 32-second mark of the video is where she pops up initially, standing in a barbershop and holding a cup as an extra. When 2 Chainz's verse comes up, Bardi appears again at 2:48, donning a yellow shirt and blue jean shorts.

Famed rock band Korn released their record "Got the Life" back in November of 1998. In the respective music video are extras, with one of them randomly being Eminem. In the clip, he's seen in a black hat, smiling and dapping up the band at a block party. One year later, Em would release his breakthrough project The Slim Shady LP.

This information was revealed in a 2014 interview with the group's guitarist James "Munky" Shaffer, who gave his take on what occurred that day: "There were some extras on the set of our video 'Got the Life.' Some kid came up to me and gave me his demo. I was really drunk and I was like [out of it]. He's like, 'Hey, check it out, I'm a rapper.' I'm like, 'I'm just a guitar player.' It turned out that kid that was on our video was Eminem. He was an extra in that video. I vaguely remember that happening."

Right around the time J. Cole started rapping in 2007, he made a cameo in the music video for Consquence's "Callin' Me." Cole makes a one and done appearance in the visual at the 1:24 time stamp, standing in a group of people donning a red jacket.

Drake's first taste of fame came when he was featured on Degrassi: Next Generation. That's a given to mention. But additionally, Drake played Trey Songz's wingman in the "Wonder Woman" music video for about 30 seconds. Starting at the 1:02-mark, Drake can be spotted wearing a blue, brown and yellow LRG ensemble, speaking to the year 2007 that it was released in. The two artists would collaborate for "Replacement Girl" later that year, as Trigga offered Drizzy his first major cosign.
More From Hot 104.7 - KKLS-FM