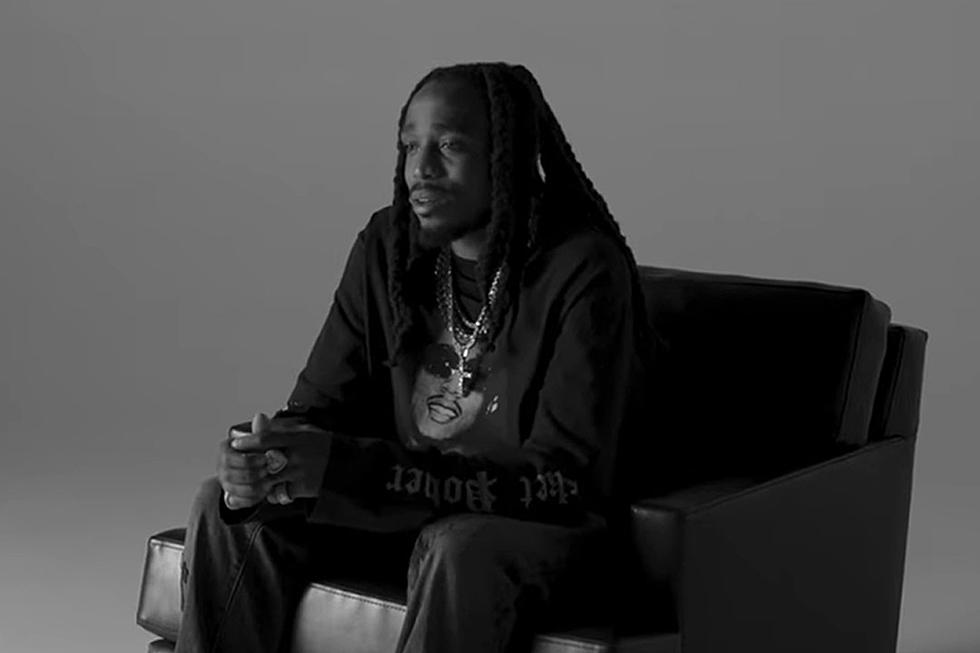 Quavo Admits He Sometimes Cries Himself to Sleep Due to Takeoff's Death – Watch
Quavo Huncho/YouTube
Quavo admitted in a new video this week that he sometimes cries himself to sleep due to Takeoff's death.
Quavo Opens Up About How Takeoff's Death Has Affected Him
On Thursday (July 27), Quavo released a video for the rollout of his new project, Rocket Power on YouTube. In the black-and-white video below, the Migos rapper explained the significance of his upcoming LP, what song he enjoyed recording from Rocket Power and how he came up with the album's name. At the 8:22-mark of the video, however, Quavo got real transparent about how his nephew Takeoff's death has affected him. After discussing the ways he's been dealing with grief and how Takeoff will always have a special place in his heart, the Atlanta rapper confessed that he sometimes cries himself to sleep due to the late rapper's death.
"I think about him all the time," Quavo revealed. "Sometimes I cry myself to sleep, you know, and that's it. I just know he's here. I know that if I can't feel him I just know he's around."
In the video, Quavo is also wearing a shirt that seemingly pays homage to the deceased Migos member. Takeoff was tragically shot and killed in November of 2022.
Quavo Drops Trailer for Rocket Power
On July 21, Quavo also dropped a trailer for Rocket Power on YouTube, which can be seen below. The one-minute-and-a-half visual finds the 32-year-old rhymer standing in front of a rocket ship as it gets ready to take off. While wearing the same Takeoff T-shirt that he wore in the aforementioned video, Quavo holds up a spacecraft-themed chain in the air. Quavo also dropped a preview of the visual on his Instagram with a heartfelt caption.
"This Album Is Embodying All My Emotions," Quavo wrote in the caption of the post.  "Through the process of healing, I've learned to turn tragedy into triumph. I had to dig deep into my purpose and find the power to keep striving. To my fans, thanks for being patient with me and supporting Us. To my FAMILY, even when times get hard we know our MAIN mission is to keep the Rocket name ALIVE."
Rocket Power is set to debut on Aug. 4.
See Quavo talk about Rocket Power and how he's been since Takeoff's death below.
Watch Quavo Admit That He Sometimes Cries Himself to Sleep Due to Takeoff's Death
Watch the Trailer for Rocket Power 
See Hip-Hop Artists We Lost in 2022
Rest in power to these beloved artists.