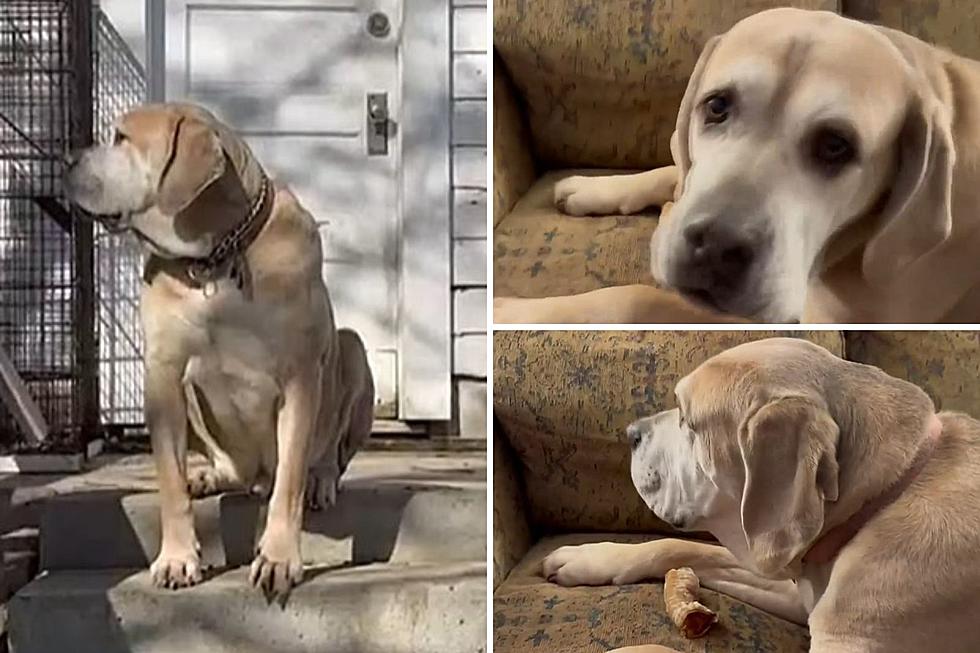 A Sioux City Dog Is on a Journey to Become 'America's Favorite Pet'
Dakota News Now (with permission)
My wife and I love our two hounds to death. And almost every pet owner I know feels that exact same way about their pet, be it a dog, cat, bird, snake, or whatever they own, their pet is a cherished member of their family.
It sounds like that is the same type of relationship a Sioux City, Iowa man has with his dog, Ernie.
Ernie is owned by Mark Solheim, of Sioux City, and as Dakota News Now reports, prior to knowing Mark, Ernie had a rough life.
A Sioux City Dog Is on a Journey to Become 'America's Favorite Pet'
Before Ernie was saved by a rescue shelter, he was raised in an environment that confined him to a cage most of the time. As Solheim explains, Ernie was treated more like livestock, than a valued member of a family. He was herded from cage to cage with sticks, and early on in life never got to experience the feeling of love and friendship from a human companion.
Fortunately for Ernie, his journey in life eventually led him to Noah's Hope, a dog rescue in Sioux City. That is where Solheim and Ernie's story gets underway.
In December 2017, Solheim took Ernie home from Noah's Hope and began to give the dog the life he so desperately deserved. According to Dakota News Now, when Solheim first met Ernie he was very timid and afraid. But after Solheim began to shower the dog with love and affection, Ernie started to trust Solheim, and they quickly formed a strong friendship.
As Solheim explains, "I don't own animals, they're part of the family. I may pay a fee to get them out of jail, kind of like bail, but I don't own these guys, they are my friends and they're my family."
And because Ernie is now a proud member of Solheim's family, one day Mark decided to submit a picture of Ernie to be part of a competition being put on by Americasfavpet.com.
Imagine Solheim's surprise when he found out that Ernie ended up winning his position group, and is now in the running to become America's top dog!
As Dakota News Now reports, should Ernie end up winning the title, Solheim has made the decision to give the $5,000 cash prize back to Noah's Hope to further support the organization that each day gives mistreated, abused, and unwanted animals new hope and a chance at a better life.
If you would like to help Ernie on his journey to becoming America's Favorite Pet you can cast a vote here.
Ernie is currently ranked 5th in his quarter-finals competition. The voting process for semi-finalists wraps up on March 9 at 7 PM.
The winning dog will receive a $5,000 cash prize and be featured in a 2-page advertorial in Catster and Dogster Magazine.
Source: Dakota News Now
Restaurants That Are Dog Friendly In Sioux Falls
More From Hot 104.7 - KKLS-FM