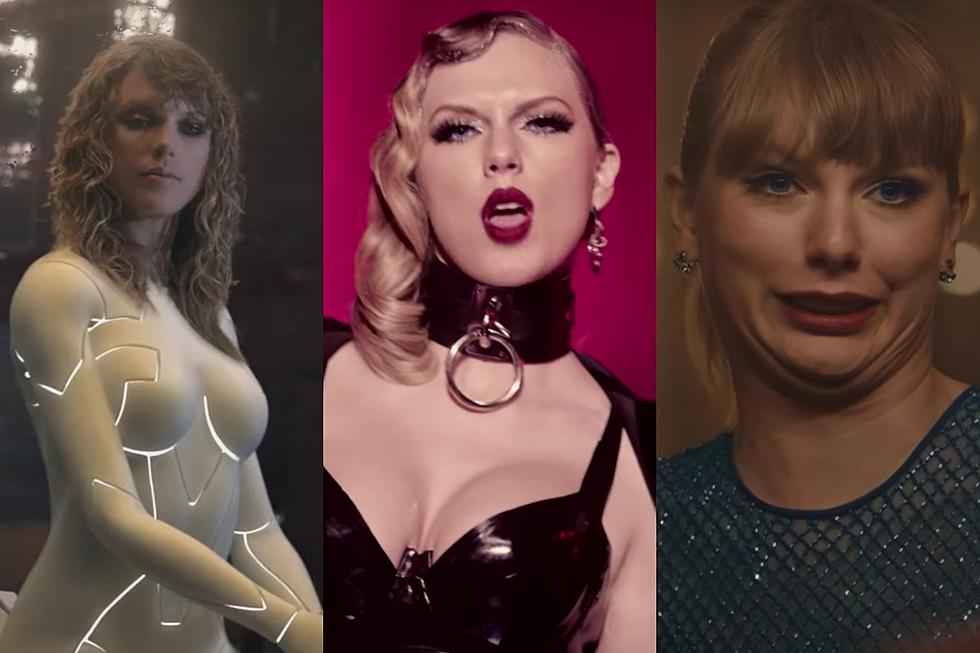 Taylor Swift Has Lost Sight of Herself + Her 'Reputation'
Taylor Swift VEVO
Up until a few years ago, Taylor Swift was one of the most rigidly branded figures in pop. Whatever the realities of her personal life, her image was ironclad. She was wide-eyed and virtuous, professionally heartbroken, the modern iteration of a Disney princess: forever searching for a fairytale romance but rescuing herself in song. Even as her peers began to shed their innocence and embrace sexuality, Swift remained a steadfast ingénue, shirking the lure of adulthood in pursuit of mass appeal.
But when, in the summer of 2016, she found herself on the wrong end of an exceedingly public feud with Kanye West, her veneer began to crack, confirming what many of her critics had long known to be true: Her so-called innocence was an elaborate exercise in smoke and mirrors, carefully monitored and rigorously planned. It wasn't so much that Swift was more culpable than she had presented herself — whether as an extraordinarily wealthy celebrity or merely a 28-year-old woman working in Hollywood, it seems unfathomable that she could truly be that guileless — but that, after a decade spent mastering the science of public perception, she had so suddenly lost control of her own narrative. And in the process, it seems, she may have lost sight of herself too.
Reputation, the record that emerged in the aftermath of her social crucifixion, was meant as a reinvention of sorts, casting aside her hard-fought role as victim and leaning into ascribed villainy. The delivery was, unsurprisingly, not entirely convincing: Her lyricism is as barbed as ever, but Swift plays antihero with the stiffness of a wood puppet, and the album left unclear whether she was remaking herself or simply ceding to the identity since reassigned to her. But the music videos that have followed seem to resolve any uncertainty: Taylor Swift, as a musician, no longer knows who she is.
The Reputation visuals find Swift caught between the two extremes that have defined her career thus far. In "Look What You Made Me Do," she settles into full-blown villainy — leather-adorned, unrepentant, out for blood. But in "Delicate," she reverts to victimhood, dusting off the oh-so-relatable Awkward Taylor to bemoan the pitfalls of fame. And "...Ready For It?" is Swift's inner war personified: In one corner, a white horse-riding savior, in the other, a black-hooded foe.
"End Game" is the sole outlier, and the one that feels most authentic to Swift's real life: Touring the world, hanging with friends, watching fireworks from the beach at her Rhode Island mansion. But Swift is, by now, so sealed off from the public that it's impossible to make any presumptions about who she might be. Not to mention that these are all parts we've seen her play before — on "Bad Blood," on "Shake It Off," on "You Belong With Me" — and we're no closer to seeing her for who she is beyond a cultural commodity.
Perhaps that's the goal, to be a projection of whatever the public most wants to see her as, but amid a musical landscape rich with complicated and tangible women like Lorde and Halsey and Lana Del Rey, it all feels a bit too performative and inhuman, like she's rotating through a cast of characters and crossing her fingers that something will stick. As if Swift, now detached from the narrative that's guided her every move since she was 17, has no actual grasp on who she is. And unless she ever breaks down the miles-wide barrier she's been building since 2006, neither will we.
28 Albums That Dropped 10 Years Ago: Britney Spears, Taylor Swift + More
More From Hot 104.7 - KKLS-FM