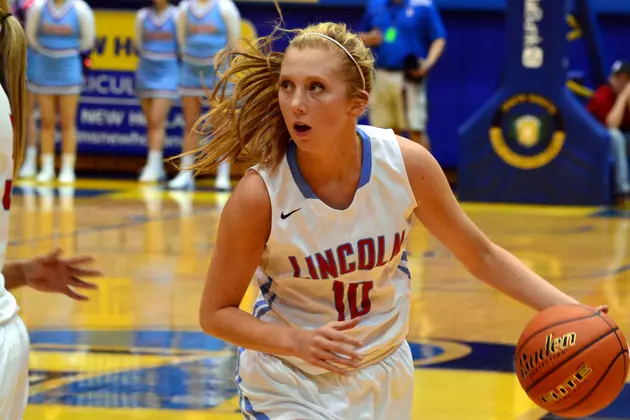 Anna Brecht Ends High School Career with Multiple Records
South Dakota Public Broadcasting
It did not end in the way that Lincoln senior Anna Brecht envisioned, but her high school basketball career is one to remember.
With just a few seconds left in the region final against Roosevelt and trailing by two, Brecht rushed down the floor and had a great look at a straight-away three.
Having broadcasted many games that Anna has played in, as soon as the ball left her hands, I thought for sure she hit the game winner.
The moment hit her as she crouched down on the court. Her senior season had come to an end. Anna's parents consoled her following the game, but she still left the gym with her head held high. For good reason.
I haven't seen a more consistent high school basketball player over the last four years than Anna Brecht. She commanded the floor and could take over a game at any moment. Earlier this season, Anna became the all-time leading scorer in Lincoln history. She did so with 12 regular season games and a minimum of two playoff games remaining in her senior year. She finished her career at Lincoln with just under 1700 points (and averaged 23 points per game her senior season).
She added another record at the conclusion of the season. On top of the record of total points scored in school history, Anna is now the record holder for most rebounds in a career at Lincoln.
As Brecht reflects on her high school basketball career, she should feel proud. She was a four year starter, all-time leader in points and rebounds, and she would do whatever it would take to win.
It may not have ended with the trophy in Rapid City, but she has left her mark at Lincoln High School. Brecht will forever be revered as one of the greatest high school basketball players to play in South Dakota. Now she gets the opportunity to continue her career on the Division-I level with the University of Wisconsin-Green Bay.
And I won't be surprised if records are broken there also.
---
More From Hot 104.7 - KKLS-FM